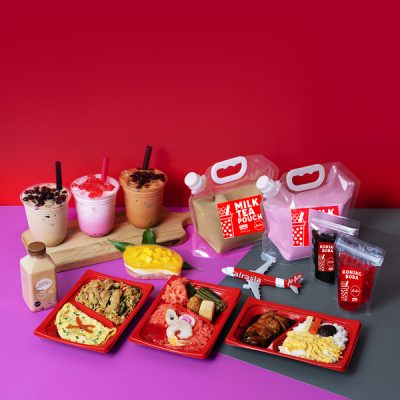 Bangkok–7 May–Thai AirAsia
In-flight meals at home!   Responding to high demand, AirAsia is offering popular in-flight choice "Boba Tea" on its delivery menu, pleasing the whole family with a new 1 liter big size coming alongside legendary AirAsia favorites, Stir-Fried Yentafo, Teriyaki Chicken and Rice, Basil Rice with Fried Egg and Mango with Two-Tone Sticky Rice.   Order them a la carte or in a set and get a special discount of 19%.   Delivered by AirAsia staff with a promise of AirAsia quality, find AirAsia Delivery on LINE this 8 May onward.
Director of In-Flight Products and Services for AirAsia Thailand, Ornanong Methapipattanakul, explained that while AirAsia Thailand has begun resuming several domestic routes, health and hygiene regulations have made it necessary for in-flight food and beverage service to be temporarily suspended. In response to high demand from passengers who miss the delicious choices of AIRASIA SANTAN, AirAsia has decided to land many of its most popular meals and drinks so they can be ordered via LINE for delivery using AirAsia's well-known hygiene and service standards.
"What makes our delivery service so special, apart from our rich Boba Tea, which is already ordered in-flight over 40,000 times a month, is that we are offering the tea in a 1 liter size for the entire family, the option to order Boba on their own as well as an array of other delectable sweet and savory menu items ready for convenient delivery from AirAsia with only a 30 THB delivery charge within service areas" Ornanong elaborated.
AirAsia Delivery can easily be contacted via LINE in two service areas, namely, Don Mueang (@airasiadonmuang) and Ratchathewi (@airasiaratchathewi). Simply add the LINE account nearest to the delivery destination to ask for information or to place an order (delivery radius is within 10 kilometers from each branch). Deliveries are made by AirAsia staff who have received particular training in hygiene and service. Order for delivery within the day or pre-order a day in advance before 17.00 hrs.
The AirAsia Delivery menu includes Boba Tea, Thai Tea and Pink Milk Tea, all available in 1 liter big sizes (4-6 glasses) now at a discounted price of only 299 THB. Brown sugar Boba and strawberry flavored Boba can be ordered on their own for 40 THB a serving while a glass of Boba Tea is priced at 70 THB.
Chilled meals ready to be warmed at home are also available. They include the three hit choices of Stir-Fried Yentafo, Teriyaki Chicken with Rice and Basil Rice with Fried Egg, now on offer at a discounted price of only 90 THB. For dessert, order Mango with Two-Tone Sticky Rice for only 70 THB. Combo sets of meal+Boba tea or meal+Boba tea+dessert start from only 150 THB!Promotional prices available this 8-31 May, 2020. Add AirAsia Delivery on LINE and order today!