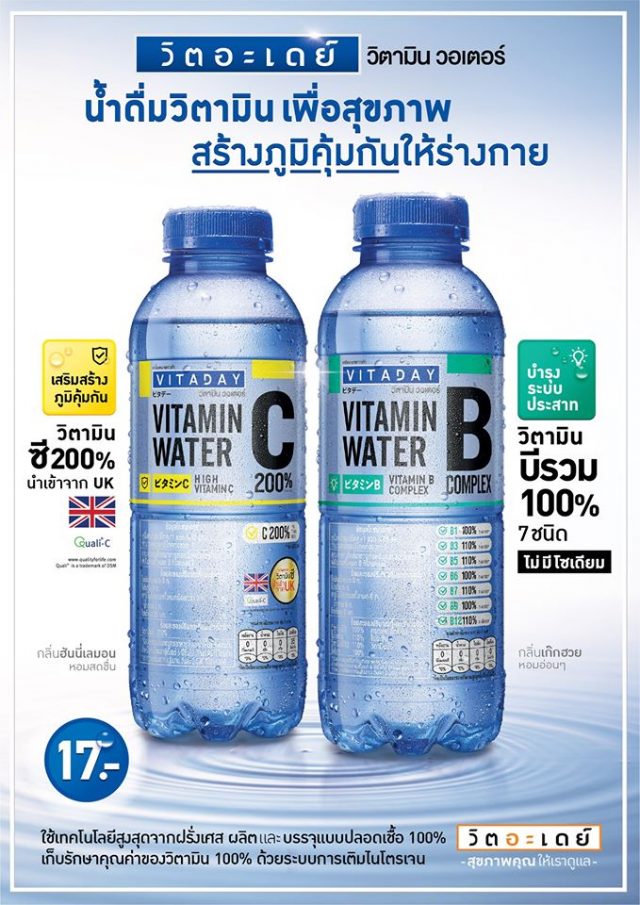 Thailand's General Beverage, the maker of Vitaday functional drink, has launched two functional water products enriched with vitamin C and vitamin B complex. The vitamin water drinks offer 200% of the daily vitamin C requirement and 100% of the daily vitamin B requirement to strengthen the body especially during the current pandemic period. The vitamin C Quali-C is made in the UK by DSM.
The new breed of vitamin water is free from sugar but is enriched with vitamin, which makes it healthy for you. Brands are now re-visiting the vitamin water concept with the launch of Vitaday vitamin water and Ichitan's PH Plus 8.5 with vitamin B complex.
Vitaday, which also makes high vitamin C functional drink, recommends consumers to consume both its vitamin water and functional drink and pair with either collagen/zinc/gluta to achieve the desired health or beauty results.
The wide-mouth bottle makes it easier for users to add collagen and other supplements into the bottle. The wide-mouth bottle also ensures the honey lemon and chrysanthemum scent can be quickly released when opening the closure to offer the additional aromatherapy touch to make consumers feel relaxed and rejuvenated.
*all images from Vitaday