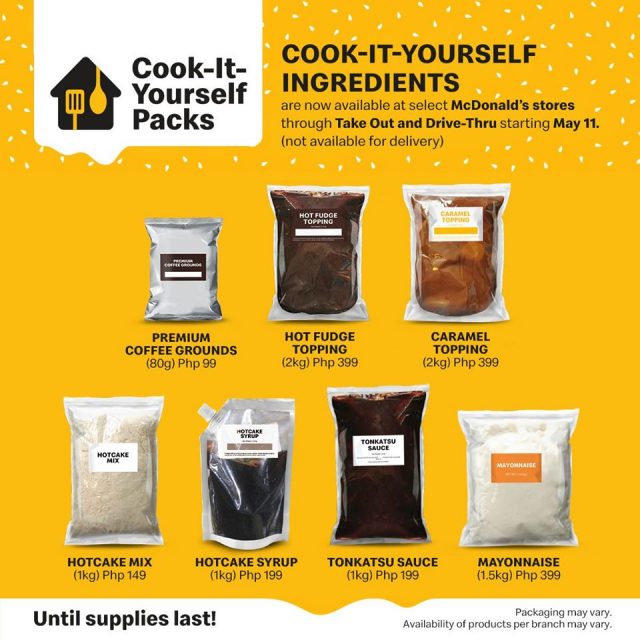 After making available cook-it-yourself McDo favourites, McDonald's Philippines announced on 11 May 2020 that it has launched cook-it-yourself ingredients at select McDonald's stores through take out and drive-thru starting 11 May 2020. Click here for the list of participating stores.
The cook-it-yourself ingredients cover premium coffee grounds, hotcake mix, hotcake syrup, Tonkatsu sauce, mayonnaise, hot fudge topping and caramel topping. However, these products are not available in supermarkets.
Other variants of Cook-It-Yourself Packs including marinated chicken cuts, Chicken McNuggets and Breaded Chicken Fillet may be available in select supermarkets but are not longer available at McDonald's outlets.
Below are the prices:
Coffee Grounds (80 g or approx. 7 cups) is PHP 99 per pack
Hotcake Mix (1 kg or approx. 27-28 servings) is PHP149 per pack
Hotcake Syrup (1 kg) is PHP 199 per pack
Tonkatsu Sauce (1 kg) is PHP 199 per pack
Mayonnaise (1.5 kg) is PHP 399 per pack
Hot Fudge Topping (2 kg) is PHP 399 per pack
Caramel Topping (2 kg) is PHP 399 per pack