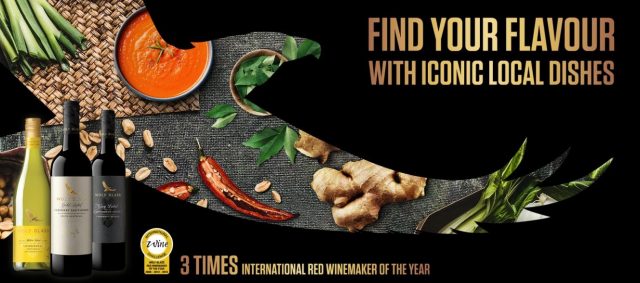 Leading Australian wine brand shares simplified recipes of iconic local sauces and takeout tips to put together a beautiful plate at home
Kuala Lumpur, 12th May 2020 – Wolf Blass today launched a guide containing simplified, easy-to-replicate recipes of iconic local sauces and takeout tips for consumers to put together a beautiful plate and take their home-dining experiences to the next level. As a strong advocate of experimental food and wine pairings, Wolf Blass has tried and tested more iconic local dishes with the winery's Gold Label range wines to put together the guide, featuring the best pairings.
All recipes and takeout options have a common theme – they are sauce-heavy. This follows the 'Find Your Flavour' campaign, which encourages consumers to look to sauces for wine pairing rather than proteins, based on an observation that food in the region tends to be more sauce-heavy as compared to Western cuisine. Additionally, meals in this region tend to be served family-style instead of following a multi-course sequence, presenting a challenge for wine pairing. By looking at the sauces, similarities in the dishes could help to identify a wine that will match well with the meal.
Create iconic local sauces with just five ingredients
Wolf Blass has produced three easy-to-replicate sauce recipes which can be cooked with a variety of proteins – butter curry, satay peanut sauce and the widely popular salted egg yolk sauce. These recipes, contrary to the belief that they are tricky in preparation, feature only five basic ingredients each, allowing consumers to easily replicate them at home. Each sauce comes with a recommended wine pairing and a guide to help consumers when setting their dining table, along with some suggested topics to discuss during the meal to liven up the atmosphere.
All recipes and setting guides can be found on the
Find Your Flavour microsite www.wolfblassfyf.com/iconicrecipes
Getting the most out of your takeout
Dining in at restaurants is an experience we all enjoy because we tend to "eat with our eyes first". However, this does not have to stop whilst we #Dudukrumah. Support your local restaurants and learn how to plate your favourite takeaways in a way that will elevate the home dining experience, with Wolf Blass plating guide featuring four popular local dishes.
To put together a beautiful plate, we spoke to food photographer Chloe Cheng from Daydream Studio on plating tips to elevate your takeout. "The first thing to watch out for are the cooked ingredients and whether they can stand the test of heat and time. It is ideal to request for sauces or gravy to be kept separate when you order your meal, so that everything stays fresher for longer. When you plate your food, you only have to reheat the sauce", explains Cheng.
With all the cooked ingredients packed separately, here are three tips on plating your food. Firstly, does your dish have colour and contrast? Try to arrange your ingredients such that the colours stand out against the sauce. Next, create height or length on your plate – elongating your ingredients can go a long way towards enhancing visual appeal.
Finally, use texture to enhance your final plate. Once all the main ingredients are plated, finish by tossing the garnishing all over. This method is commonly used in high-end cuisines to create a mix of textures that would also present a delightful mouthfeel.
Consumers are encouraged to share their beautiful plates with us by tagging @wolfblasswines and using the hashtags #FindYourFlavour, #WolfBlassFYF and #Dudukrumah.
Tips on enjoying Wolf Blass wines
Wolf Blass recognises that this period of change and new way of life has been challenging so here are some tips on how to enjoy Wolf Blass wines in moderation while staying at home:
Wolf Blass wines are available for sale at Jaya Grocer, Giant, Cold Storage, Aeon, Max Valu, Mercato & other authorised retailers.