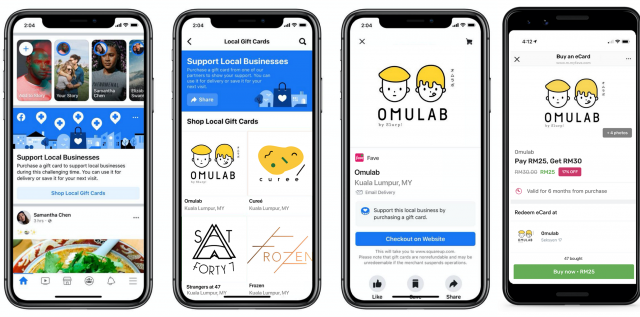 Fave is partnering with Facebook to promote digital gift cards (eCards) for local F&B, retail and hospitality businesses on its social media platforms.
These digital gift cards provide a fast and cost-effective way for local businesses, affected during the COVID-19 pandemic, to generate revenue
Fave has onboarded over 500 local businesses in Malaysia onto its eCards feature since it was launched in late 2019.
Kuala Lumpur, Malaysia – 13 May 2020 – Fave, one of Southeast Asia's leading mobile payments and rewards platforms, has announced that it launched a new partnership with Facebook to help local businesses in Malaysia affected by COVID-19. The partnership will see both Facebook and Instagram platforms promote Fave's assortment of digital gift cards (eCards) local from local businesses operating under the current Conditional Movement Control Order (CMCO) measures to social media users. Among the businesses expected to benefit from this new initiative are retail and hospitality, as well as the food and beverage (F&B) sectors.
From 12 May 2020, Malaysians will be able to access to purchase or gift Fave's eCards from participating businesses through a "Support Local Businesses" banner on their Facebook feeds. This will enable local businesses to benefit from a meaningful contribution to their income during the ongoing pandemic. With local businesses forming the backbone of Malaysia's economy, the custom-branded eCards brought by Fave onto Facebook's platform provides an instant and cost-effective collaboration to generate critical revenue for businesses affected during the pandemic. Participating local businesses will also be able to add an eCard sticker with a link to their eCard campaign page on Fave's platform to their Instagram Stories to encourage their followers to support the initiative.
"We know that at a difficult time like this, businesses have real worries in keeping their operations running and counting on every single support they can get. We have listened to what businesses need and we want to do our part in helping them navigate this crisis and keep in touch with their customers. With these gift cards and discount vouchers, we hope to provide means for people to easily share and support their local businesses." said Nicole Tan, Country Director, Facebook Malaysia.
"We will work with Facebook to help our local businesses obtain a much-needed boost in sales and income during this period of uncertainty," said Datuk Jake Abdullah, Managing Director of Fave Malaysia." Local businesses will need to reimagine and digitally transform their business models if they are to succeed in a post-COVID-19 world. Our partnership with Facebook will equip them with a way forward for the future."
Facebook has been a critical driver for local business growth in Malaysia. According to Facebook, 87 million users from around the world are connected to a business page on Facebook in Malaysia, presenting a myriad of business opportunities for Malaysian businesses. While the majority of small businesses are still witnessing widespread COVID-19 disruption, over 500 local businesses such as Ipoh Ais Kopi, Jom Laksa, Penang Road Famous Teochew Chendul and TBM – Your Neighbourhood Electrical Store have made the transition towards digitalisation with positive results to their bottom line.
In April 2020, Fave launched its 'Save Our Fave' campaign to support local businesses that were experiencing 30-day cash flow constraints or had witnessed a drastic drop in their incomes. The campaign's objective was to keep local businesses afloat and rally consumers to support them by purchasing an eCard. Fave had absorbed all payment fees and ceased commissions until the end of May for eCards to ensure 100% of the revenue that consumers paid went directly to the businesses to support their recovery during the pandemic.
"When the COVID-19 pandemic arrived on our shores, we saw a huge decline in sales. This affected our cash flow, especially since we made the decision not to retrench any of our staff, many of whom have been with us from day one. Through Fave's eCard initiative, we were able to get cash upfront to partially support the team through this crisis. More importantly, it is reassuring to the team, that our customers are still behind us, despite the fluid situation," said William Ng, Director, FROZEN Ice Cream.
To ease the process of digitalisation, Fave has launched a self-serving application process on its FaveBiz platform, enabling local businesses to have their eCards up and running in less than five minutes. This streamlines and accelerates their approach towards getting started on converting Malaysian consumers into loyal customers while reaping the benefits of the collaboration between Facebook and Fave.