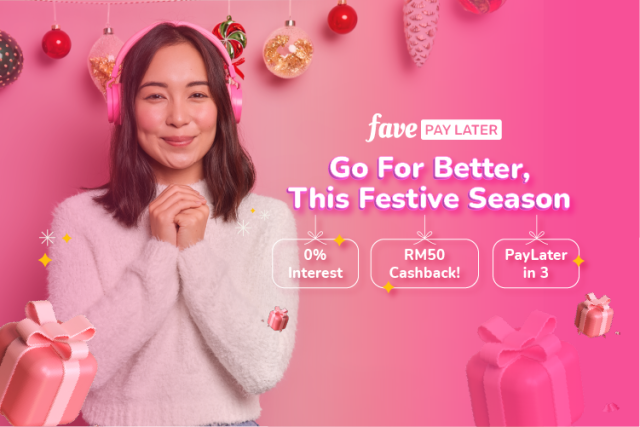 PayLater in 3 bills with zero interest and stack up saving to over RM100 cashback.
Kuala Lumpur, Malaysia – 20 December 2021: With Christmas and Year End just around the corner, it is the gift-giving season! Traditionally a time when people spend quality time with loved ones and given the year we've all had during this unprecedented year, take this opportunity and embrace our loved ones with open-handedness and gift unstintingly with Fave PayLater.
Fave has launched its PayLater 'Go for better' campaign this festive season. By splitting and stretching your bills in the next 3 months with zero interest and a series of cashbacks, Fave PayLater will enable you a greater financial flexibility to give better to your loved ones and friends
Enjoy a stress-free festive season with Fave PayLater. You don't need to worry about burning a hole in your pocket anymore. Go ahead and present your family and friends with greater warmth, love and gratitude. PayLater will be able to relieve you with the payment flexibility and allow you to go for a better gift selection.
Shop now and save over RM100 via Fave app!
Fave PayLater 'Go For Better' campaign starts from today till 3 January 2022. T&C applies. 
Promo codes are as below:
GIFT50 : RM50 cashback, min spend RM500. Valid for New Fave PayLater users only.
GIFT20 : RM20 cashback, min spend RM200. Valid for New Fave PayLater users only.
HOLIDAY30 : RM30 cashback, min spend RM600. Valid for All Fave PayLater users.
HOLIDAY15 : RM15 cashback, min spend RM350. Valid for All Fave PayLater users.
 Additional promo codes for bank cards users (valid until 31 Dec 2021):
CITI20 : RM20 off, min spend RM200. for Citi bank card users.
SCBPAYLATER : 10% off, max cap RM10, min spend RM100, for Standard Chartered Bank card users.