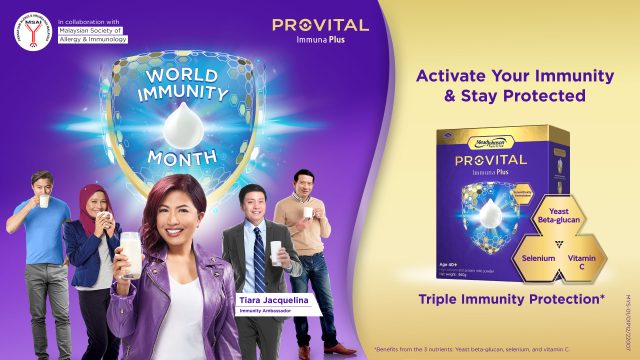 KUALA LUMPUR, 24 MARCH 2022 – Mead Johnson Nutrition today launched its Activate Your Immunity, Stay Protected campaign led by adult nutritious milk, PROVITAL Immuna Plus. The campaign is a collaboration with the Malaysia Society of Allergy and Immunology (MSAI) in conjunction with World Immunity Month. The community awareness campaign comes at a crucial time in light of new viruses that continue to emerge. The educational campaign aims to empower Malaysian adults to take charge of activating their immunity so that they can stay protected during these uncertain times.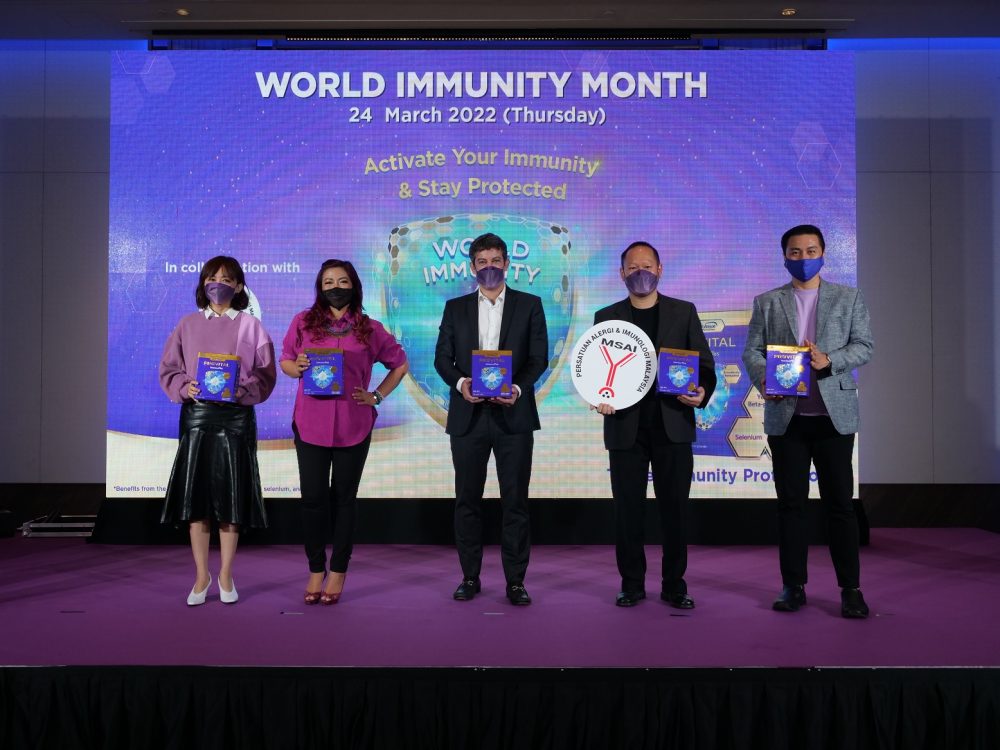 The Activate Your Immunity, Stay Protected campaign calls for Malaysians to first self-assess their immunity levels with the Immunity Calculator which is backed by science and endorsed by MSAI. Malaysians can check their immunity score on www.provital.com.my/immunitycalculator.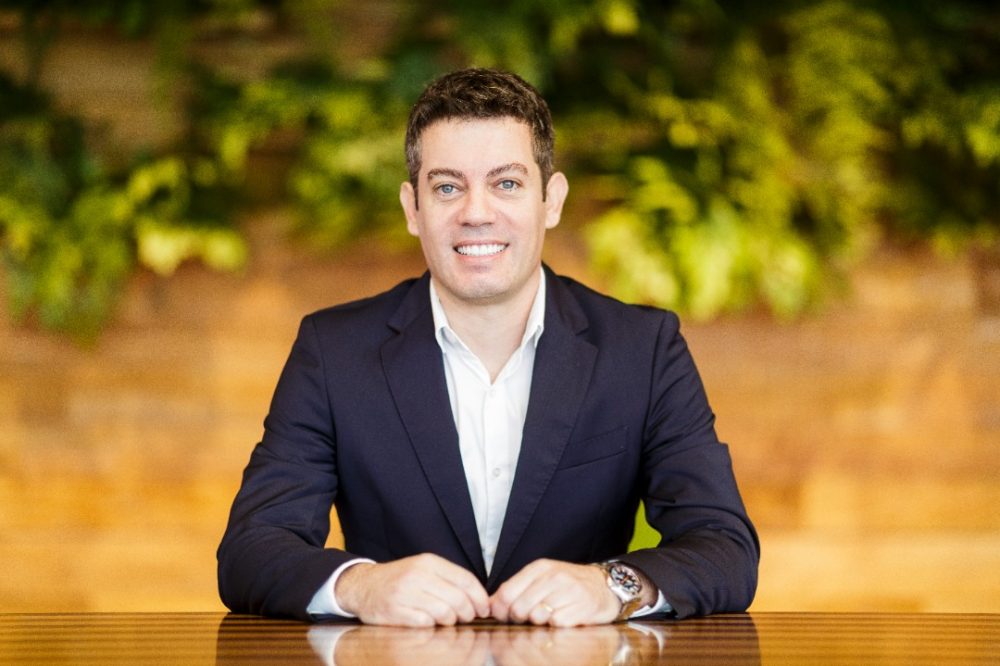 "PROVITAL Immuna Plus is one of the most significant brand launches in Mead Johnson Nutrition's 117-year history and we are excited to deliver this scientifically formulated product to Malaysian adults who want to live their best life. We saw a meaningful need for an awareness campaign as new viruses and germs continue to emerge, including the more common flu. We have to be constantly vigilant of our immune health.  Hence, we are happy to have MSAI onboard on this journey to make Malaysians stronger. Over the last two years, we have learnt that it is very important to have strong immune health to protect ourselves. As we are currently moving towards the endemic phase, it is key for the community to improve their overall immunity level. Moreover, our immunity weakens as we age, increasing our risk to infections if we do not have a good nutritional status. Finding the time to take care of ourselves nutrition wise can be challenging for some people, and PROVITAL Immuna Plus was developed to address and support our immune system as we age," said Gonzalo Balcazar, General Manager of Mead Johnson Nutrition Malaysia, Singapore and Vietnam. 
He added, "The campaign aims to encourage Malaysian adults to stay protected and stay on top of their health by activating their immunity. When our immunity declines with age, it becomes important to support and strengthen our bodies' natural defense by consuming the right nutrients that our body needs. Our immune health and immune function depend on the presence of certain nutrients. Even a marginal deficiency in some nutrients could adversely impact the immune function. Through this campaign, we hope to reach out to Malaysians to check their immunity level and raise awareness on the importance of having good immunity." 
During the campaign, Mead Johnson Nutrition provided PROVITAL Immuna Plus samples to the public at corporate offices, markets, and PPV centers including sampling to frontliners, so they could stay protected.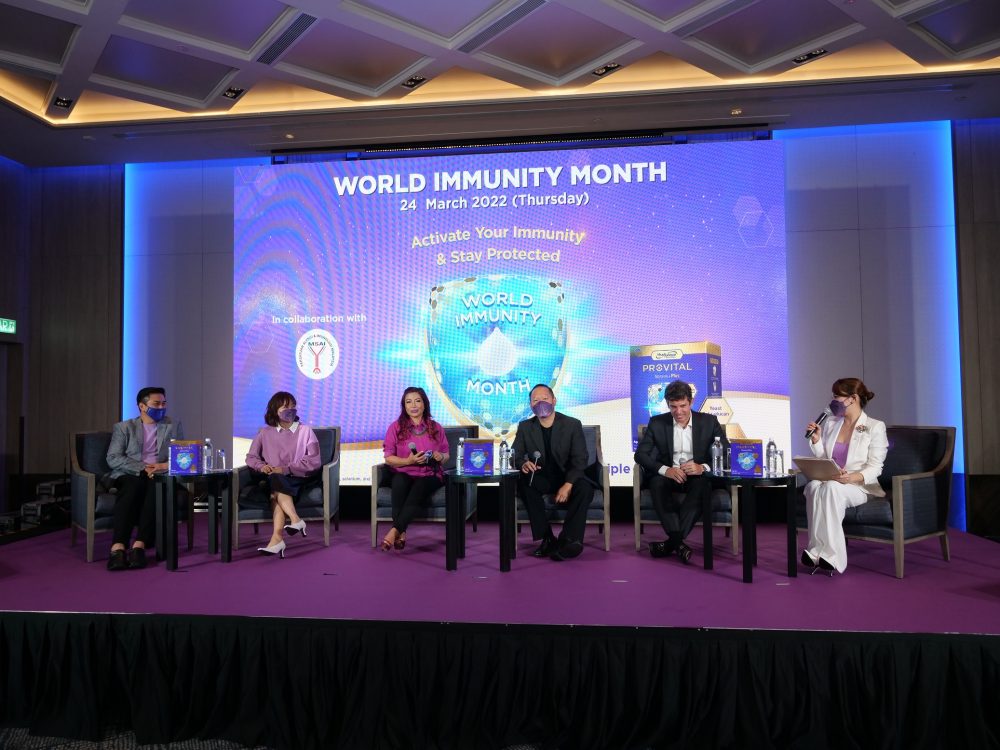 Commenting on the campaign, Dr. Kent Woo, President-Elect of MSAI said, "The Immunity Calculator is a good gauge to self-assess your immunity level. This self-assessment tool is also a convenient way to find out how your immune system is doing to help the individual decide on whether to seek medical consultation or adapt their lifestyle through proper nutrition, exercise and good lifestyle habits. The lower the immunity score could indicate the higher your risk of staying protected. Through proper nutrition, exercise and good lifestyle habits the level can be improved."
Joining the call to encourage Malaysians to activate their immunity with Provital is MSAI and award-winning entrepreneur, producer, director and actor, Puan Sri Tiara Jacquelina as well as radio hosts Chan Fong and Cheryl Lee. 
"I am at my happiest age as I am contented with the balance of work and leisure. You could say I take a more relaxed approach now and keep a positive mindset. My work and projects keep me active and engaged. To maintain this good balance, my health and particularly my immune health takes precedence. After consuming Provital, I could really feel the positive effects. It has good nutrients to support my immune health and coupled with my exercise routine and getting enough sleep, I know that I am protecting my health. I hope to remind all Malaysians out there that life does not stop when you are older but it only gets better with strong immunity." said Puan Sri Tiara Jacquelina, Provital Immuna Plus Immunity Ambassador.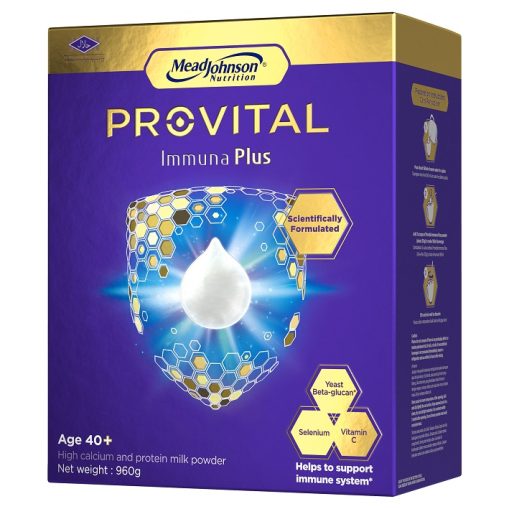 A defining element of PROVITAL Immuna Plus formula is the Triple Immunity Protection, a unique blend of nutrients selected to support a healthy immune system. This blend includes yeast beta-glucan that helps to activate immune responses to fight against infections and colds, selenium to regulate the body's immune functions and vitamin C to strengthen your immune system1,2,3. According to research, 9 out of 10 adults reported no cold and sore throats symptoms after 12 weeks on yeast beta glucan4. Provital provides 204mg of yeast beta-glucan (2 servings/ day) which is the recommended level effective in supporting immune system that is prone to colds4. 
To find out more on the Immunity Calculator and the campaign, please go to www.provital.com.my or Facebook page (Provital Malaysia).
About PROVITAL Immuna Plus:
PROVITAL Immuna Plus is a nutritious adult milk formulated with yeast beta-glucan, selenium and vitamin C to provide Triple Immunity Protection. To find out more about PROVITAL Immuna Plus, visit its website (www.provital.com.my) or Facebook page (Provital Malaysia). PROVITAL Immuna Plus is now available at leading pharmacies, supermarkets, hypermarkets, and e-commerce stores in 480g and 960g pack.
If you would like to take proactive steps to care for your health and find out about your immune status, you can check out your immunity score at www.provital.com.my/immunitycalculator. By answering a series of health-related questions, the tool will be able to give an indication of the strength of one's immune health in the past 12 months using a score system.
Reference:
Fuller R et. al Nutrition 2012. 2. Guilin OM et.al. Nutrients 2019. 3. Carr AC, Maggini S. Nutrients 2017. 4. Talbott SM et. al 2012