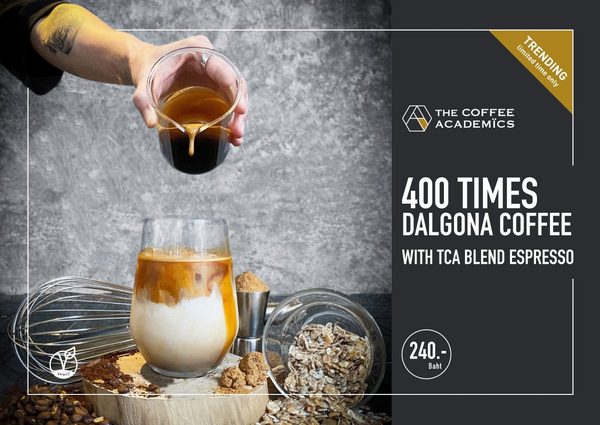 Bangkok, 19 May 2020 – The Coffee Academics, a leading specialty coffee chain from Hong Kong with the first flagship store in Thailand at Velaa Sindhorn Village Langsuan, has rolled out its own version of "Dalgona Coffee", the trendy whipped coffee that started in South Korea and became viral on social media. The drink is named after a Korean sweet called dalgona.
The fluffy creamy Dalgona Coffee at The Coffee Academics features house-blend espresso, oat milk and organic coconut sugar. Indulge in specialty coffee experience and don't miss out on trying Dalgona Coffee which is only 240 baht and available now until June 30, 2020 at both Velaa Sindhorn Village Langsuan and Gaysorn Village branches.
Good news! The two branches of The Coffee Academ?cs have finally reopened for dine-in service with strict preventive measures against COVID-19 in place to ensure everyone's safety.
All employees are required to wear face masks at work, alcohol-based hand sanitizers are provided to customers, and tables have been rearranged to maintain the distance of 1.5 meters.
The Coffee Academics is ready to serve like-minded coffee enthusiasts and coffee lovers quality coffee every day from 8.00 a.m. to 7 p.m. for Velaa Sindhorn Village Langsuan branch and from 7.30 a.m. to 6 p.m. for Gaysorn Village branch.
You can also get your favorite cup of coffee delivered to your doorstep by ordering via Wongnai or LINEMAN app. For latest updates, exciting campaigns and promotions, follow The Coffee Academics on Facebook: The Coffee Academics Thailand and Instagram: @TheCoffeeAcademicsTH.
The Coffee Academics Thailand
The Coffee Academics offers a unique coffeehouse experience. The modern design in black and gray theme, decorated with green plants, creates a warm atmosphere, while large glass windows let in natural light and allow visitors to observe an urban lifestyle in Langsuan neighborhood. The Coffee Academics sources only the top 5% of specialty Arabica coffee globally, while also crafting new blends using local coffee production, with choices of specialty coffee menu for everyone to enjoy.