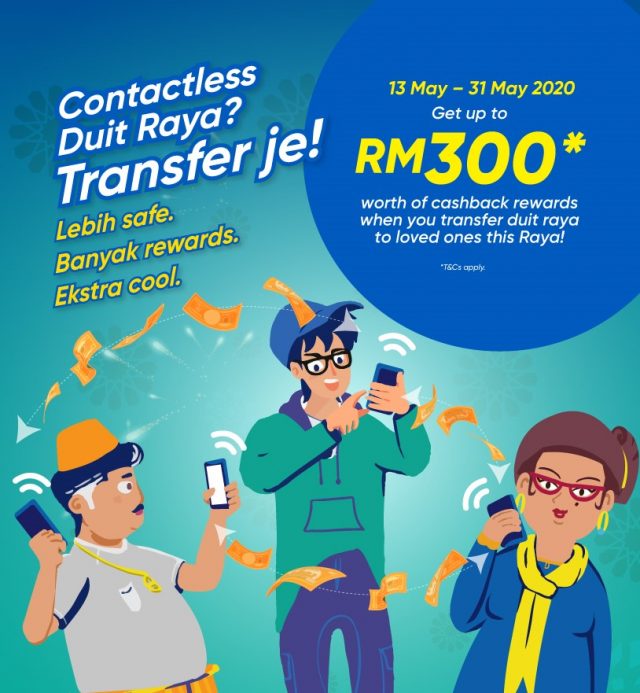 'Lebih' easy payments for Zakat Fitrah Selangor, 'Banyak' Raya Promos & Cashback e-Vouchers and an 'Ekstra' safe way to transfer Duit Raya 
Kuala Lumpur, 19 May 2020 – A cashless and contactless Raya this 'new normal' with Touch' n Go eWallet brings an abundance of rewards with #lebihbanyakekstra Raya Sempoi 2.0.2.0!
#lebihbanyakekstra is Touch 'n Go eWallet's promise this 2020 to reward its users with more value and benefits simply because they have made the choice to be a part of Malaysia's cashless society. From groceries, electronic appliances, food items, wellness products, mobile top ups and more, Raya Sempoi 2.0.2.0 covers all key areas of one's Raya needs.
As an advocate of charitable acts, Touch 'n Go eWallet has enabled a seamless cashless journey for Muslims in Selangor to make'Zakat Fitrah' payments with Zakat Selangor. It is now 'Lebih' easy to fulfil the religious obligations to help fellow Muslims and the less fortunate.
Moreover, Touch 'n Go eWallet users will enjoy 'Banyak' Raya promos and Cashback e-Vouchers as well as knowing there is an 'Ekstra' safe (and quick) way to transfer and receive 'Duit Raya'from the comfort of their homes.
Keeping in mind that going cashless is encouraged in these times, the Touch 'n Go eWallet's transfer Duit Raya feature is the perfect answer in giving or receiving 'Duit Raya' from loved ones anywhere, anytime, safely! Also, when any 'Duit Raya' transfer is made, users can enjoy up to RM300* worth of cashback rewards!
Touch 'n Go eWallet is also adding more colours and music to elevate the spirit of Hari Raya via Raya Sempoi 2.0.2.0. with Dikir Sempoi.
This video features the popular traditional Malay culture of 'dikir barat' meshed with a catchy and modern rap by local musicians that showcases the future of a cashless society!
For more information on the exclusive Touch 'n Go eWallet Raya Sempoi 2.0.2.0 and our latest promotions available, visit our :-
Website at www.tngdigital.com.my/lebihbanyakekstra.
Facebook page at www.facebook.com/touchngoewallet
Instagram page at www.instagram.com/touchngoewallet/