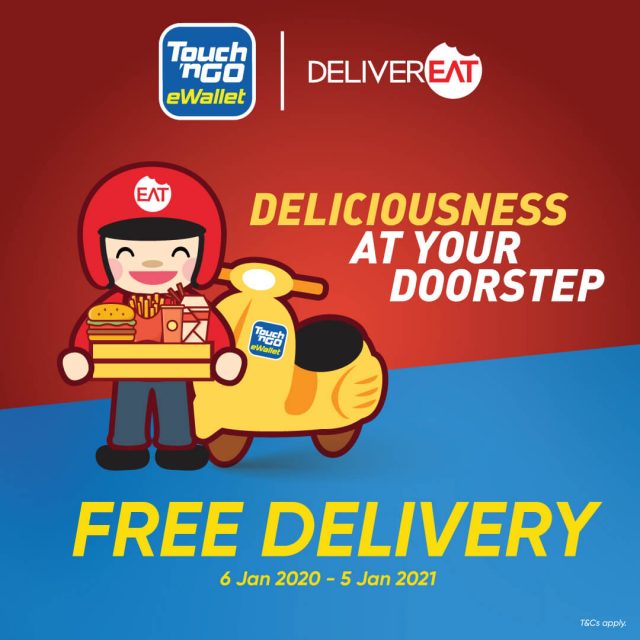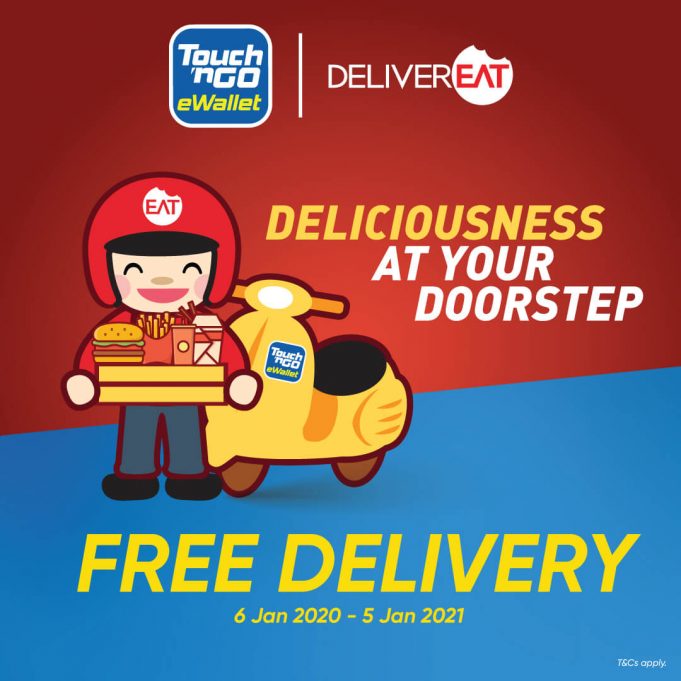 The home-grown food delivery service boasts its first ever eWallet payment option, offering Malaysians a seamless transacting option with all year long free delivery promotion
Kuala Lumpur, 10 January 2020 – Attention food lovers! Touch 'n Go eWallet has partnered with DeliverEat, a local online food delivery company that brings an array of culinary delights right to one's doorsteps. This partnership will enable 7 million Touch 'n Go eWallet users' seamless access to a variety of cuisine from more than 2000 restaurants and food outlets from Penang and Klang Valley collectively.
By selecting the new eWallet payment option on the DeliverEat app, Touch 'n Go eWallet users are able to transact securely and confidently, while enjoying a hassle-free and more rewarding experience on the app or the website.
With over 120,000 retail points, the Touch 'n Go eWallet continues to expand its presence across all lifestyle touchpoints in the everyday lives of Malaysians, through innovative efforts and diversifying its offerings.
"We are thrilled to present DeliverEat, a Penang-born food delivery service with growing footprints in the Klang Valley, as our first-ever food delivery partner. With food and technology being a huge part of today's consumers' lifestyle, it is relevant and necessary for us to be present within the food delivery space to cater to Malaysians' evolving lifestyle needs.
In addition, this move to collaborate with a local food delivery service is in line with the company's mission to empower more local businesses to go cashless, powered by the Touch 'n Go eWallet. With inclusivity in our DNA, we want to ensure we share equal focus on our homegrown businesses and integrate them into a digital economy as we propel towards a cashless nation together," said Ignatius Ong, CEO of TNG Digital Sdn Bhd
DeliverEat CEO, Tan Suan Sear stated, "At DeliverEat, we always viewed our company as a service made for the locals by the locals. DeliverEat strives on the concept of enabling users to live and eat better through technology. This is why we are more than happy to be working alongside a brand that is much-loved by the nation and has transformed the way we transact today.
Through this partnership with Touch 'n Go eWallet, we are confident that our users in Penang and Klang Valley will have a sense of comfort and security knowing that their transactions through Touch 'n Go eWallet is secure. With more than 2,000 restaurants within our network, we hope users will enjoy this promotion as we look forward to more collaborations with Touch 'n Go eWallet. This is just the beginning."
The Touch 'n Go eWallet recently spearheaded the cashless transformation in Penang. It is the first-ever and only e-wallet to officially enable Penangites to experience and enjoy cashless transactions in the state. Tapping into a wider range of communities in Malaysia, from every walks of life, Touch 'n Go eWallet aims to provide the ease of digital transactions for all Malaysians.
In celebration of this partnership, users can enjoy free daily delivery worth RM5 for 366 days when transaction is made with Touch 'n Go eWallet.
The promotion* is limited to 1 redemption per user, per day throughout the campaign period and is available for the first 100,000 transactions.
For more information and updates, log on to www.facebook.com/touchngoewallet/ and https://jom.delivereat.my/
*Terms and conditions apply