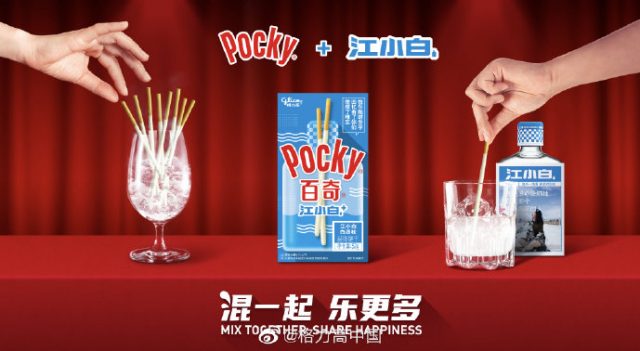 Jiangxiaobai or Jiang Xiao Bai (江小白), a popular baijiu or Chinese white spirit brand for young adults, has extended the brand into biscuit and ice cream to capture the adult segment. Co-branding between beverage and food has become a norm but it is interesting to see co-branding involving baijiu in packaged foods.
Pocky has collaborated with many iconic food brands including with the famous Thai chili paste maker ​Phiboonchai Maepranom Thai Chili Paste. In China, Jiangxiaobai is the new limited edition Pocky flavour. The alcohol content is less than 0.1%.
Jiangxiaobai has also collaborated with dairy major Mengniu with a co-branded ice cream. The Suibian (随变) Jiangxiaobai alcohol-centered ice cream comes in 2 flavours – white peach and caramel. The baijiu brand set up a pop-up "adult ice cream" store at a Hema outlet in Shanghai between 30 May 2020 and 1 June 2020.
Alcohol-flavoured snacks or ice cream may not be applicable for Muslim-majority countries in Southeast Asia but can be an inspiration for markets like Thailand, Vietnam and the Philippines.