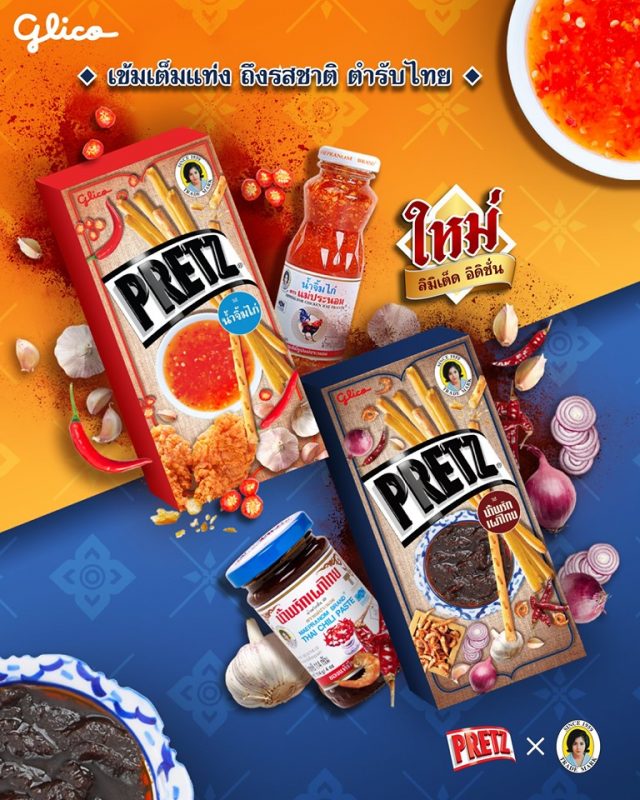 Ezaki Glico has unveiled another cross collaboration in Southeast Asia. This time, the local unit Thai Glico has partnered with the famous Thai chili paste maker ​Phiboonchai Maepranom Thai Chili Paste Co Ltd to roll out two new Pretz flavours.
The limited-edition snacks comprise chili paste and dipping sauce flavours each selling at THB 10. According to Coconuts Bangkok, this product is only available for a limited time from October 2019 until December 2019.
In Southeast Asia, Glico has recently launched in Malaysia the limited edition Pocky Cendol flavour. In Singapore, Glico collaborated with local Ya Kun Kaya Toast, which runs a chain of mass-market, retro-ambience café, to roll out the limited edition Pocky Kopi O and Pocky Kaya. Kopi O is a strong black coffee served with sugar, while kaya is a coconut jam.
In Thailand, the two new Pretz x Maepranom flavours can be bought on Shopee, Lazada, selected supermarkets, convenience stores and Maepranom's flagship store in the Iconsiam shopping mall.