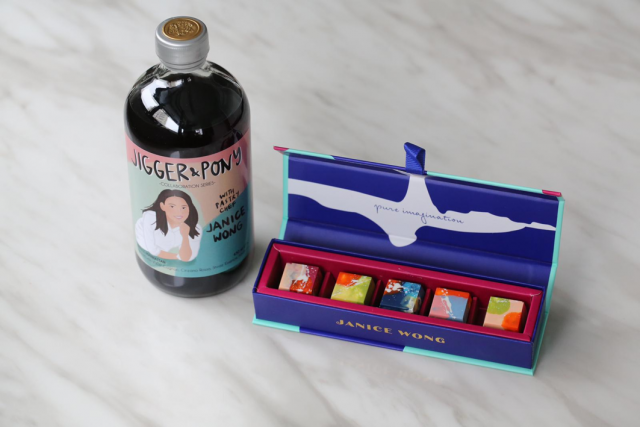 SINGAPORE (29 June 2020) – The first offering from Jigger & Pony's new "Collaboration Series", the best bar in Asia presents a limited-edition cocktail-chocolate pairing with renowned Singaporean pastry chef Janice Wong and Rémy Martin.
The package features a bottled Shiraz Manhattan (450 ml) with Rémy Martin VSOP Cognac, Cinzano Rosso vermouth, shiraz essence and amaretto crafted by Jigger & Pony's award-winning bar team. A lighter twist on the classic Manhattan, the spirit-forward cocktail has a tinge of sweetness with a slightly tannic aftertaste. Further celebrating local talent, the label for the bottle was designed by Singaporean artist Samantha Kwan.
The cocktail pairs with colourful chocolates from Chef Janice Wong, each treat carefully curated with different percentages of cacao and alcohol to give a fun and unique tasting experience. The five featured flavours include Cinnamon Rum, Passionfruit Calamansi Cointreau, Maple Cinzano Bianco, Almond Coffee Grappa and Whisky Orange.
The limited-edition package is available for purchase while supplies last through Jigger & Pony's online shop, Janice Wong's online shop, or in-venue at Humpback and Caffe Fernet (S$98 before GST).
As the first offering in Jigger & Pony's "Collaboration Series," the curated package is part of the bar's focus on kindred spirits, drawing inspiration from craftsmen beyond the bartending world.  The partnership also ties in with Rémy Martin's mission to "Team up for Excellence," a platform which celebrates collaboration, shared values, and the success it generates. Reflecting Rémy Martin's values of authenticity, audacity and generosity, the platform pays homage to personal success through the various people who made it possible – just as expertly making Cognac Fine Champagne is a result of many talents working together. 
ABOUT JIGGER & PONY
Since its opening in May 2012, Jigger & Pony championed the movement of bringing back classic cocktails in Singapore. Named after the double-coned measuring device used by bartenders to accurately pour out spirits, Jigger & Pony pays tribute to the 19th century, when cocktail recipes were listed in "jiggers" and "ponies". In 2020, Jigger & Pony clinched the top spot on the annual Asia's 50 Best Bars list, an award sponsored by Perrier. Eight years on, the Singapore-based establishment continues to define modern cocktail culture, centred on its commitment to convivial hospitality, craftsmanship and inventive concepts.
ABOUT CHEF JANICE WONG
Singaporean born, Janice Wong has learned from some of the world's best chefs, including US luminaries Thomas Keller and Grant Achatz, virtuoso Spanish chocolatier Oriol Balaguer, and prodigious French pastry chef Pierre Hermé
She has been named Asia's Best Pastry Chef; for the second year running by the prestigious San Pellegrino Asia's 50 Best for 2013 & 2014. Janice Wong also won the title of Pastry Chef of the Year from the World Gourmet Summit Awards in 2011, 2013 and 2015, including the title of Young Woman of the Year from Her World in 2012.
ABOUT RÉMY MARTIN
Since 1724, the House of Rémy Martin is the embodiment of Cognac Fine Champagne. The fruit of the prestigious regions of Grande and Petite Champagne, its cognacs hold outstanding ageing potential. A profound love of the land, a continuity of family ownership and a passionate commitment to excellence has sustained Rémy Martin for nearly three centuries. As a result of its masterful production and generations of tradition in Cognac, the House of Rémy Martin today produces Fine Champagne Cognacs, including Rémy Martin® XO Rémy Martin 1738® Accord Royal and Rémy Martin® V.S.O.P.
For additional information, visit www.RemyMartin.com and @RemyMartin.