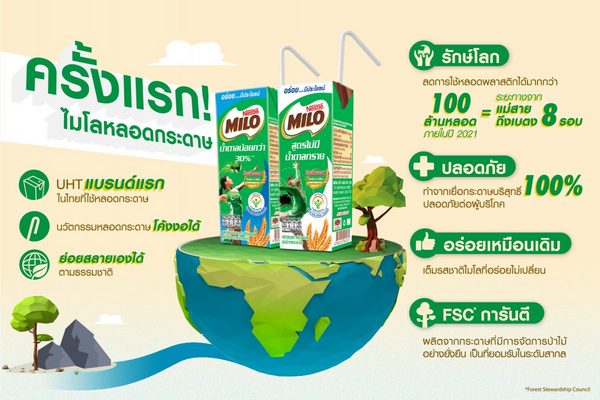 In Thailand, MILO has introduced a paper straw that will initially be used for two variants, which are MILO UHT 30% Less Sugar and MILO UHT No Sucrose. This is the first time a product in the UHT category in Thailand is using a paper straw. The innovative MILO paper straw is bendable and has no paper odor. It delivers the same great MILO taste and is environmentally-friendly as it's made from 100% virgin paper certified by the Forest Stewardship Council (FSC).
"The introduction of this innovative bendable paper straw for MILO UHT is one of Nestle's efforts to reduce the use of single-use plastic, which will help lead to a waste-free future," said Mr. Victor Seah, Chairman and Chief Executive Officer of Nestle Indochina.
Nestle plans to plan to expand the use of the paper straw to cover the entire MILO UHT product range by early 2021. With this change, Nestle aims to eliminate the use of more than 100 million plastic straws by the end of 2021.
Nestle started using paper straw on selected MILO products in Malaysia in 2019 and on selected Nescafe RTD products in Indonesia in 2019.