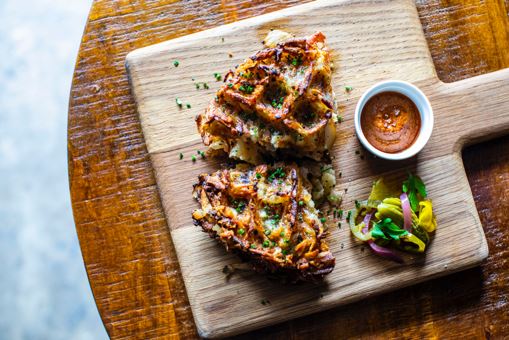 Singapore, 13 July 2020 – Stewing during months of closure due to Singapore's circuit breaker measures, Barbary Coast has reopened its downstairs venue, Deadfall, with new menus, new vibes and new hours.
Expanding beyond the initial opening menu, Deadfall II offers a comprehensive all-day dining menu with delicious, affordable and approachable dishes. Starting with snacks and bar bites under "Today's Pickings", highlights include the highly addictive Five Dolla' Slider (you guessed it, S$5++) with lamb merguez on a Deadfall bakery bun, dressed with Tzatziki and baby rocket, and the indulgent Spinach & Artichoke Dip (S$14++) with baby spinach, roasted artichoke and Cynar cream cheese. For heartier fare, options include original favourites such as the TTW Sando (S$17++) with a choice of smoked ham or beef pastrami served on a tater tot waffle with salsa roja, Chef's sauerkraut and smokey cheddar and the House Nachos with a choice of chili con vegetarian "carne" or beef carne (S$12++ for small / S$25++ for family size), toppings and bottomless queso. The food menu also features new additions such as the 200g grass-fed Australian Ribeye (S$28++) served with chimichurri, and Poutine (S$12++), the Canadian dream with golden fries, smoked cheese curds and beef jus. Those in the know may opt to order off the "secret menu" – you'll have to ask to find out more.
The drinks menu has expanded to offer eight affordable, creative cocktails which stay true to the original colour-inspired concept, alongside a selection of classics from around the world (all cocktails at S$20++). For a more interactive experience, ask for the paper fortune teller menu, aka "The Click Clack", which offers a fun way to choose your colourful cocktail based on your mood and desires. Cocktails are accompanied by the "Beer, Wine and Grog" menu offering a curated selection of wine and prosecco (all glasses S$16++, all bottles $60++), Billecart-Salmon Brut Champagne (S$100++ per bottle), ice-cold draft beer (S$6 / S$10 NETT) and canned beer and bottled cider (S$14++).
As the sun sets, the casual, open-air café and pub transforms into a more intimate, hidden away venue with one central entrance to facilitate safe check-in and contract tracing. Guests can enjoy table or bar seating for groups up to five, all with safe distancing measures in place.
Deadfall at Barbary Coast is now open from 3 p.m. Monday through Friday, and from 4:30 p.m. on Saturdays, with power points and free wi-fi to facilitate remote work during the day. In accordance with Singapore's phase two reopening requirements, Deadfall will close at 10:30 p.m. nightly. Takeaway is available while the kitchen is open, with dinner service from 4:30 p.m. to close (Monday through Saturday). A selection of food and drinks from Deadfall and Barbary Coast Ballroom is also be available for island-wide delivery from barbarycoastsg.com between 3–10 p.m.
Barbary Coast Ballroom, located upstairs at the dual-concept venue, will follow with
a reopening slated for 27 August.