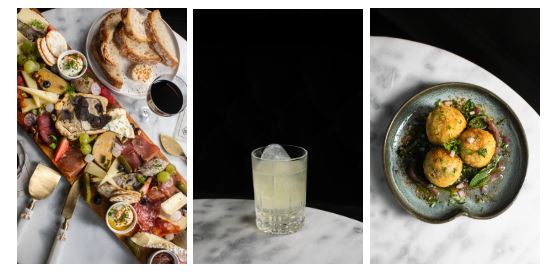 Singapore, 20 April 2020 – In response to Singapore's Circuit Breaker measures, dual-concept Barbary Coast has rolled out a menu of food and drinks for takeaway and delivery. In addition, Barbary Coast also continues to provide its complimentary late-night industry Supper for takeaway or delivery to support the local hospitality community in their time of need.
The food menu offers an array of comfort food dishes from Deadfall alongside the famous Cheese & Charcuterie board from Barbary Coast Ballroom (Petite for S$48 / Less Petite for S$96 / Le Grande Dame for S$144). Snacks include the zesty Jalapeno Poppers with house cream cheese, chives and smoked tartar (S$9), the cool and refreshing Peanut Hummus with crudité, house pickles, za'atar and chef's pita (S$12), or the Lamb Rellenas with house merguez sausage, potato smash, coriander zhoug and pickled onions (S$12). Mains are also featured such as the light yet filling Red Snapper Ceviche comprised of fresh red snapper, house Tiger's Milk, romaine lettuce, red onion, mango and fried plantains (S$14), the hearty TTW Sando with a selection of smoked ham or beef pastrami on a tater tot waffle sandwich with chef's sauerkraut, smoky cheddar and salsa roja (S$15) and the decadent DF Grilled Cheese with fermented heirloom tomato jam, house-smoked butter and four kinds of cheese (S$12).
Food items are complemented by five cocktails from Barbary Coast Ballroom, available in 375 ml bottles. With every bottle offering 3 to 4 serves, most of the standard servings roughly cost between S$12 to S$17 per drink. Available bottled drinks range from the rich and bubbly Buttered Paloma with Carbonated Brown Butter Arquitecto Blanco Tequila, Clarified Grapefruit and Clarified Lime (S$45) and the easy-drinking Tea & Raspberry with Cream with Beefeater Gin, Botanist Gin, Plantation Dark Rum, Red Raspberry Leaf Clarified Cream, Tea, and Raspberry Citrus (S$50), to more spirit-forward options such as the Passepartout with Hendrick's Orbium, Yarrow Flower Noilly Prat and Pau d'Arco Bark (S$55). Custom cocktails may also be requested, in addition to selections from Barbary Coast's champagne, wines, beer and cider lists.
Food and drinks are available Monday through Saturday from 2:30 pm to midnight through the walk-up takeaway window at Deadfall or for home delivery. Enjoy free delivery within 3km of the Boat Quay venue, S$10 delivery island-wide, and free island-wide delivery on all orders over S$100. To place an order, call or WhatsApp requests to +65 8869 4798 with at least one-hour notice (last orders will be taken at 11:30 pm). Custom catering and special off-menu items are also available with additional advanced notice and a deposit.
Barbary Coast has also extended its popular late-night industry Supper, with takeaway and home or bar delivery every Monday through Saturday from 8 pm. Initially conceptualised as a way to share an end of shift meal at cost with Singapore food and beverage industry comrades, the Supper initiative quickly gained traction within the industry as more and more people came forward to with donations for those in need of a warm meal. Plates were initially priced at cost (S$7 NETT), however generous contributions from private donors have been pledged to cover more than 1,000 plates since the launch, with more than 200 plates served to date. Once the Circuit Breaker measures were introduced, Barbary Coast pivoted to offer meals for takeaway or delivery earlier in the evening based on popular demand. Anyone industry-wide is welcome to reserve their plate from 2:30 pm onwards, and no one will ever be given a bill or be asked to pay – though guests in a position to pay it forward are encouraged to do so.