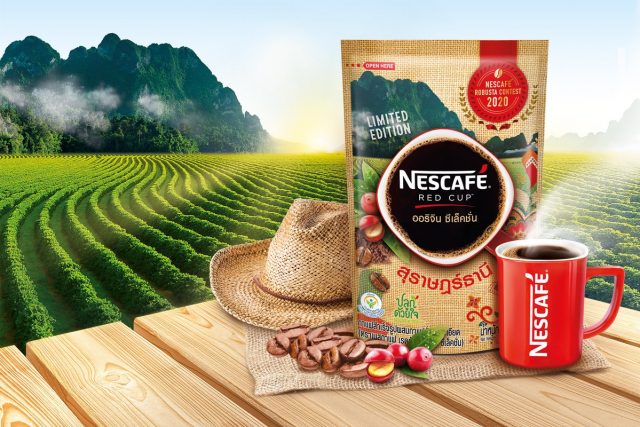 Bangkok–23 July 2020
NESCAFE RED CUP is building on the success of its previous Origin Selection product line by elevating coffee beans from Surathani province with the launch of new, limited-edition NESCAFE RED CUP Origin Selection Surathani, a single-origin coffee made from award-winning Robusta beans grown respectfully by a coffee grower in Surathani to delight coffee lovers throughout Thailand.
The new single-origin coffee is made from award-winning, high-quality Robusta coffee beans chosen during the NESCAFE Robusta Contest 2020, the first contest in Thailand to find the country's best Robusta coffee beans. They were grown respectfully with love and care by Mr. Pongsak Balmuang, a coffee grower from Surathani, then went through a special dark roasting process using NESCAFE's proprietary MRC (Micronized Roasted Coffee) technology.
New NESCAFE RED CUP Origin Selection Surathani has a smooth taste with a strong body, plus a rich nutty aroma that suggests a hint of dark chocolate, offering a unique and delightful experience to coffee lovers like never before.
It was co-created for Thai people who crave authenticity while caring for the community. According to recent research by Kantar on Food & Beverage Trends, the micro-localization trend has been increasing in Thailand over the past few years. Thai consumers now look for products and services that are sustainable and locally sourced, with traditional and local ingredients given a modern twist and format, as a way to support their local communities.
Enjoy special limited-edition NESCAFE RED CUP Origin Selection Surathani, available in two sizes: a 45-gram pack for 39 baht and a 90-gram pack for 79 baht, at leading supermarkets and hypermarkets nationwide and online shopping platform (https://bit.ly/2CxHyvZ) from now until October 2020.