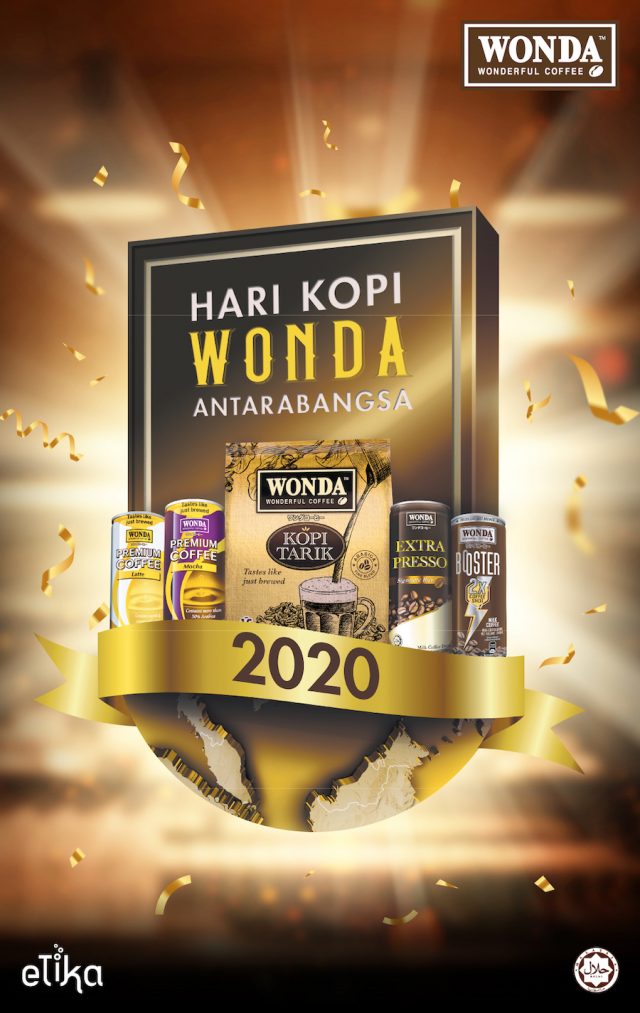 WONDA Coffee adds a special touch to celebrations with limited time WONDA Coffee's Malaysia Day variants, exciting promotion deals and first-ever contactless sampling for consumers
Kuala Lumpur, 27 August 2020 – WONDA Coffee is bringing back its WONDA-fully successful and much anticipated International WONDA Coffee Day 2020 ("IWCD") for the 7th year in a row! This time, the brand aims to do it differently, catering to the new normal while satisfying everyone's cravings for the freshly brewed coffee. The focus for this year's IWCD will be to bring Malaysians closer while maintaining social distancing and encouraging positivity during this time.
"The new norms have forced many of us to experience less bonding with each other, be it with our work colleagues, friends or even our loved ones. Some have even been prevented from getting a cup of their local favourite coffee brews from their origin hometowns. This is especially hard for those who used to have regular hangouts at local eateries or coffee shops, which have become an important part of Malaysian social culture. Many consumers miss these gatherings and we wanted to find a way to provide that bit of nostalgia and bonding through this year's IWCD initiatives," explained Santharuban T. Sundaram, Senior Vice President of Marketing and Alternate Business from Etika.
With a focus on Malaysian culture and tastes, WONDA Coffee is introducing four limited time Malaysia Day variants, offering local tastes which are brewed to global standards. Consisting of four variants, which are Sarawak Edition Coffee, Johor Edition Coffee, Penang Edition Coffee and Kelantan Edition Coffee. Coffee lovers can now taste local variants anytime, anywhere. Each variant is limited to selected retailers such as 7-Eleven for Sarawak Edition Coffee 240ml, Kedai Mesra PETRONAS for Johor Edition Coffee 240ml, Shell Select for Penang Edition Coffee 240ml, myNEWS for Kelantan Edition Coffee 240ml and TESCO for a special 4-can pack (assorted variants). As these variants are offered for a limited time only so WONDA Coffee fans should check-in with their nearest retailer before the products run out.
WONDA Coffee introduces its first ever contactless coffee sampling
With social distancing a part of the new norms, WONDA Coffee is bringing a fresh concept to coffee sampling, giving Malaysians a chance to savour their favourite coffee whilst staying safe. WONDA Coffee will deliver one of the first contactless sampling initiatives by placing automatic fridge dispensers at selected locations such as universities, offices and even MRT and LRT stations. The automatic fridge dispensers will only be available at 3pm as research has shown Malaysians experience "3pm BLUES". 3pm is the time that they register the lowest energy levels post lunch and hence, Malaysians would be looking for a quick boost at that time. When consumers approach the WONDA Coffee filled fridge, the door will unlock itself automatically and coffee lovers can choose a can of WONDA Booster 240ml directly from the fridge, ensuring that Malaysians are still able to sample their favourite coffee in a safe and socially distant manner.
"Traditionally, coffee sampling was conducting with people and promoters. However, we felt that it was not the best given that safety would be a key concern. We then challenged ourselves to develop a new innovative idea that can resolve both objectives, getting the product closer to consumers whilst maintaining a safe distance. This is how contactless sampling was born," added Santharuban.
As the festivities gain momentum, WONDA Coffee will also be placing their unique automatic dispensers at many more locations, so coffee lovers everywhere can grab a chance to enjoy a WONDA-ful can of WONDA Booster coffee.
WONDA Coffee continues to reward consumers this International WONDA Coffee Day
From convenience shops, supermarkets and online platforms, WONDA Coffee is offering promo deals for their consumers as part of this IWCD celebrations. WONDA Coffee fans in Peninsular Malaysia are encouraged to keep an eye on for fantastic WONDA Coffee deals at selected retail outlets as below:
Promotions until 31st August 2020
myNEWS – Buy 2 cans of WONDA Coffee 240ml at RM4.
Kedai Mesra PETRONAS – Buy 2 cans of WONDA Coffee 240ml and stand a chance to win cash prizes up to RM50,000.
Shell Select – 'Buy 2 WONDA Coffee 240ml FREE 1 trial pack of WONDA 3-in-1 Premium Coffee' offer.
Shopee and Lazada – 'Buy 2 WONDA 3-in-1 Premium Coffee FREE a 4-can pack WONDA Kopi Tarik 240ml' offer.
AEON, AEON Big, Ben's Independent Grocer, Billion, Econsave, Giant, HeroMarket, Ong Tai Kim, TESCO, TF Value-Mart, The Store and Village Grocer –Buy a 4-can pack of WONDA Coffee at RM6.99.
AEON, Billion, Ong Tai Kim, TESCO, TF Value-Mart and Village Grocer –Buy 1 WONDA 3-in-1 Premium Coffee from as low as RM10.50.
Promotions until 13th September 2020
7-Eleven – Enjoy great deals on WONDA products (assorted variants, excluding WONDA Zero Max range) and stand a chance to win OPPO A92.
Shopee and Lazada – 'Buy 10 WONDA Coffee 240ml FREE 2 WONDA Booster 240ml' offer.
A WONDA-ful celebration of coffee and more is coming to East Malaysia as well! Refer below for the exciting promo deals:
Promotions until 6th September 2020
Orange Convenience Store –Buy 2 cans of WONDA Coffee 240ml at RM3.79.
Bataras, CKS Hypermarket Sdn Bhd, Emart Group, Everwin Group, Golden Dragon City, Boulevard Group, Farley Group, New World Group and more participating retailers – Buy a pack WONDA 3-in-1 Premium Coffee at RM12.99 and get a FREE can of WONDA Coffee 240ml.
7-Eleven – Enjoy great deals on WONDA products (assorted variants, excluding WONDA Zero Max range) and stand a chance to win OPPO A92.
Shell Select – 'Buy 2 WONDA Coffee FREE 1 trial pack of WONDA 3-in-1 Premium Coffee' offer.
"For our seventh consecutive International WONDA Coffee Day we wanted to truly appreciate and thank our loyal consumers for the support that they have given us in making WONDA Coffee a top choice in Malaysia with great deals and new experiences. We hope consumers enjoy this year's IWCD celebrations and are able to have a WONDA-ful time with the various activations and rewards we have in store for them," added Santharuban.
For more information on WONDA Coffee's future activties, please visit: https://www.facebook.com/WondaCoffeeMalaysia.