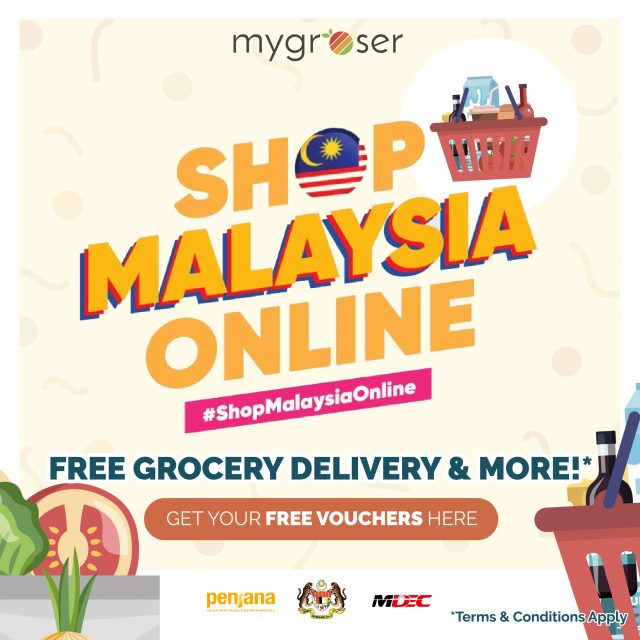 Malaysia's leading online grocery platform supports the Government's  Short-Term National Economic Recovery Plan (PENJANA) efforts in e-commerce 
Consumers and businesses can expect over RM1,000,000 in deals, discounts, free deliveries and other value-added services to help SMEs get online and reach their consumers
Supports national goal of accelerating digital economy growth and helping Malaysians through the post MCO and RMCO adjustment period
SELANGOR, 27 AUGUST 2020 – In support of the Government's Short-Term National Economic Recovery Plan (PENJANA), MYGROSER today extends its e-commerce offerings to PENJANA Shop Malaysia Online initiative and PENJANA Micro & SMEs E-commerce Campaign by partnering with Malaysia Digital Economy Corporation (MDEC) to help Malaysian businesses and consumers gain greater convenience, freshness and everyday value in their grocery and supermarket purchases.
Malaysia's leading independent online grocery service of its kind – MYGROSER – is offering over RM1,000,000 in discounts and vouchers to consumers; and support, listing, delivery and marketing support for Malaysian micro and small and medium sized businesses (MSME) that want to sell their products online. The campaigns will run until 30 September 2020.
Throughout the PENJANA Micro & SMEs (MSMEs) E-Commercecampaign period, local SMEs will have access to savings of up to RM10,000 per company in logistics, marketing, and administration fees when they get listed on MyGroser.
Consumers in turn stand to enjoy up to RM500 per month in discounts on their grocery and everyday essential purchases through the PENJANA Shop Malaysia Online initiative by using the available discounts. These can be redeemed through the VOUCHER tab on the MYGROSER mobile application or website. MYGROSER (www.mygroser.com) is available online, and on the iOS (Apple App Store) and Android (Google Play Store) platforms.
"We have created a cost effective, freshness focused supply chain that allows brands to safely and quickly list their products for sale online across fresh, frozen, packaged, and essentials categories; and offers consumers a way to affordably, reliably and consistently enjoy a premium home and business delivery service that ensure they get their groceries and everyday essential when they want it. Buying online is a safer, more convenient option for consumers and brands alike – and we are unique in our ability to provide a consistent, affordable, and everyday value priced option. By collaborating with MDEC on the Government's PENJANA E-Commerce initiatives, we are now able to make that even more attractive to help consumers with their cost of living, and help MSMEs recover quicker by easily getting online," said Stephen P Francis, CEO and Co-Founder, MYGROSER.
The matching fund is part of an on-going commitment from MYGROSER to help consumers save more by buying online under the PENJANA Shop Malaysia Online initiative; and for businesses to go online, and to ensure that consumers enjoy affordable, fresh and convenient grocery delivery of the highest quality under the PENJANA Micro & SMEs (MSME) E-Commerce Campaign. Both are the Government's on-going PENJANA e-commerce initiatives implemented through MDEC to spur economic recovery by stimulating online consumption through high impact e-commerce promotions executed via a public-private partnership model.
Customers can choose from a wide array of local and international products – ranging from handmade Nyonya kuih, Halal sourced poultry and products, fresh vegetables direct from Cameron Highlands, and even their favourite grocery and supermarket products. All MyGroser orders also come with a 'Freshness Guarantee' – another unique point about the service. Any unsatisfactory fresh produce will be immediately replaced and/or refunded with no hassle, setting MyGroser apart from traditional market players and other online brands.
Additionally, as a service operating its own climate controlled cloud stores, MyGroser's professionally trained food handlers maintain high levels of hygiene and cleanliness, prioritising customer safety in the packing and delivery of groceries. In-light of recent circumstances, this emphasis on health and hygiene is further reinforced by the implementation of temperature checkpoints for staff and visitors, as well as the frequent sanitisation of storage areas, vehicles and packaging.
To find out more about MYGROSER's support of the Government's PENJANA initiative please visit penjana.mygroser.com.