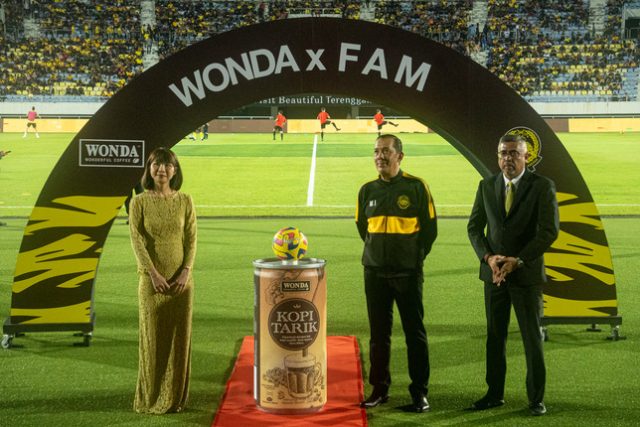 A partnership to promote national pride, unity, and empower Harimau Malaya to achieve international recognition
14 June 2023, KUALA LUMPUR – Wonda Coffee Malaysia, one of Malaysia's leading ready-to-drink (RTD) coffee brands that offer the smooth taste of freshly brewed coffee in a can have announced an exciting partnership with Football Association Malaysia (FAM), in showcasing the brand's dedication to the sport and aspirations of supporting Malaysia's national football squad, Harimau Malaya to achieve yet another remarkable milestone in the history of football.
As the first coffee brand partner in Malaysia to collaborate with Harimau Malaya, the partnership sets sights on providing greater support and inspiring the nation to support Harimau Malaya in getting one step closer to achieving the collective and evergreen dream of competing at the FIFA World Cup.
No stranger to the Malaysian football fan, Wonda has actively promoted football-focused efforts over the years. Committed to continuing to make history in this most-loved Malaysian sport, this partnership marks a significant step towards fostering unity amongst Malaysian football fans and propelling the Malaysian national football squad to achieve new heights on the international stage.
Announcing the partnership today ahead of the friendly match between Malaysia and
Solomon Islands at the Sultan Mizan Zainal Abidin Stadium in Terengganu where Malaysia
won 4:1, the partnership is hoped to also boost the preparations undertaken by the Harimau Malaya squad for the 2023 Asian Cup. This would be the first time where Malaysia qualifies to compete based on merit for the first time in 43 years, following the last time Malaysia competed on merit in 1980.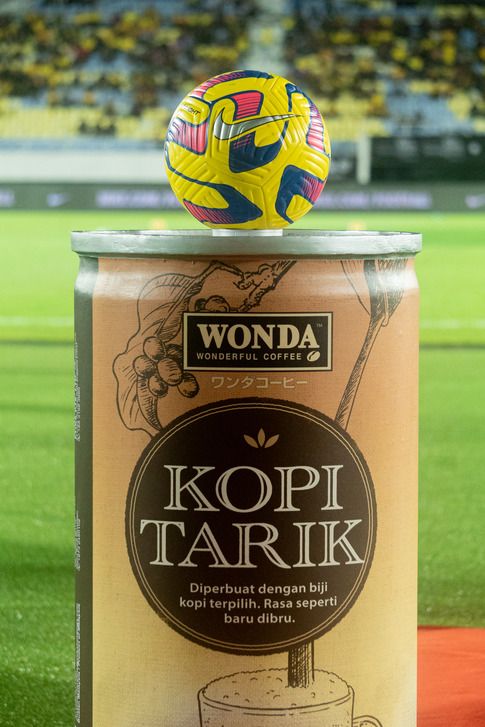 The partnership uniting Wonda's culture of excellence and FAM's pursuit of elevating the
Malaysian football industry is also hoped to be a driving force in inspiring young, budding
footballers and all of Malaysia to unite under one common interest and continue reaching for the stars as we support the national team in achieving their aspirations of competing at FIFA World Cup.
Etika's Chief Executive Officer, Santharuban T. Sundram said "We believe in the power of
dreams and that anything is truly possible. With that said, we are thrilled to partner with FAM in hopes of igniting a football revolution in Malaysia and inspiring the nation to dream big. Through our joint efforts with FAM, we hope to unite communities in Malaysia and lay the foundation for our Malaysian national football team to one day stand the chance to compete at the biggest international stage, the FIFA World Cup.
He also added "With this partnership, Wonda Coffee hopes to connect with every Malaysian with their enthusiasm to unite in a common passion which is football, especially when it comes to supporting our national team. As the 12th man supporting our national team every step of the way, we hope to continue fuelling the spirit of the national football squad in continuing to create significant milestones in our national football history."
FAM's President, Datuk Haji Hamidin Haji Mohd Amin said "FAM would like to welcome
Wonda Coffee Malaysia as our official coffee partner. We are glad to be given an opportunity to work with a brand that has similar goals and principles. This association marks the beginning of a new era for Malaysian football. By nurturing a strong love for the game among Malaysians, we hope to build a strong football ecosystem. We aim to motivate the country to dream big and achieve greatness by working together."
The partnership will encompass a variety of activities including fan engagement
programmes, exclusive meet-and-greet sessions with the national team players, promotional campaigns, and other initiatives aimed at deepening the connection between the national team and its passionate fan base.
Wonda Coffee and FAM are eager to embark on this remarkable journey, uniting coffee
enthusiasts and football fans alike. Through this partnership, both brands seek to harness
the power of unity and passion to strengthen the bond between Malaysians and their
national football team, bringing them closer than ever before.