F&N in Malaysia has collaborated with Tai Thong to roll out a new limited-edition Oyoshi Gold Mooncake set. The mooncake set includes 4 bottles of the new no-sugar OYOSHI GOLD Sencha & Kabusecha and two Tai Thong halal mooncakes (lotus single yolk and black sesame white lotus single yolk).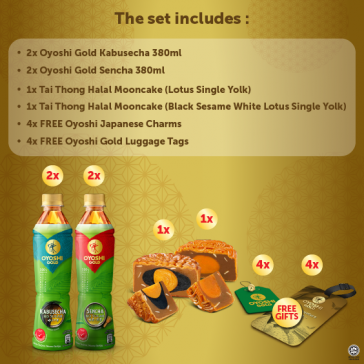 The bundling of mooncake, which is sweet, with no-sugar RTD tea taps into the practice of eating sweet mooncake, while having tea.
The limited-edition mooncake set is priced at RM 68 and is exclusively for all F&N Life customers. Click here to order.