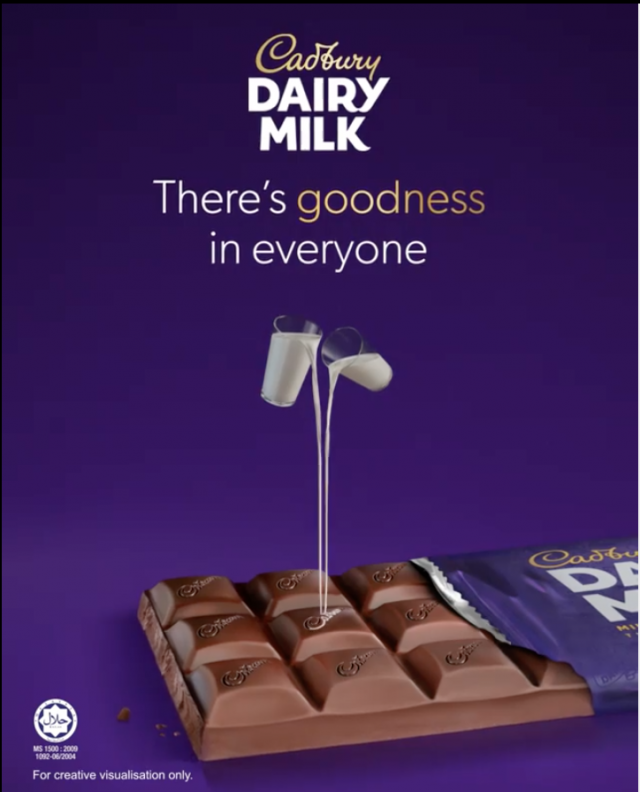 The brand aims to inspire and encourage acts of generosity in everyone
KUALA LUMPUR, 26 August 2020 – If there's one thing that knows no boundaries even in the most difficult of times, it's Generosity. It's the very instinct to share goodness with those around you, in the selfless hope of genuinely improving another person's life and Cadbury Dairy Milk believes "There's Goodness In Everyone".
As a nation once recognised amongst the top 10 most generous people in the world, Cadbury Dairy Milk aims to commemorate the generosity of Malaysians through a local campaign titled #SaluteTheGoodness. The social media movement is part of Cadbury's efforts to spotlight everyday acts of generosity carried out by everyday people by having individuals share their personal generosity stories and experiences with the hashtags #SaluteTheGoodness and #GoodnessInEveryone.
In addition to the #SaluteTheGoodness campaign, the confectionery brand aims to further establish Cadbury Dairy Milk in Malaysia as a brand that inspires a little more benevolence in the world through an inspiring commercial titled "Mum's Birthday". The video tells the story of a kind young girl wanting to buy a bar of Cadbury Dairy Milk for her mum's birthday using trinkets she has with her, such as a button, unicorn and bracelet, which the shopkeeper warmly accepts. This story sheds light on the generosity of both the little girl and the shopkeeper and highlights that there is indeed goodness in everyone.
While the nation's favourite chocolate brand under Mondelēz International has been serving Malaysians with delicious treats for over 70 years, Cadbury Dairy Milk's celebration of generosity dates back to as early as 1905 when founder, John Cadbury gave a glass and a half of milk in every chocolate bar, instead of the standard one glass, creating the classic smooth taste that people now know and love.
Vikram Karwal, Associate Director, Marketing Chocolates SEA, Mondelez International says, "Cadbury Dairy Milk stands for Generosity by creating the special bonding of people. It seems fitting that we're launching the #SaluteTheGoodness campaign to reflect this founding principle of generosity and authenticity at such a challenging time. It is also a reflection of our commitment to create snacks that consumers can feel good about, produced by makers and bakers who care, with ingredients that are sourced sustainably, and which speak to their appetite for authentic and natural products."
As Cadbury Dairy Milk continues to evolve over the decades, its iconic Glass and a Half logo remains a cornerstone symbol of the brand's intrinsic goodness and generosity. In the refreshed identity, the logo now links directly with the chocolate chunk to emphasize the brand's belief that There's Goodness in Everyone and to highlight the quality of ingredients.
In line with inspiring generosity in Malaysians, Mondelēz International (Malaysia) has given its iconic brand Cadbury Dairy Milk a fresh new brand identity with new packaging that includes a redrawn wordmark, new iconography, new typography, Cocoa Life logo, and Mindful snacking guidelines, which highlights the company's commitment to sustainability, Mindful snacking and high quality ingredients. The refreshed packaging will look and feel more natural, authentic and high quality. The new brand identity was first launched in Australia in April, followed by South Africa. Malaysia is the first market in South East Asia to adopt the renewed look this year.
"Malaysia is a key market and our iconic Cadbury Dairy Milk chocolate is loved by Malaysians. We're excited to share our new look and distinctive brand packaging here first. Over the last few years, we have been reconnecting with our roots and bringing our founding values to life in a relevant and engaging way for today's consumers. That is why the new identity is grounded in the original intent behind the brand's purpose of spreading generosity and celebrates our unique product credentials and iconic distinctive assets in a modern way," added Vikram.
The new packaging will also display the Cocoa Life logo as a reinforcement of the company's commitment to source all its cocoa sustainably. In line with Mondelez Internationals' purpose of 'Snacking Made Right', the Cocoa Life sustainability programme has been integral to the brand for the past eight years, helping to train 140,000 cocoa farmers to look after the environment; helping to plant 1.2 million trees in cocoa regions across the world and helping to ensure cocoa farming is a viable livelihood for the community.
The first of the range to reveal the new Cadbury Dairy Milk identity is a classic Malaysian favourite, CADBURY DAIRY MILK 165g and is now available in major Hypermarkets and Supermarkets.
For more information on Cadbury Dairy Milk's #SaluteTheGoodness campaign and refreshed packaging, check out the Facebook page at https://www.facebook.com/CadburyMalaysia. To learn more about the efforts of Cocoa Life, please visit their website at https://www.cocoalife.org/