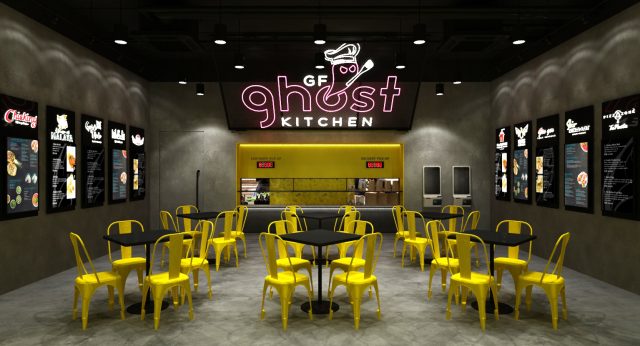 Cuscapi, Presto, Hungry and GF Ghost Kitchen team up to offer diners an easy and fully integrated "order, pay and dine-in/take-away/delivery" digital solution paired with a vast variety of food choices
Ghost kitchens are the latest disruptor in F&B industry to drive costs down and raise revenues
Partnership allows F&B operators to focus on making great food as technology enablers drive operations
Kuala Lumpur, 14th September 2020: In a follow-up to the tripartite partnership announced last June by Cuscapi, Presto and Hungry to offer a fully integrated and digitalized order-to-delivery solution to help boost the local Food and Beverage (F&B) industry in these unprecedented times, the three parties have now joined forces with GF Ghost Kitchen (GFGK), to not only offer customers a greater variety of F&B choices but also order, pay, dine-in/take-away/delivery convenience at their fingertips.
GF Ghost Kitchen, a subsidiary of FBE Ventures (FBEV), serves and delivers the offerings of 15 F&B international and local brands (with the majority of these brands owned by FBEV) from a single location. In this new quadripartite partnership, GFGK will be the first local ghost kitchen to adopt Cuscapi's cloud-based POS technology to help them manage their order-to-delivery cycle, and everything in-between.
Presto, which offers a database of more than 10 million users as third largest ecommerce marketplace in the country, a strong network of payment partners, as well as its Presto app linking to FBEV's chain of F&B outlets, will help GFGK to enjoy better sales via this partnership.
Hungry, on the other hand, through its Hungry app, will allow its customers to order and pay for food from GFGK, and assist the ghost kitchen complete its order-to delivery cycle through its delivery service.
This partnership enables diners to enjoy four different customer experiences to order, pay and enjoy their food, simply by harnessing technology which is fast changing the F&B operations landscape.
Firstly, customers who are at GFGK will be able to place their orders at the selfservice kiosks, pay online, and collect their food from the pick-up counter in the ghost kitchen as soon as their number is called.
Under the second option, customers can use their own mobile devices to scan QR Codes at GFGK to place their orders, pay via Presto Pay, order goes to kitchen and collect their food through the ghost kitchen's pick-up counter to either enjoy a dine-in or take-away experience.
The third option, is a delivery service customer in which customers can order GFGK's food via the Presto app, place an order which goes through Custory, pay online via Presto Pay and get their food delivered via Hungry, which is also integrated to Cuscapi's POS system.
As a final option, customers can use the Hungry app to place an order from any one of GFGKs, pay via the app, after which Cuscapi's POS notifies the kitchen to prepare the food, and finally the Hungry delivery rider comes to pick-up the food.
According to Cuscapi's Chief Executive Officer, Anthony Gerald, GFGK is its first customer in Malaysia to embrace the ghost kitchen operations and enhance their customer experience with the adoption of Cuscapi's cloud-based POS.
"Our cloud-based POS-based technology offers F&B operators the tech solution they need to drive their costs down while increasing their revenues. Our solution will help them to fully focus on growing the business rather than finding the right solution to piece together. Custory helps them to check on sales data, create digital menus, access customer information, manage stock and customer loyalty programme, as well as integrate third-party food and beverage apps, among others. F&B operators such as GreatFUN Restaurants (GFR) will find it so easy to adopt and deploy the solution to enjoy the rewards of a cost-effective and efficient," added Anthony.
As for Presto, this latest strategic partnership with GFGK is set to offer greater benefits for its customers as ghost kitchens pave the way forward in the F&B sector. F&B operators such as GFGK can also be assured that with Presto's vast experience in digital marketing, they will gain better visibility and reach.
"F&B operators can overcome many of their challenges by digitalising their businesses and collaborating with the right partners with the best solutions. And in this partnership, we see win-win situations as all parties bring their best offerings to the table," said Presto's Chief Executive Officer, Cheong Chia Chou.
The Presto app, which customers can use to place their food orders, not only offers all modes of cashless payment but also integration to loyalty cards, in which membership points can be used to off-set one's F&B bill. This integration helps restaurant  operators to gain more customers and enjoy better bottom lines.
F&B operators who want a wider reach to help boost their business, will surely benefit from their partnership with Hungry, an app-based delivery service. The company has more than 7,000 plus registered riders, serving 14,000 merchants and 15 major cities.
"We are pleased to partner with GFGK to offer their F&B on our Hungry app. We see mutual gain from this partnership as our customers get a wider selection of F&B options while GFGK will see speedy delivery of their F&B to customers. As we work on an area-hub model, we are able to shorten service response between customers, riders and merchants. This simply translates as speedy delivery, giving us the edge over our competitors. So, we are happy to welcome GFGK on board and continue to enjoy our partnership with Cuscapi and Presto," said Hungry's Chief Executive Officer, Gary Soo.
Meanwhile, GFGK, which operates ghost kitchens – modular and versatile super kitchens that can service multiple brands and serve multiple cuisines all from one location – believes the partnership will help them focus on offering great tasting food as
enabling technologies make their operations more cost effective and efficient. Ghost kitchens have no service staff and all, ordering will be done on a digital interface, while its payments will be executed using e-wallets and other digital payment methods.
"Ghost kitchens are a way to create economics of scale in the F&B industry especially in the age of disruption and competition and Cuscapi's cloud-based POS will augur well in our set-up as it promises the efficiency we seek in a fully integrated order-todelivery solution," said FBE Ventures' Managing Partner, Manichel Subra.
Among the many house brands that are owned or managed under FBEV, GFGK's parent company, include Wingstop, Gajah Mada, The Majapahit, Tail & Fin, Canning Heritage, Nest, House of Malaya and many others. GFGKs are located at Marc Residence KLCC, Citta Mall and The Curve Mutiara Damansara, with a few more locations in the pipeline.
Ghost kitchens are a more appealing set-up as they require lower capital expenditure in doing up the restaurant in terms of furniture purchase, renovation and décor, lower operating expenditure in terms of reduced front house employees and restaurant space rental, labour and equipment optimisation and finally faster return on investment