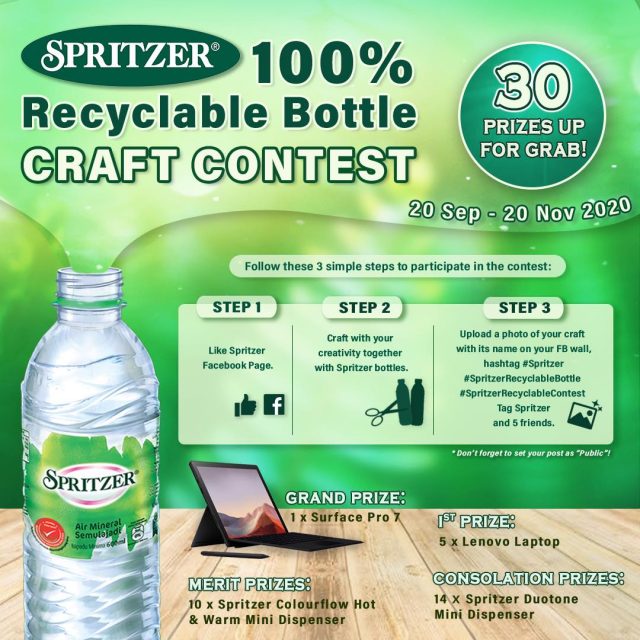 Up to 30 prizes to be won including Surface Pro 7 and Lenovo
TAIPING, 28th Sept 2020 – SPRITZER MALAYSIA, The best-selling natural mineral water in Malaysia has announced another sustainable initiative in a fun way with "Spritzer 100%  Recyclable Bottle Craft Contest".  The contest is to promote greater awareness to use Spritzer 100% recyclable packaging and to unleash creativity in craft among Malaysians.
Environmental sustainability has always been the key corporate social initiative of Spritzer. Spritzer walk the talk by introducing lightweight bottles made with 35% less plastic, innovating easy twist bottles to save 57% recycling space, 1st ever plant-based bottles that helps reduce carbon footprint by approximately 30%. Today, not only Spritzer Natural Mineral Water bottles are produced by PET but the label as well, which now considered as 100% recyclable. PET stands for Polyethylene Terephthalate. Widely used in the industry due to hygiene purposes, it ensures the quality of the food and beverage.  
The Contest will run from 21st Sept to 20th Nov 2020 and there are up to 30 prizes for grab including Surface Pro 7 and Lenovo laptops. A plastic bottle can be a very useful material for craft. It can be reused and turned into a vase, pencil holder, decorative lamp, useful household items and many more things. The limit is only your imagination. Malaysians are encouraged to unleash their creativity to craft with Spritzer Sustainable Packaging.
The Contest is opened to all Malaysian. Information about the contest can be accessed through Spritzer Malaysia official Facebook page facebook.com/Spritzer.
About Spritzer Malaysia
Established in the late 1980s, Spritzer Group of Companies is comprised of eight subsidiaries that specialise in the manufacturing and distribution of natural mineral water, sparkling natural mineral water, distilled drinking water, carbonated fruit flavoured drink, non-carbonated fruit flavoured drink and functional drink.
The group goes to great lengths to protect its vast 330-acre of natural mineral water sources in Taiping, Perak from pollution and damages.
Furthermore, Spritzer's manufacturing plants are equipped with automated and advanced bottling technology, manned by highly qualified professionals to ensure that every Spritzer product is exceptionally high-quality, deserving the many awards it has won.