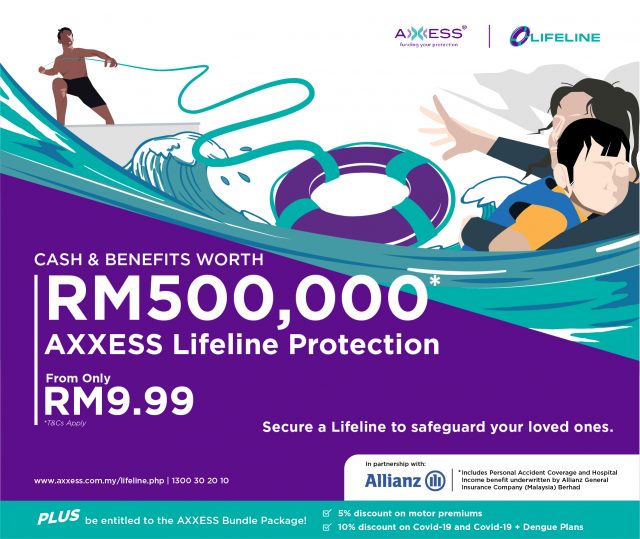 Personal Accident protection, with a combined value of RM500,000 is now available from only RM9.99
Kuala Lumpur, 30 Sep 2020 – The current economic climate has affected most people in Malaysia, many of whom struggle to make ends meet. It has been projected that by the end of October, some one million Malaysians will be without a job. This does not include foreign nationals working in Malaysia, who are equally affected. As a consequence, they stand to lose any insurance protection provided by their employers, which for many, is the only insurance protection that they may have. This is further accentuated by the rising gig economy (i.e. contract workers and freelancers), which leaves many people without a lifeline when something unfortunate happens, such as an accident leading to death. There is an urgent need for a 'safety net', in light of limited welfare provisions.
One enterprising company – AXXESS – is set to change this by offering Malaysian residents (aged 30 days to 80 years) a lifeline through a customised Personal Accident protection plan. Offered in collaboration with global insurance providers, the plan (which is offered together with the AXXESS Bundle Package, exclusive to AXXESS Lifeline customers) promises a combined payout valued at RM500,000 in the event of an accident that leads to death. Signing up for the plan does not even require medical examination. Available from only RM9.99, it is also remarkably affordable!
Aptly named AXXESS Lifeline Protection, this is a Personal Accident plan that will benefit all Malaysian residents. In simple terms, personal accident or PA, refers to financial assistance or payout that covers a person in the event of death resulting from an accident. However, this is one aspect of protection that people tend to overlook.
"One increasing trend among people today is that they tend to rely on the insurance plan offered by their employers, without much thought about securing themselves personally, should anything untoward happen to them or to members of their family. However, many of these plans only protect the employee, with little or no benefit to family members. Moreover, corporate insurance plans tend to focus more on inpatient coverage at hospitals, without Personal Accident protection. In the event an accident happens that leads to death, many will be left uninsured. Moreover, those without a job or working in the gig economy may not even have any protection at all," said Y.A.M. Tunku Naquiyuddin Tuanku Ja'afar, Executive Chairman of Shieldcard Holdings – parent company of AXXESS.
His concerns are warranted as accidents can happen – anytime, anywhere and to anyone. If such an accident happens to the breadwinner of the family, it will directly affect the entire family not only emotionally but financially. The loss of income can add to the harsh realities of life; including funeral expenses, medical bills, as well as vehicle and housing loans, let alone the day-to-day expenses.
The RM500,000 payout offered by the AXXESS Lifeline includes a lump-sum cash payment, as well as vouchers and benefits for the essential needs of a family for the next three years, including medical benefits (inpatient and outpatient), fuel, groceries, utilities, telco, health and personal care products, clothing, furniture and home appliances, e-wallet top-ups, subscription services etc.
Truly, AXXESS Lifeline offers an all-encompassing plan to cover a family's essential needs. This is made possible through strategic partnerships forged by AXXESS with notable insurance providers, merchant partners and service providers, across diverse industries.
"We welcome partnerships with even more insurers and merchants to benefit more people. Ultimately, providing accessible protection to everyone in Malaysia is the common good that AXXESS and its partners are wholeheartedly committed to. Another added benefit of having multiple insurers is that consumers are able to purchase more than one policy, thereby having an even higher coverage," explained Richard Devaraj, CEO of AXXESS. Protection worth half a million ringgit which is normally only a dream for many, is now within reach for most if not all Malaysian residents, he added.
AXXESS Lifeline is designed to provide families with a "lifeline" in the unfortunate death of a family member, especially the breadwinner, in an accident. AXXESS Lifeline ensures all the essential needs of a family is taken care for the next 3 years, providing families a lifeline to be self-reliant.
AXXESS Lifeline is perhaps Malaysia's best value-for-money protection plan. This is certainly a timely and highly welcomed protection for Malaysia's under-insured population and a refreshing alternative to existing insurance products.
Now, just about every resident can enjoy peace of mind by protecting themselves and their families. For more information about AXXESS Lifeline Protection, head on over to www.axxess.com.my/lifeline.php or call 1300-30-20-10.