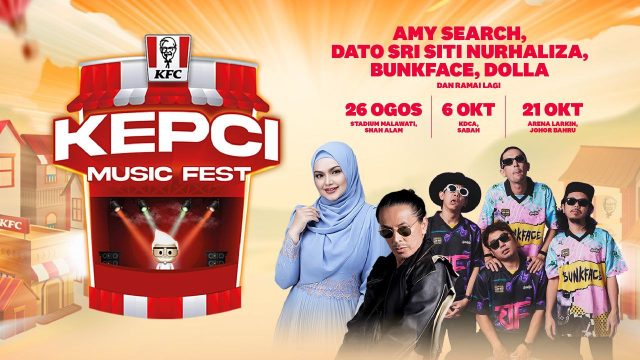 KUALA LUMPUR, 18 August 2023 – In honour of KFC's 50 years of serving up finger lickin' good memories, the KEPCI Music Fest is set to sweep through the nation, starting with an explosive first location at the Melawati Indoor Stadium, Selangor on Saturday, August 26, 2023.
As KEPCI Music Fest takes centre stage to celebrate half a century of shared joy and moments with Malaysians, KFC promises a fusion of music, culture, and delicious food. The festival line-up boasts an array of local musical legends and home-grown talents, including Dato' Sri Siti Nurhaliza, Amy Search, Misha Omar, and the sensational Budak Nakal Hujung Simpang, among others.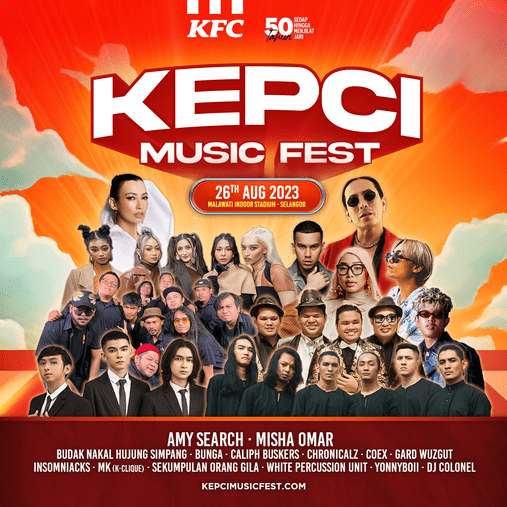 KEPCI Music Fest is more than just a music event; it's a celebration of Malaysian culture, community, and unity. Delve into a day filled with fun activities, immersive cultural performances, and mouth-watering KFC treats. Commemorate 66 years of Malaysian independence alongside 50 years of cherished memories with KFC.
QSR Brands CEO Nehchal Khanna said the KMF was a celebration of all things Malaysia and stands as a tribute to the Malaysian spirit as well as the bond between KFC and its loyal patrons. This festival goes beyond music, embracing the essence of friendship, unity, and diversity that have shaped the nation's identity.
"This is a Malaysian Festival, For Malaysians, By Malaysians! We are doing this not just to celebrate 50 years of KFC but that all important significance of Merdeka. In a sense, it is our way of giving back to Malaysia, by celebrating our rich history and culture by showcasing these truly authentic Malaysian talents.
"The KEPCI Music Fest stands as a testament to the enduring connection between KFC and the people of Malaysia. With this celebration, we honour not only five decades of culinary excellence but also the unbreakable bond that has enriched our nation's cultural tapestry. It's a moment to reflect on the shared joy KFC has brought to countless homes and to look forward to a future of continued growth and cherished memories,"
Secure tickets now to be in the heart of the action at the Melawati Indoor Stadium, Selangor on Saturday, August 26, 2023. For ticket details, event updates, and inquiries, visit kepcimusicfest.com or contact the KEPCI Music Fest team at [email protected].
 A Finger Lickin' Good Experience from Start to Finish
Attending the KEPCI Music Fest is a breeze. Follow these simple steps to secure a spot and relish in the festivities:
Step 1: Purchase KEPCI Music Fest Set
Choose from a selection of delectable KEPCI Music Fest Sets, including the Box Meal, 3 Piece Combo, Juicy Whole Chicken, and Buddy Meal. Each set purchased entitles one ticket.
 Step 2: Upload Receipt
Visit kepcimusicfest.com, provide information, and upload receipt. Make sure the receipt includes clear details such as Store ID, Date, Order/Transaction ID, and Product Name.
Step 3: Receive Unique E-Codes via Email
Upon successful submission, receive a confirmation email containing unique e-codes. These codes will be used for e-tickets registration.
Step 4: Register and Redeem E-Tickets
Click the registration link in confirmation email and use e-codes to register for e-tickets. E-tickets will be delivered via email for easy access. Celebrate half a century of finger lickin' good moments, music, and unity at KEPCI Music Fest.