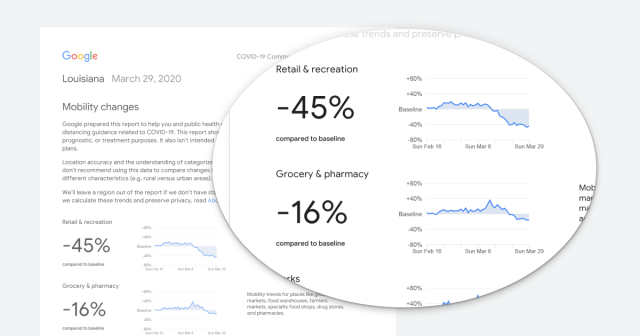 Google has released a series of new COVID-19 Community Mobility Reports to help public health officials make critical decisions to combat COVID-19. For market researchers, this report gives us a good idea of the mobility trends for grocery & pharmacy shopping between 16 February 2020 and 29 March 2020.
Here is a caveat from Google – "Location accuracy and the understanding of categorized places varies from region to region, so we don't recommend using this data to compare changes between countries, or between regions with different characteristics (e.g. rural versus urban areas).
Malaysia: (COVID-19 cases as of 4 April 2020: 3,483)

The chart above clearly shows the incidence of panic buying in the lead up to and after the announcement of the Malaysia Movement Control Order (MCO) on 16 March 2020. The MCO officially went into effect on 18 March 2020. MCO is a partial lockdown where only essential services such as supermarkets, wet markets and pharmacy are allowed to opened but within a restricted time period. The MCO has since been extended to 14 April 2020.
In the subsequent days after the MCO was implemented, visit to physical shops fell into a tail spin as most people had already stocked up or were ordering online. We did notice an inverted U-shape in the coming days as this probably shows people started to return to physical stores to do some top-up shopping. But overall mobility trends for grocery and pharmacy fell 58% compared to the baseline in mid-February 2020.
Thailand (COVID-19 cases as of 4 April 2020: 2,067)

The Thais started avoiding going out from early March 2020, which was when the second wave of COVID-19 outbreak started. As of 29 March 2020, there were no nationwide lockdown yet. Only Bangkok imposed a closure of shopping malls and markets from 22 March 2020 to 14 April 2020, while allowing those selling food and essential consumer goods to remain open. Several other provinces such Samut Prakan, Samut Sakhon, Nakhon Pathom, Nonthaburi and Pathum Thani followed suit.
During this period, mobility trends fell by 27% with less noticeable panic buying trend compared to Malaysia.
The Thai government has since taken a stronger stance by imposing a nationwide curfew from 2 April 2020 until 15 April 2020 banning all people from leaving their homes from 10pm to 4am.
Singapore (COVID-19 cases as of 4 April 2020: 1,189)

The first bout of panic buying occurred in Singapore in early February 2020 after the government raised its COVID-19 alert level to Disease Outbreak Response System Condition (DORSCON) from Yellow to Orange. The second spike happened after neighbouring Malaysia implemented MCO. Overall, visits to places like grocery and pharmacy fell by a mere 6% as confidence in the government ability to tackle the pandemic remains high.
As the number of cases continue to rise, Singapore finally announced on 3 April 2020 of a month-long partial lockdown from 7 April 2020 with the closure of non-essential services.
Philippines (COVID-19 cases as of 4 April 2020: 3,094)

On 16 March 2020, the Philippines declared the entire Luzon area in the Philippines under "enhanced community quarantine" (ECQ) with temporary closure of non-essential services with effect on 17 March 2020 until 12 April 2020. The lockdown in Metro Manila happened two days earlier on 15 March 2020. Davao City on the southern Philippine island of Mindanao implemented the ECQ on 4 April 2020.
The effect of the lockdown saw visits to grocery and pharmacy fell 59%. The flattening of the line indicates consumers were doing most of their pending in their neighborhood grocery stores like sari-sari outlets and stopped visiting bigger store format usually located far away from their homes.
Vietnam (COVID-19 cases as of 4 April 2020: 239)

Vietnamese consumers have become cautious and have gradually reduced travelling do their shopping. The mobility trend saw a 29% fall on 29 March 2020 from the baseline in mid-February 2020. So far, the Vietnanese governments have not imposed any lockdown but this might change as the number of cases keep on rising. Vietnam's prime minister has already asked major cities to prepare for possible lockdowns.
Mobility is expected to continue to fall following Prime Minister Nguyen Xuan Phuc's announcement of a 15-day period of isolation nationwide with effect from 1 April 2020 for 15 days with the option of extending to one month. The public is advised to stay at home and only go out if necessary for buying food and medicine or working in factories or production facilities that produce essential goods and other emergency cases.
Indonesia (COVID-19 cases as of 4 April 2020: 2,092)

The COVID-19 situation in Indonesia is worrisome. With the highest number of deaths in Southeast Asia, there is a high probability that COVID-19 cases in the region's most populous country has been underreported due to the inadequate testing. The death rate in Indonesia is 9.1% compared to 5.2% worldwide and Malaysia's 1.6%.
Even the nation's spy agency has warned that the number of COVID-19 cases may rise to 106,287 by July 2020.
The Indonesian capital of Jakarta closed schools and tourist attractions in the city for two weeks from mid-March 2020. On 20 March 2020, Jakarta Governor Anies Baswedan imposed a state of emergency for two weeks until 5 April 2020 with closure of entertainment venues with limited public transportation service. The state of emergency was later extended until 19 April 2020.
Retailers and foodservice operators have taken measures to help curb the spread of COVID-19. PT Matahari Department Store said it is closinge its stores for 14 days from 30 March 2020 to 14 April 2020.
Indonesian consumers are already taking precautionary measures such as staying at home and avoiding public places. The mobility trend for Indonesia for grocery shopping fell 27%, reflecting consumer cautious sentiment.
President Joko "Jokowi" Widodo finally declared a COVID-19 public health emergency on 31 March 2020 with the proclamation of Government Regulation No. 21/2020 on large-scale social distancing. Such measures include the closure of schools and workplaces and restriction of religious activities. The annual mudik (mass exodus) on Idul Fitri has not been banned but is discouraged.