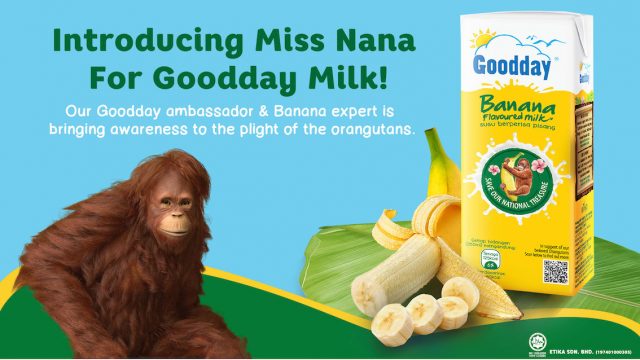 Goodday Milk extends support to WWF-Malaysia to spread awareness and encourage Malaysians to protect orangutans
Kuala Lumpur, 5 October 2020 – One of Malaysia's favourite milk brands since 1968, Goodday Milk is bringing more goodness for Malaysians and the communities we live in, including our natural treasures. In conjunction with the launch of Goodday Milk's latest Gooday UHT Banana Milk, the brand will showcase support to WWF-Malaysia (World Wide Fund for Nature – Malaysia) to shed light on the plight of orangutans in the country.
Aiming to be more than just a milk beverage on store shelves, this marks the first wildlife conservation campaign spearheaded by Goodday Milk. Bringing more goodness to communities, through this initiative, Goodday Milk aims to educate Malaysians about orangutans as well as spread awareness on what we can do to protect this endangered species.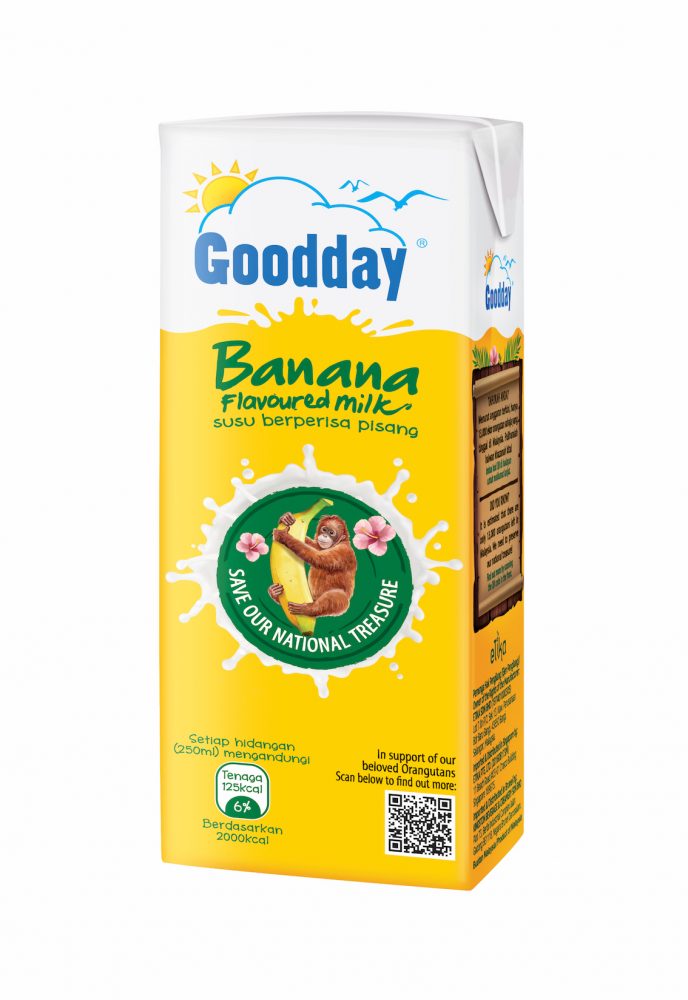 "At Goodday Milk we have always been advocating campaigns that add goodness to the life of our consumers, be it through meaningful partnerships or exciting rewards. Within support of WWF-Malaysia's conservation efforts, we hope to leverage our vast audience of consumers and get them actively involved in protecting our Bornean orangutans," said Santharuban T. Sundaram, Senior Vice President of Marketing and Alternate Business at Etika Sdn Bhd.
To drive more love and kindness towards our furry friends, Goodday Milk decided to step in and create awareness about the plight of our Bornean orangutans as well as encourage consumers to learn more about this endangered species and take action. To get consumers involved with this cause, Goodday Milk's latest UHT Banana Milk packaging comes incorporated with a QR Code that consumers can quickly scan to learn more about the endangerment of orangutans in Malaysia. The link will also direct consumers to information about how they themselves can support the cause, by spreading awareness and contributing towards the mission.
In order to drive further support, Goodday Milk is also encouraging consumers to share images of their Goodday UHT Banana Milk pack on their social channels with #GooddaySupportsOrangutans. Upong receiving 1,000 hashtags from consumers, the brand will double their donations to WWF-Malaysia's orangutan conservation efforts.
As a part of this campaign, Goodday Milk is leveraging digital assets such as engaging and informative videos to spread further awareness about the issues affecting orangutans in Borneo such as deforestation and climate change. Goodday Milk has also created the first orangutan influencer, Miss Nana to advocate a good cause. Miss Nana will be featured in  videos, taking audiences through the forests of Borneo and sharing her story with them, to educate Malaysians on the importance and need for protecting orangutans.
Goodday Milk is no stranger to heart-warming, feel-good campaigns that bring good cheer. From donations in kind to orphanage homes, to extending support to local dairy farmers and milk storage facilities, Goodday Milk has always upheld its mission of bringing goodness to the community through various means. More recently, the brand has also explored the use of digital initiatives, such as virtual moreh sessions and webAR celebrity house visits, to champion a Safe Ramadan for Malaysians.
For more information on the ongoing promotions and campaigns, kindly visit Goodday Milk Malaysia Facebook page www.facebook.com/gooddaymilkmalaysia.