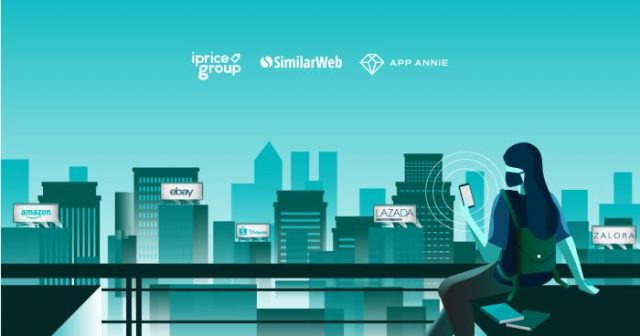 With Covid-19 impacting consumers' behaviors and accelerating digitalization, the Southeast Asian e-commerce industry has been showing exciting developments in the first 6 months of 2020.
Price comparison and product aggregating website iPrice Group in collaboration with SimilarWeb and App Annie publishes the Southeast Asian Map of E-commerce Report for Q2 / 2020.
The report pointed out major changes in consumers' behaviors and the e-commerce industry brought about by Covid-19, specifically in 6 countries: Singapore, Malaysia, Indonesia, Thailand, Vietnam, and the Philippines.
Online Demands for Essentials Growing Strong
In the first half of 2020, the report shows that website traffic of online general department stores increased in most of the countries. Increases can be seen in Indonesia, Thailand, Malaysia, and Singapore at up to 18% higher than the 2nd half of 2019.
In contrast, fashion websites took a hit with average traffic decreased in all 6 countries. Thailand's fashion websites performed the worst on average at -62% in H1 / 2020 compared to H2 / 2019. Q2 / 2020 also witnessed the closing down of Sorabel, a much-celebrated Indonesian fashion startup.
Similarly, heavy downturns can be seen in Malaysia for electronics website (-35% in traffic) and in Indonesia for beauty websites (-26% in traffic).
These results prove that the impacts of Covid-19 are changing consumers' online shopping demands. Demands for non-essentials items such as fashion, cosmetics, and smartphones slowed down significantly, while demands for essentials such as groceries and health supplements shot up.
This can be seen in the clearest by looking at data on orders made through iPrice's shopping portals. In H1 / 2020, average order values for electronics and fashion increased by only 18% and 11% year-over-year. Meanwhile, average order values for Health and Home & Living products increased by 25% and 26% respectively.
Facing this trend, in Q2, e-commerce players across the region have identified grocery and health supplements as important product categories going forward.
Almost all major e-commerce marketplaces had multiple sales campaigns to promote health supplements and grocery. Moreover, some are investing in logistics to assure these essentials get to the consumers. In April, Lazada expanded their fresh produce category to Malaysia, Vietnam, and Indonesia. Then in May, Vietnamese company Tiki introduced TikiNGON – a service to deliver groceries in 3 hours.
Mobile Applications – The Main Battle
Unexpected circumstances brought about by Covid-19 became a turning point for Southeast Asian e-commerce. With more people staying at home, there is an increase of demand for online entertainment, which presents a perfect opportunity for shopping applications to engage with people.
As a result, in Quarter 2, according to reports of iPrice Group and App Annie, the total number of sessions on shopping applications in Southeast Asia reached 65.1 billion, a big increase of 39% compared to Quarter 1.
Leading this jump in usage is the Philippines, Thailand, and Vietnam with increases of 53%, 50%, and 43% respectively. Meanwhile, Indonesia leads the region in absolute number with 28.5 billion sessions in Quarter 2 alone.
The advancing of e-commerce onto mobile applications has been on-going in Southeast Asia for some time. By 2019, major e-commerce companies across the region has launched new features and promotions to introduce mobile shopping. Shopee started Shopee Feed, a social feature on its app at the beginning of 2020. Lazada held various music concert streamed through its app throughout 2019 and 2020.
Overall Online Spending Continues to Rise
Despite speculations that consumer spending would go down due to Covid-19, online spending for consumer products continued to rise in Southeast Asia.
Data from iPrice's e-commerce portals show that average basket size across the region increased by 23% year-over-year in the first half of 2020, reaching 28.5 USD per order. The Philippines and Singapore show the biggest improvements at 57% and 51% respectively.
This jump in online shopping spending despite Covid-19 negatively affecting many economic sectors shows that there is a strong shift from offline to online in consumer spending.
Click here for more information.
About iPrice Group
iPrice Group is a meta-search website operating in seven countries across Southeast Asia namely in; Malaysia Singapore, Indonesia, Thailand, Philippines, Vietnam, and Hong Kong. Currently, iPrice compares and catalogues more than 500 million products and receives close to 20 million monthly visits across the region. iPrice currently operates three business lines: price comparison for electronics and health & beauty; product discovery for fashion and home & living; and coupons across all verticals.