KUALA LUMPUR, 6 May 2021 – In conjunction with the month of Ramadhan and the upcoming Hari Raya Aidilfitri festivities, Coway has released its refreshingly new "Raya Semuanya Baharu" (Everything is new for Raya!) video commercial featuring celebrity singer, actor and television host, Alif Satar.
The commercial leverages on the Hari Raya season highlighting the time of renewal and starting on a clean slate for our physical health, family relationships and overall well-being, which also ties in with Coway's "Change Your Life" commitment and philosophy.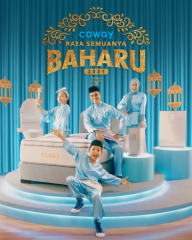 As such, the television commercial features a family of four, with Alif Satar playing the role as the father. Each of the family members enjoy respectively four new Coway products – Coway's LOMBOK III air purifier, the KECIL water purifier, PRIME Series mattress and BATERI BIDET in the comfort of their home as they get ready for Everything New this Raya.
The fun and family-focused commercial is the highlight of Coway's Raya campaign demonstrating how different members of modern families may have various wants and needs. However, thanks to Coway's innovative solutions, the result is an overall happier and healthier family; befitting the upcoming Hari Raya celebration. Check out the festive video at Coway Malaysia YouTube channel – with the evergreen Selamat Hari Raya song by Saloma.
"As the Life Care company, we would like to celebrate fresh beginnings this Hari Raya by encouraging people to embrace new changes for the better, starting at their own homes towards cleaner air and water, quality sleep and washroom hygiene – which all ultimately translates into a better quality of life," said Kyle Choi, Managing Director of Coway Malaysia.
Amidst the Hari Raya festivities, Coway is also celebrating its 15th anniversary in Malaysia this year. In conjunction with the anniversary, Coway is also looking to reward Coway consumers with prizes worth a total of RM4 million in its "Coway Happy 15 Years" contest, which runs till 24 May 2021.
The contest will reward 15 Grand Prize winners with Coway products and home appliances for the kitchen, living room, bedroom and bathroom worth RM40,000 each! Additionally, 15,000 consolation prize winners will each receive a one-time Coway Mattress Care Service, a propriety mattress cleaning package specially developed by Coway, worth RM240 each.
Participation is open to all Malaysian citizens aged 18 and above currently residing in Malaysia. All they have to do is purchase or rent any Coway product from any Coway authorised sales agent. Every purchase or rental of a Coway KECIL water purifier or Coway BATERI BIDET will be entitled to three contest entries. Meanwhile, each purchase or rental of a Coway OMBAK, LUCY or INCEPTION water purifier and Coway PRIME Series mattress will be entitled to two entries. Further, purchases and rental of all other Coway products will be entitled to one entry each. The more units purchased or rented, the more entries the eligible participants are entitled to, which means a higher chance of winning!
"For over a decade, Coway has worked towards the goal of bringing health and happiness to the Malaysian public by introducing an array of life-changing solutions. To date, I am proud to say that over seven million Coway consumers are enjoying a better quality of life throughout the country. And now, we are spreading the joy of our 15th anniversary celebrations with this contest to encourage more Malaysians to change their lives," he added.
More information about Coway's life-changing products and the "Coway Happy 15 Years" contest can be found on Coway's website.