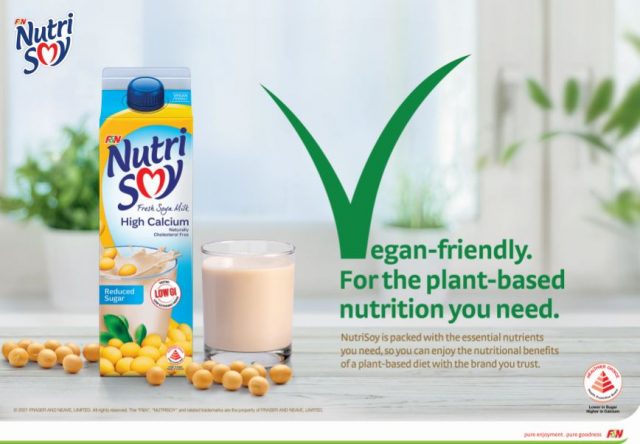 "I've found that a person does not need protein from meat to be a successful athlete. In fact, my best year of track competition was the first year I ate a vegan diet." 
– Carl Lewis,
American former track and field athlete, and nine Olympic gold medals winner
Singapore, 19 May, 2021     The delightful and wholesome range of F&N NutriSoy that contributes to a healthy and balanced diet, is now vegan-friendly, helping to fulfil the aspirations of those who strive towards starting a plant-based nutrition in their lifestyle easily. Once thought to be a remote idea decades ago, the notion of moving away totally from non-plant-based products is now rapidly gaining popularity across the globe, including Singapore which is noted for its lively vegan-friendly food scene. 
According to research, a healthy food intake may be best achieved with a plant-based diet. Research shows that such a diet is cost-effective, low-risk intervention that may lower body mass index, blood pressure, blood sugar, and cholesterol levels1. With accumulating scientific evidence supporting its health advantages, plant-based diet is steadily on the rise, according to the Journal of Geriatric Study2.
Low in Glycemic Index (GI), the F&N NutriSoy range contains a high protein, calcium, and vitamin D3 content compared to other soya bean drinks. Soya beans are the only vegetable source that contains all 9 essential building blocks of protein known as amino acids, found only in foods; which play important roles in almost every system throughout the body. They are rich in iron, phosphorus, magnesium, B-vitamins and zinc, contributing to a well-balanced sustenance. Soy protein and isoflavones found in soy milk are able to lower total cholesterol and low density lipoproteins ('bad' cholesterol).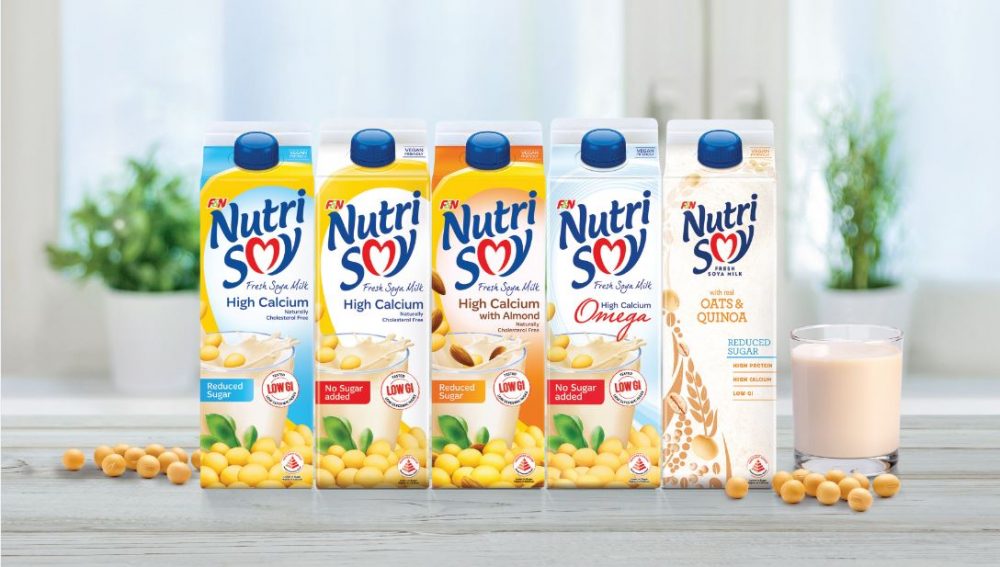 More well-informed individuals are also opting for low Glycemic Index (GI) diet. The GI classifies food based on how quickly and how high it raises blood sugar levels. The lower the GI value, the slower it will be digested and the slower it will raise blood sugar levels. This sustained release of blood sugar keeps the body satiated and fuels the body longer, assisting in diabetes and weight management. Soybeans have long been classified as a low GI food because of their high protein and dietary fibre contents.
The vegan-friendly F&N NutriSoy range is made from superior grade soya beans without artificial flavourings and preservatives, and are non-genetically modified (GMO), making it the ideal beverage to complement your healthy lifestyle. The range carries the Healthier Choice Symbol by the Health Promotion Board (HPB), halal-certified, low in saturated fat content, and is trans fat and cholesterol-free. F&N NutriSoy is also supported by the Singapore Heart Foundation.
Enjoy the delicious vegan-friendly F&N NutriSoy range for a well-balanced diet with the confidence of plant-based natural goodness.
The F&N NutriSoy range, available in major supermarkets, hypermarkets, and selected convenience stores; offers variants at the following Recommended Selling Price:        
1.    F&N NutriSoy High Calcium Reduced Sugar Fresh Soya Milk
S$2.35 1-litre pack S$1.40 475ml pack
2.     F&N Nutrisoy High Calcium No Sugar Added Fresh Soya Milk
S$2.35 1-litre pack
3.     F&N NutriSoy High Calcium Fresh Soya Milk
S$2.35 1-litre pack     S$1.40 475ml pack
4.    F&N NutriSoy Omega High Calcium No Sugar Added Fresh Soya Milk
S$2.45 1-litre pack     S$1.50 475ml pack
5.    F&N NutriSoy Omega High Calcium Reduced Sugar Fresh Soya Milk
S$2.45 1-litre pack    
6.     F&N NutriSoy Fresh Soya Milk with Real Oats & Quinoa
S$2.45 1-litre pack     S$1.50 475ml pack
7.     F&N NutriSoy High Calcium with Almond Fresh Soya Milk
S$2.35 1-litre pack     S$1.40 475ml pack
Footnotes:
1 "Nutritional Update for Physicians: Plant-Based Diets", US National Library of Medicine National Institutes of Health, https://www.ncbi.nlm.nih.gov/pmc/articles/PMC3662288/
2 "Plant-based nutrition for healthcare professionals: implementing diet as a primary modality in the prevention and treatment of chronic disease", US National Library of Medicine National Institutes of Health, https://www.ncbi.nlm.nih.gov/pmc/articles/PMC5466942/