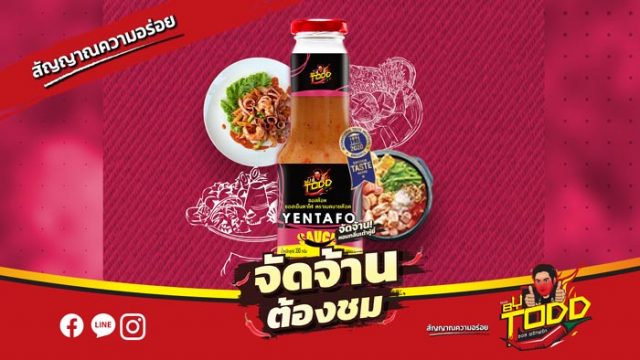 Food Factors has launched the new Yentafo Sauce Made by Todd packed with spiciness and made from premium ingredients. The sauce will complement a wide range of menu, opening new gourmet doors for the new generation of homemade chefs.
Mr. Piti Bhirombhakdi, Chief Executive Officer of the Food Factors Co., revealed that the successful unveiling of "Chili Chili Sauce Made by Todd" in 2017 has led to numerous new product launches such as the Chili sauce, Condiment sauce, snacks, and frozen ready-to-eat noodles, all sharing 'Made by Todd' signatures; unique spiciness and premium quality ingredients.
"The overall sauce and condiment market is brimming with potential and growth. Last year the market values at 47 billion Baht with a 4.8% growth. The current situation has transformed consumers' to cook by themselves even more. The premium segment will also see growth as consumers move towards quality and healthy products, providing convenience and variety. The company plans to push Todd sauce to become one of consumers' top 5 top-of-mind brands and will market this 'Yentafo Sauce Made by Todd' towards urban people who live fast-paced lives but enjoy cooking," Mr. Piti said.
The 'Yentafo Sauce Made by Todd' is very on-brand with the signature spiciness and premium sufu selection, which create a unique aroma. The sauce will complement numerous menus, transforming them into a spicy version that everyone can make by themselves at home. The Yentafo sauce is not made exclusively for Yentafo noodles or hotpot but can be used in various menus like Yentafo fried rice, Stir-fried Yentafo, or can be used as a condiment sauce for sukiyaki or hot pot as well.
The 'Yentafo Sauce Made by Todd' came in a 330-gram glass bottle and priced at 65 Baht. The sauce is also Halal-certified and had won the Superior Taste Award 2020 from the International Taste Institute (formerly known as ITQI). At launch, the sauce will be sold on the 'Dynamitebytodd' Facebook page and through Trade Factor's Facebook, LINE, own website, and official stores on Shopee, Lazada, and JD Central. Then it will be distributed to food services, expanding from personal use to the food industry like hotels, restaurants, and catering businesses.