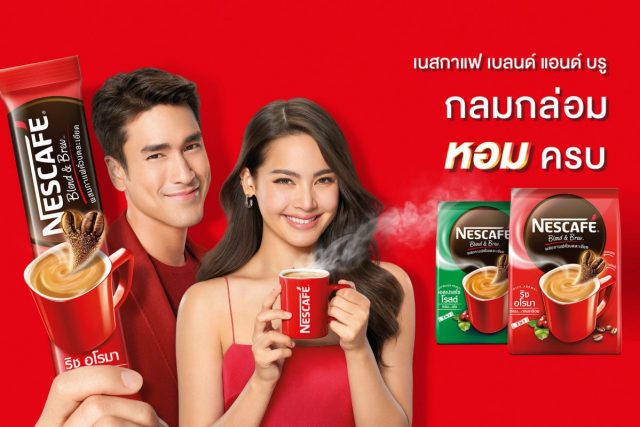 NESCAFE BLEND & BREW Invests 700 Million Bt to Introduce New Campaign Presenters Nadech & Yaya will Reinforce "Well-Blended Taste and Aroma Completely in a Stick" Concept
Friday 11 June 2021 – NESCAFE BLEND & BREW is exciting the coffee mixes market by investing 700 million baht to launch a marketing campaign called "Beyond the Goodness You can See, There's Even Greater Quality Inside," its biggest campaign in five years. The campaign introduces superstar couple Nadech Kugimiya and Urassaya (Yaya) Sperbund as NESCAFE BLEND & BREW's new presenters. They are inviting consumers to enjoy a coffee-in-a-stick experience with a great taste like "KafeSod," or fresh roasted and ground coffee, which reflects the new brand concept of "Well-Blended Taste and Great Aroma Completely in a Stick." The first phase of activities is rolling out to create a #KafeSodNadechYayaCoffee trend to delight coffee lovers and consumers nationwide who are staying at home.
With a 55% market share, NESCAFE BLEND & BREW is the leader in Thailand's 14,900 million Baht coffee mixes market.
Instant coffee offers a solid growth opportunity thanks to increasing in-home coffee consumption. The key factor driving this growth is more consumers staying at home, with coffee mixes the perfect choice to meet their demands in terms of value for money, convenience, and great taste, plus no need to go out to drink coffee (Source: Nielsen Retail Index).
Ms. Sriprapha Chingprasertsuk, Business Manager – Soluble Coffee and Creamer, Nestle (Thai) Ltd., said, "We are capitalizing on the rising popularity of in-home coffee consumption by creating a new NESCAFE BLEND & BREW campaign to excite the market in the second half of the year. We are very pleased to announce the first collaboration between the number one coffee brand in Thailand and famous superstar couple Nadech and Yaya. NESCAFE is one of the first brands in the market with a major campaign to share the meaningful story of their bonding and connections beyond what we can see. We expect to expand our consumer base of 'KafeSod' coffee lovers and new groups of consumers while encouraging coffee drinking at home."
For the first phase of marketing activities, NESCAFE has produced 30-second and 15-second commercials entitled
"Well-Blended Taste and Great Aroma Completely." They tell a great story of two people who understand each other's minds. As coffee lovers, they know what is good and only choose the best for each other. Nadech knows Yaya very well and chooses to make a cup of NESCAFE BLEND & BREW for her in the morning, delivering the aroma and well-blended taste of finely roasted & ground coffee made from two types of beans, Arabica and Robusta. The commercials started airing on leading television stations and digital media nationwide as well as NESCAFE's Facebook page and YouTube channel www.youtube.com/…XEAOPJE on June 10, 2021.
Creative out-of-home billboards highlighting the product's aroma with wordplays such as "How far will the great aroma of this stick reach?; PhaHomyothin, RatchaDomphisek, or Sudkhumvit; Come to Phuket, the beach is cool; NESCAFE is aromatic" and so on launched this month in Bangkok and major provinces nationwide including Khon Kaen, Nakhon Ratchasima, Udon Thani, Buriram, Ubon Ratchathani, Hat Yai, Phuket, and Nakhon Si Thammarat.
"With the activities in the first phase, we aim to reach 50 million consumers nationwide and create a trend of #KafeSodNadechYaya throughout the country. This will reinforce our leadership in the coffee mixes market. In the meantime, we are developing new marketing activities to create even more excitement for coffee lovers soon," concluded Ms. Sriprapha.
Coffee lovers can enjoy "Well-Blended Taste and Great Aroma Completely in a Stick" with the four variants of NESCAFE BLEND & BREW, which are Rich Aroma, Espresso Roast, Less Sugar, and No Sugar. They are available in retail shops, convenience stores, and supermarkets nationwide as well as on Nestle's digital channels: Lazada at bit.ly/…3rhWOQO and Shopee at bit.ly/…39cxkyl