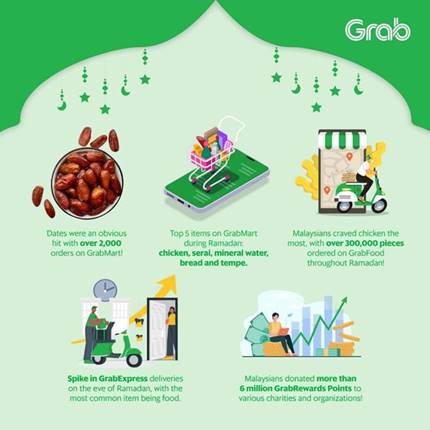 Malaysians donated more than 6 million GrabRewards points to charities and organisations to help the less fortunate celebrate too.
Grab reveals what Malaysians' ordered on GrabMart and GrabFood this festive season.
PETALING JAYA, 14 June 2021 – The holy month of Ramadan and the festivities of Hari Raya is one of the most awaited celebrations, not just by our Muslim friends but Malaysians nationwide. And despite having to ring in the festivities in a socially distanced manner for the second time, Malaysians definitely made the most out of the situation, leveraged technology and shared the essence of the season.
Here's how Malaysians celebrate Ramadan and Raya with Grab:
More than 2,000 orders for dates!
A staple during Ramadan and Raya whether for gifting or just to enjoy with our families, dates were an obvious hit during this festive season. In fact, we saw over 2,000 orders for dates throughout Ramadan and Raya.
Malaysians enjoyed home cooked food for Ramadan!
Prior to Ramadan, Malaysians were already leveraging delivery services to conveniently get their daily groceries – ordering a variety of cooking ingredients for their household. However during Ramadan we saw a surprising increase in orders especially for tempe and serai. These two cooking ingredients were in the top 5 most ordered items on GrabMart and amounted to over 9,000 orders!
Close to 300,000 pieces of ayam goreng ordered on GrabFood!
Malaysians definitely got their fix during Ramadan and Raya ordering an average of 10,000 pieces of chicken a day during the festivities. On top of that, we also found out that Malaysians still love their bubble tea with close to 40,000 orders! And lastly, we also saw late night orders (after 10pm) increase by up to 40% as compared to the month prior to Ramadan.
Malaysians delivered a lot of love to their nearest and dearest!
Even though Malaysians could not travel to their hometowns and visit their friends and families, that didn't stop them from sharing the love with them. Our GrabExpress riders were busy on the eve of Ramadan with the most common item delivered were cooked food and cooking ingredients.
Malaysians donated more than 6 million GrabRewards points! 
In the true spirit of Ramadan and Raya, Malaysians made sure to do their part in spreading joy to those less fortunate. Throughout the festive season we saw more than 6 million GrabRewards points being donated to various charities and organisations!
As all of us continue to stay home and stay safe we want to remind Malaysians of how they have supported our community on the platform too – from traditional vendors earning a living to hardworking delivery heroes supporting their families. We at Grab would like to thank you for the part you played in helping those who depend on our platform have a memorable Ramadan and Raya celebration.