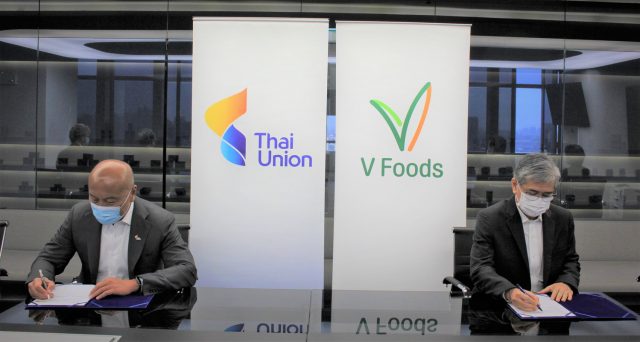 Bangkok — June 28, 2021 — Thai Union Group PCL and V Foods (Thailand) Co., Ltd. have recently signed a memorandum of understanding to develop and expand their plant-based food businesses.
Under the MoU, the two companies will collaborate in exploring the utilization of Thai Union's manufacturing facilities to produce both V Foods' existing products and new products it will develop. They also intend to co-develop new product initiatives and to expand further into domestic and international markets where each of them have expertise.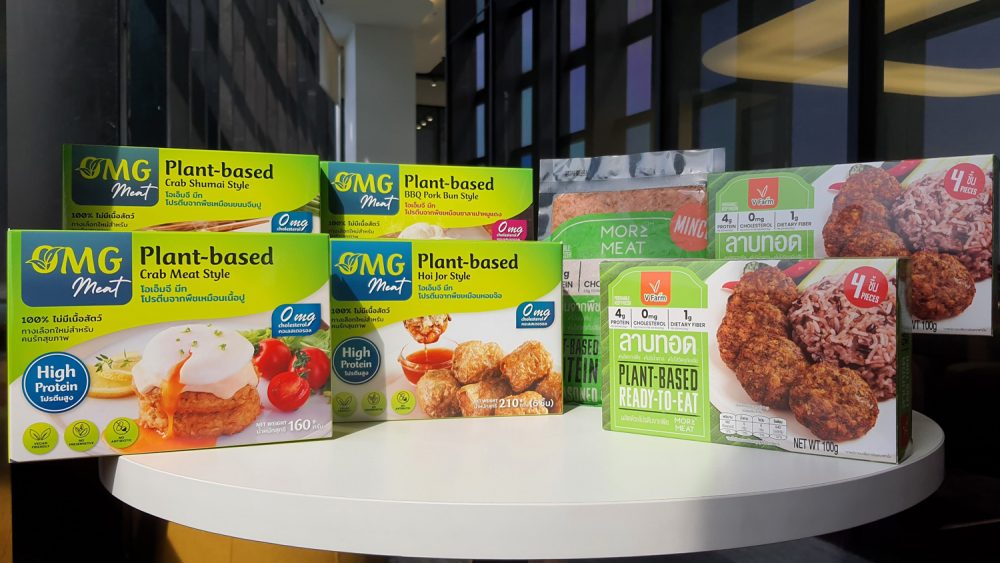 "At Thai Union, innovation is crucial in developing and growing our business, and alternative proteins are an important innovative product that we aim to deliver to meet the needs of consumers," said Thiraphong Chansiri, CEO at Thai Union. "We are pleased to start our journey with V Foods, whose vision on innovation and food is a great fit for our core values. We look forward to working with them."
Apirak Kosayodhin, CEO at V Foods, said, "V Foods puts innovation at the heart of its business, starting from research and development to quality sourcing from the farmer network, in order to offer quality food to consumers who are more focused on their well-being, are environmentally-conscious and therefore looking at sustainable food. We are excited about the opportunity to collaborate with Thai Union on alternative proteins and ready-to-eat, plant-based food, and to drive growth in the Thai market while continuing to explore international markets."
V Foods' 'V Farm' is currently Thailand's leading brand in ready-to-eat sweet corn and corn milk, with number one market share. It also offers other products including More Meat plant-based protein and V Farm plant-based food.
About Thai Union Group
Thai Union Group PCL is the world's seafood leader, bringing high quality, healthy, tasty and innovative seafood products to customers across the world for more than 40 years.
Today, Thai Union is regarded as one of the world's leading seafood producers and is one of the largest producers of shelf-stable tuna products with annual sales exceeding THB 132.4 billion (US$ 4.2 billion) and a global workforce of more than 44,000 people who are dedicated to pioneering sustainable, innovative seafood products.
The company's global brand portfolio includes market-leading international brands such as Chicken of the Sea, John West, Petit Navire, Parmentier, Mareblu, King Oscar, and Rügen Fisch, Thai-leading brands SEALECT, Fisho, Qfresh, Monori, Bellotta, Marvo and OMG Meat, and ingredient and supplement brands UniQ™BONE, UniQ™DHA and ZEAvita.
As a company committed to innovation and globally responsible behavior, Thai Union is proud to be a member of the United Nations Global Compact, and a founding member of the International Seafood Sustainability Foundation (ISSF). In 2015, Thai Union introduced its SeaChange® sustainability strategy. Find out more at seachangesustainability.org. Thai Union's on-going work on sustainability issues was recognized when the company was listed on the Dow Jones Sustainability Indices (DJSI) for the seventh consecutive year in 2020, and ranked number two in the world on the Food Products Industry Index. Thai Union was also named to the FTSE4Good Emerging Index for the fifth straight year in 2020.
About V Foods (Thailand) Co., Ltd.
V Foods (Thailand) Co., Ltd. is the owner of 'V Farm' which is currently Thailand's leading brand in ready-to-eat sweet corn and corn milk, with a number one market share. In 2020, the V Corn brand was rebranded to V Farm to cover a wider range of products including 1) ready-to-eat Golden Sweet corn with a variety of flavors, 2) ready-to-eat healthy set: steamed healthy set (corn, purple potato, and pumpkin), ready-to-eat plant based product "V Farm Fried Larb" and 3) healthy beverages such as corn milk and pumpkin juice.
With a vision and a commitment to provide quality healthy food, V Foods has invested in More Food Innotech Ltd., a foodtech startup plant-based protein producer and distributor under the More Meat brand. The two companies co-develop the newest product, plant based fried Larb, which is made from splitgill mushroom with zero additives and branded as V Farm. This innovation in the food industry not only offers more choices to vegetable lovers but also supports the mushroom growers looking for sustainable living.