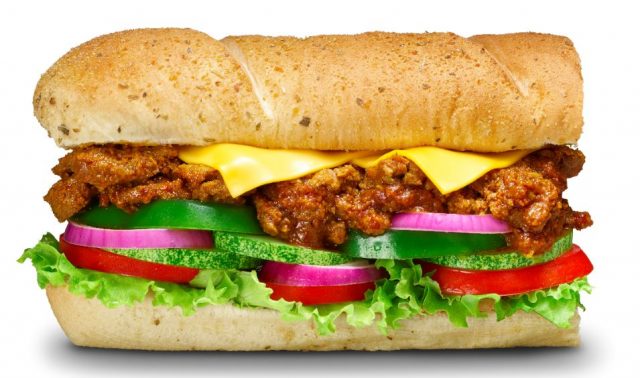 As the nation marches forward with its national immunisation programme, Subway® Malaysia will be donating 10,000 sandwiches as a show of appreciation and support for the frontliners and volunteers at vaccination and quarantine centres who work tirelessly to protect our rakyat.
Drawing inspiration from its newest menu item – a unique take on a delectable dish which has long been loved by Malaysians across an array of momentous occasions – the Rendang Sub is the first Subway sandwich in Malaysia to feature an iconic and indulgent local flavour. With this launch, Subway® Malaysia once again aims to ignite patriotic spirits by donating up to 10,000 Subway sandwiches to the essential workers who stand at the forefront in our relentless battle against Covid-19.
"Food, and rendang in particular, with its irresistibly rich and aromatic flavor, is the love language of Malaysia. It is how we greet one another, how we nurture and show we care. It is also how we show solidarity both in times of celebration and adversity," said Samad Shariff, Country Director of Subway® Southeast Asia, Hong Kong and Macau.
"Following the success of last year's Ramadan campaign in which we donated 10,000 Subway sandwiches to frontliners, the homeless and those in need, Subway® Malaysia again wishes to give thanks to the people who put their lives on the line to look after ours," he added.
With the country's health and safety resting in their hands, Subway® Malaysia's donation of 10,000 sandwiches will provide healthy and nourishing meals to frontliners and volunteers who are working to protect the rakyat.
In celebrating the launch of Subway® Malaysia's first sandwich to feature a quintessential local flavor, citizens who are doing their part by staying at home to curb the spread of Covid-19 can stand a chance to win RM100 worth of Foodpanda vouchers which, via delivery, can be used to redeem delicious Rendang Subs—made with rich, aromatic spices and fresh crunchy veggies in either chicken or beef that rendang lovers won't be able to resist.
To enter, participants will simply need to share the "Rendang Nation Anthem" video – a love letter by way of song, starring Malaysia's own Zee Avi, NYK, Shak and Haneri – on Facebook, along with a creative caption on "How Rendang Can Unite Us All", with submissions open from July 7th to August 24th, 2021.
With RM50,000 worth of prizes up for grabs, 500 entrants with the most creative captions will be chosen and notified of their RM100 prize via Facebook on August 31st, 2021.
Subway® Malaysia fragrant, mouth-watering Rendang Subs that taste like home are available through delivery via Foodpanda and GrabFood, or via takeaway from all Subway restaurants nationwide from July 7 th to September 14th, 2021. In further curbing the spread of Covid-19, Subway® Malaysia ensures the health and safety of all its employees and customers with stringent health and heightened safety and hygiene procedures.
For more information please visit https://subwayisfresh.com.my.