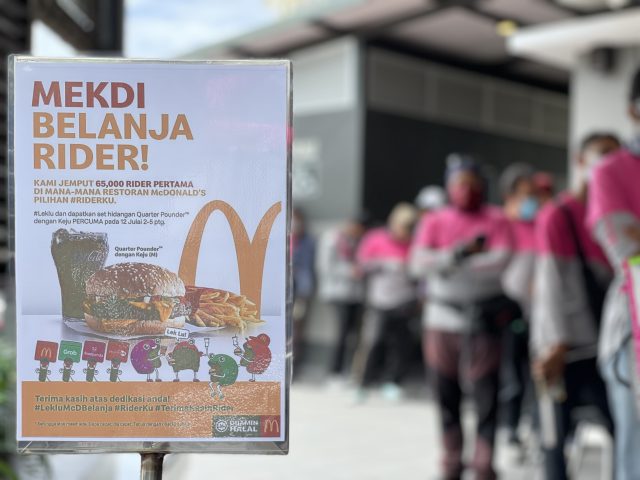 Quarter Pounder with Cheese meal sets redeemed by riders nationwide
KUALA LUMPUR, 13 July 2021 – McDonald's Malaysia gave away 65,000 Quarter Pounder with Cheese meals to its delivery riders throughout the nation, in recognition of them working tirelessly especially during the various stages of lockdown. This effort is part of the #LekLuMcDBelanja #RiderKu campaign rolled out by the quick service restaurant to call upon Malaysians to show appreciation to all delivery riders who work to ensure that Malaysians get to enjoy our meals in a safe and timely manner.
Riders from FoodPanda, GrabFood, DeliverEat, as well as those from the company's own McDelivery Service (MDS) were able to claim their free Quarter Pounder with Cheese meal sets between 2pm to 5pm yesterday from McDonald's restaurants nationwide.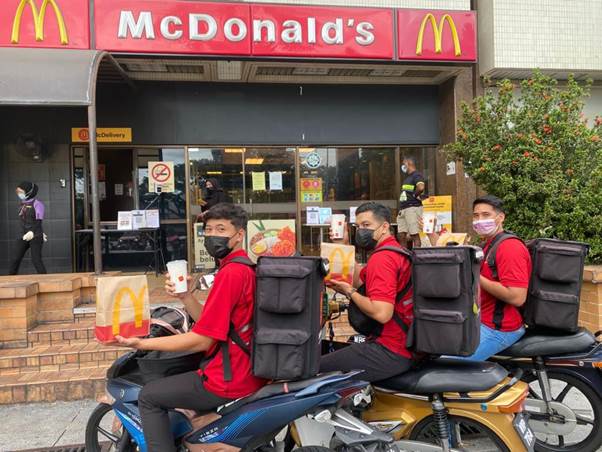 "It's no secret that riders tend to eat last. While fulfilling deliveries during mealtimes and peak hours, riders often forgo their own meals, eating only after all orders have been delivered. Riders play a crucial role in connecting food and beverage outlets with people, which helps to keep businesses running. Thanks to them, Malaysians today can enjoy their meals in the comfort and safety of their own homes," said Azmir Jaafar, Managing Director and Local Operating Partner of McDonald's Malaysia.
A mother of five children, Roslina Talhad had to step up in earning a living to help sustain her family, as her husband could no longer work full-time during the pandemic. "Customers are often surprised to see a woman rider delivering their food. I am very fortunate as the customers I have delivered to are incredibly generous with their tips and are very thoughtful too. Usually before I leave, they would tell me to take care and commend me for doing this job," said Roslina, who makes one of the few McDelivery riders in her area.
"Being a rider can be challenging as our day can get very hectic with deliveries. With the lockdown in place, we have even less time to fulfill orders before the day ends. But there is no other feeling like being able to bring smiles to customer's faces when I deliver their food," said William Quah, a McDonald's delivery rider of two years.
"Once during Ramadan, a family had a large order, and they gave me a burger set from their order. Knowing that riders like myself are appreciated keeps me motivated," Quah says.
"I am happy and grateful that McDonald's is making this effort to recognise us, especially as a part-time student myself. Sometimes while on the job, we forget to eat or would skip a meal as we try to fulfil the orders from customers. With this initiative, I am excited to get to enjoy the meals provided to us," said Mohamad Azyhan Musa, an engineering undergraduate at a private university who uses his rider earnings to help finance his studies.
"We understand that those who care for others often forget to take care of themselves. McDonald's wanted to remind them that we appreciate them, and don't forget to take a meal break themselves," added Azmir.
As a nod to all delivery riders, be sure to show some extra appreciation to your 'Abang and Kakak Delivery', by sharing photos of your next delivery on your social media with the hashtags # LekLuMcDBelanja #RiderKu #TerimaKasihRider #MekdiBelanjaRider.