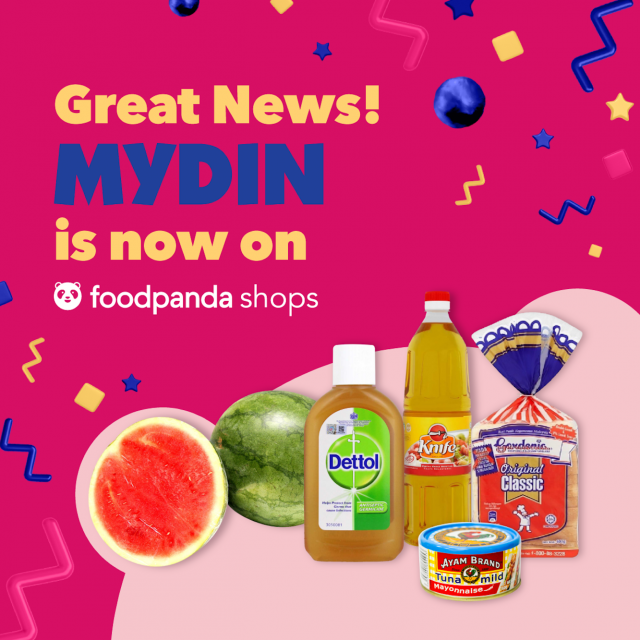 Consumers benefit as foodpanda and MYDIN partnership grows exponentially
Malaysia, July 13, 2021 – foodpanda Malaysia today announced the increase in the number of available MYDIN outlets on their platform. With this latest announcement, there will be 36 MYDIN outlets across Malaysia available on foodpanda to meet the growing demands of users. With the wider spread of MYDIN outlets on foodpanda, consumers stand to benefit with a wider choice of groceries and other necessities nationwide.
Sayantan Das, Managing Director, foodpanda, said that this announcement was timely, especially with more Malaysians placing orders for groceries and other necessities while staying indoors in hopes of flattening the curve. "We are always progressing and innovating through strategic partnerships to serve our users better. We are ecstatic to have partnered with MYDIN, a much loved brand amongst Malaysians, and look forward to delivering greater convenience and accessibility to all with just a few clicks."
With Malaysia's largest homegrown halal hypermarket and retail chain, MYDIN  onboard foodpanda, users would be able to access more than 2,900 products and enjoy a variety of categories including meats and seafood, frozen food, citrus fruits, specialty and other rices as well as fresh produce and have it delivered within the hour. Some of the popular products available on the foodpanda platform include Fresh Seafood, Chicken, Fresh Milk, and Bread.
Datuk Wira (Dr.) Hj Ameer Ali Mydin, Managing Director of MYDIN  expressed his excitement in this partnership with foodpanda Malaysia that will further strengthen MYDIN's position as the halal hypermarket of choice. "Here at MYDIN, we are always pushing boundaries to satisfy customer needs. Today, customers have changed the way they shop and are often looking for safer options to purchase their necessities. This partnership with foodpanda will not only be convenient for our loyal customers but will address the safety concerns of those who require frequent grocery runs."
"We have now entered the era of q-commerce (quick commerce), where consumers all over the globe are constantly looking for convenience and speed. At foodpanda, we aim to continuously deliver that promise of speed and effortless delivery to users all over Malaysia. This partnership enables us to grow our services beyond just food delivery and meet users' ever-changing needs," added Sayantan.
foodpanda users can now have their groceries delivered from Mydin outlets all over Malaysia, including MYDIN USJ,  Subang Jaya, Selangor,  MYDIN Bukit Mertajam, Penang and many more.
To place an order from MYDIN via foodpanda, please visit Mydin X foodpanda.