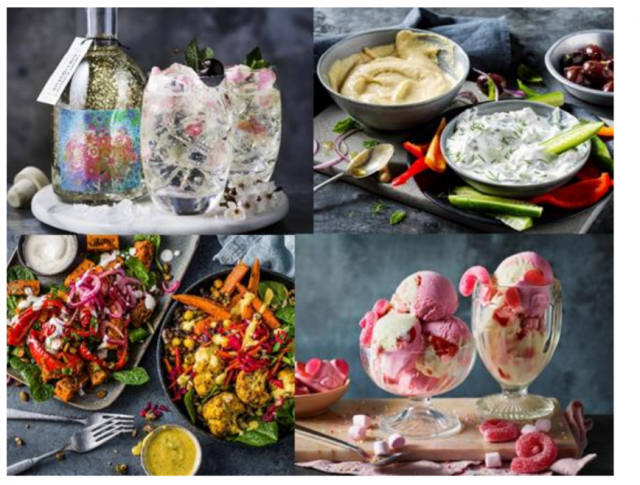 M&S launches seasonal offerings deliciously designed for barbecues, picnics, easy dinners,
and drinks in the sun
Singapore, 13th July 2021 – Whether you're planning for an outdoor occasion or enjoying a taste of summer at home, look no further than this month's brand-new food & drink range from leading British retailer Mark & Spencer to satisfy all your food cravings.
Developed by M&S's expert chefs, the new range includes a multitude of delectable stunners, from the Instagram-worthy Cherry Blossom Gin Liqueur Glitter Globe with shimmering 23-carat gold flakes and a beautiful holographic bottle to the indulgent and innovative Plant Kitchen Battered Fishless Goujons which is part of M&S's popular and ever-growing vegan selection.
James Fisher, M&S Product Developer for Plant Kitchen, said: "I am super excited about the new additions to our Plant Kitchen range this season! We've gone above and beyond with the innovation and introduced new plant-based sources of protein. We always put flavour at the forefront when we're developing our Plant Kitchen ranges so that they taste the same, if not better than their meat equivalent. My favourite is the new Plant Banger – which is our take on the ultimate vegan sausage, perfect for BBQs! Serve in a hot dog roll with lashings of ketchup and American style mustard for a real treat."
Alfresco eating gets a whole lot easier with M&S's convenient new picnic range, ideal for the park or the beach. With customers hungry for a taste of holiday after a year of no travel, most of the range is inspired by flavours from around the globe. For example, the new M&S Collection Creamy Greek Yogurt Tzatziki offers a true taste of the Mediterranean and is perfect for dipping or spooning over grilled lamb. No passports needed when the food at your doorstep is this good!
Sarah Loxton, M&S Product Developer for Deli, said: "Picnics are going to be big this season as many of us continue to enjoy going outdoors and barbeques. We wanted to ensure our customers had the very best of what M&S has to offer, so we have overhauled our deli range to introduce some wonderful innovations and upgraded our dishes to ensure they are the cream of the crop and ensure the best quality for our customers."
The new M&S seasonal food & drink range is now available at selected stores and via the M&S app.