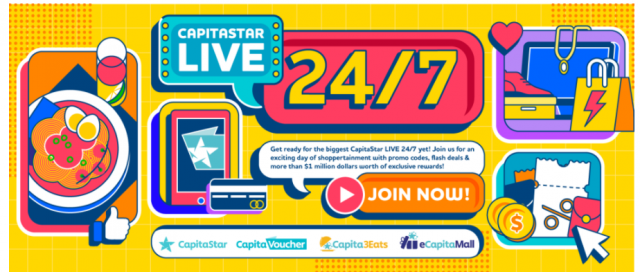 Featuring deals of more than 50% off, rewards and giveaway prizes of more than $1 Million
Singapore, 22 July 2021 – CapitaLand's annual offline-to-online shopping event, CapitaStar LIVE 24/7, is back for hours of fun, massive deals, limited-time only giveaways and promo codes this 24 July! Experience refreshing shoppertainment content and the best of exclusives for savvy shoppers across CapitaStar, eCapitaVoucher, eCapitaMall and Capita3Eats. Celebrations start as early as 19 July as CapitaStar releases limited-time only promotions and offers! Join in the fun by tuning in to CapitaStar LIVE 24/7 via the CapitaStar App and CapitaStar's Facebook and Instagram.
This year's live event will be bigger and better! CapitaStar is searching for its next social media ambassador through its #HelloIAm content creator competition, and the show will see the six young contestants going head-to-head in entertaining challenges looked on and judged by industry mentors Aiken Chia, Christabel Chua and Tyen Rasif.
The biggest shopping day this year will feature Star Buys from over 18 participating brands across categories such as beauty, fashion, homeware, fitness, and tech, with items offering up to 66% discount. Keep your eyes peeled for incredible shopping deals from favourites such as Acme De La Vie, AIBI, Boomjoy, City Chain, GameXtreme, Hurom, Laneige, Mayer, New Moon, Tempur, Toyomi, and more! Giveaway prizes worth over a whopping $30,000 will also be up for grabs at 2PM, 4PM, and 7PM, from brands including Ascott Orchard Singapore, iStudio, Audio Technica, Bose, Dyson, lyf Funan Singapore, LEGO Certified Store (The Brick Shop), Mayer, OSIM, Philips, and Sony.
Be sure to stay tuned and take part in the show for some seriously too-good-to-miss rewards and stand a chance to bag attractive prizes! For a full list of participating brands, please refer to the annex below.
Kickoff Exclusives 
To drum up the excitement for the biggest shopping day of the year, there will be something for everyone with CapitaStar's continuous line-up of deals beginning 19 July.
Look out for a whole slew of promotions available on all CapitaLand platforms such as such as exclusive eDeals on the CapitaStar app, flash deals and exclusive promo codes on eCapitaMall and Capita3Eats as well as triple cashback when you use eCapitaVoucher to offset your payments!
Partner Perks and Exclusives
CapitaStar is collaborating with various payment partners including American Express®, DBS, and ATOME to bring you more savings! For more information on earning STAR$® and eCapitaVouchers, please refer to the annex below.
For more information, visit the CapitaStar LIVE 24/7 page, login to the CapitaStar App or visit CapitaStar's official Facebook page here.
What's more, from 19 July to 15 August, shoppers will also get to enjoy a plethora of partner perks exclusives as part of CapitaStar LIVE 24/7.
From 19 July – 25 July, American Express® CapitaCard card members will get to enjoy 10% cashback (in the form of eCapitaVoucher) for every $100 eCapitaVoucher purchased (in a single transaction) on the CapitaStar app with the American Express® CapitaCard. Additionally, American Express® CapitaCard card members can earn 3% rebate (equivalent to 6X STAR$®) when they shop at CapitaLand malls in town and on eCapitaMall and 2% rebate (equivalent to 4X STAR$®) when they shop at CapitaLand malls in the heartlands.
From 19 – 23 July, shoppers who checkout using the promo-code <DBS40> and pay via their DBS/POSB credit or debit cards on eCapitaMall will get to enjoy $40 off with a minimum purchase of $120 nett in a single transaction.
From 19 July – 15 August, shoppers who pay via ATOME at participating stores in CapitaLand malls with min. $30 spend in a single transaction will earn 3X STAR$®.
For more information on partner perks and exclusives, do stay tuned to CapitaStar LIVE 24/7's website and CapitaStar's Facebook and Instagram for the latest updates.
Stay tuned to CapitaStar LIVE's website, and CapitaStar Facebook and Instagram for the latest updates!
Show Highlights for CapitaStar LIVE 24/7
On 24 July, the shoppertainment extravaganza begins at 12AM with the launch of 50% promo codes, while the live show premieres from 2PM to 8PM.
Merging retail with new-age entertainment, the jam-packed afternoon consists of live segments helmed by Christabel Chua, Aiken Chia, and Tyen Rasif at 2PM, 4PM and 7PM respectively. Catch your favourite media darlings as they introduce great deals across beauty and fashion, food, and wellness categories respectively.
Exclusive 50% promo codes on eCapitaMall and Capita3Eats will be released at 12AM, 2PM, 4PM and 7PM; alongside the release of exclusive STAR Surprises boxes from selected retailers at 3PM and 5PM. Giveaways and behind-the-scenes Instagram Lives will also be interspersed throughout the afternoon.
#HelloIAm – the search for CapitaStar's next social media ambassador
The first ever content creator competition launched by CapitaLand, CapitaStar is on the hunt for their very own social media ambassador through the #HelloIAm campaign. Join social media veterans Aiken, Christabel, and Tyen as they are tasked to mentor, judge and crown the soon-to-be CapitaStar ambassador.
After two months of searching and preparation, six finalists have been selected and will be battling it out, live on CapitaStar LIVE 24/7 with live challenges on 24 July. Watch the creative content submissions on CapitaStar's Facebook and Instagram, get to know them better and ask them all your burning questions via Instagram live streams throughout the day on 24 July.
Be entertained all afternoon as the finalists participate in segments of fun live challenges, release special content, and share behind-the-scenes peeks of their competition journey. Ending off the night on a high note, the #HelloIAm winner will be crowned at 7PM, walking away with 2 Million STAR$® along with a six-month paid stint with CapitaStar as its resident content creator. They will be judged based on their performance, delivery, creativity and professionalism, with their mentors and key management including Chris Chong, Managing Director (Retail), CapitaLand Singapore, forming the judging panel.
Exclusive eDeals on the CapitaStar App
CapitaStar LIVE 24/7 Grand Draw
From 19th July, CapitaStar LIVE 24/7 will be launching members-only CapitaStar exclusive eDeals from 100 STAR$® to 1,000 STAR$®, on the CapitaStar app across retailers such as Browtisan, Calvin Klein, Clarins, Courts, Geox, Godmama, Harry's, iStudio, Joy Luck Teahouse, and PPP Coffee.
What's more, the CapitaStar LIVE 24/7 Grand Draw will be back, running from 19 July to 15 August, where shoppers will receive 1 Lucky Draw Chance with every $100 spent in a single transaction on eCapitaMall or Capita3Eats. Stand a chance to win an Apple Watch, OSIM uThrone Gaming Massage Chair, or Sony PlayStation 5!
It's not too late to sign up as a member – just download the app via Apple App Store or Google Play Store and sign up for free! New sign-ups can also receive $5 eCapitaVoucher with promo code CSTAR2021.
What's even better, CapitaStar is pleased to launch its Refer and Earn program! You can now refer and get your friends to join CapitaStar, where they can earn up to $8 eCapitaVoucher with your unique referral code. What's more, you can receive a $3 eCapitaVoucher referral bonus for each successful referral (up to $150 eCapitaVoucher), just by simply referring friends to download the CapitaStar app! Click here for more information on CapitaStar's Refer and Earn programme!
Embark on a rewarding experience with CapitaStar by snapping and uploading your receipts to earn STAR$®, or earn STAR$® on all your online purchases, which can be used to offset your shopping and dining purchases at all CapitaLand malls, online at eCapitaMall and even Capita3Eats!