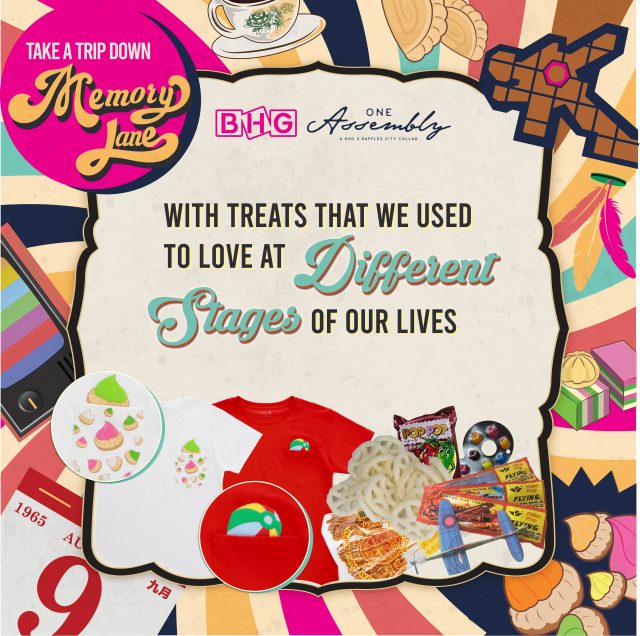 Singapore, 5 August 2021 – This August, usher in the National Day spirit with BHG Singapore! Take a trip down memory lane with treats we all loved at different stages of our lives, now available as apparel, accessories and bags, and even homeware! BHG's in-house label, Cool Blue, has released a unisex new collection featuring iconic old school paraphernalia for the ultimate throwback. To amp it up, adorable Singapore-inspired merchandise from wheniwasfour and Mickey Mouse-themed homeware by Mickey Loves SG will also be available for a limited time only.
Limited Edition Apparel For The Ultimate #Throwback 

If you are looking to show your love for the nation while trying to stand out from the crowd, Cool Blue's brand new Old School Delights collection could be your choice of grab. Designed by BHG's in-house designer, Esther Choy, the new collection is a quirky way to reminisce about the good old days and support local talents while being patriotic. Designs will feature local old school snacks like ice gem biscuits, potong ice cream sandwiches, and even toys from the era, like marbles, spinning tops and chapteh, paying homage to the old Singapore we all know and love.
Available in-stores at BHG Bugis, BHG Jurong, ONE Assembly, and online at BHG Online, sizes range from S to XL. Be sure to grab them while stocks last!
Merchandise and Confectionery for a Nostalgic Touch
Who can resist these nostalgic wearable art pieces showcasing uniquely Singaporean paraphernalia by local label wheniwasfour? Available at BHG Bugis and ONE Assembly for a limited time only, get your hands on some of the iconic dragon playground earrings, local snack pouches and totes. These products will certainly bring back some fond moments of our shared childhood memories!
snacKING Retro Biscuits Assorted Snacks, $1 to $5
Feeling a little peckish? Indulge in nostalgic treats courtesy of snacKING Retro Biscuits, available at BHG Bugis and Jurong! Be transported back to your childhood with snacks like potato wheels, chocolate pills and pop pop candy. For even more good ol' fun, pick up a traditional toy or two and play like kids again at home!
Experience a Blast from the Past with Mickey Loves SG
Experience Singapore alongside everyone's favourite childhood character, Mickey Mouse, with Mickey Loves SG products right here at BHG! Add some nostalgia into your homeware with The Mickey Heritage Collection and Mickey glassware sets which will spruce up your home. You can even get your whole family in on the fun with matching T-shirts, tote bags, and accessories to relieve your favourite Mickey Mouse memories together!
Now available at BHG Bugis Level 1, head on down before they're all gone! Mayer, Mistral, and Ocean are also available on BHG Online.