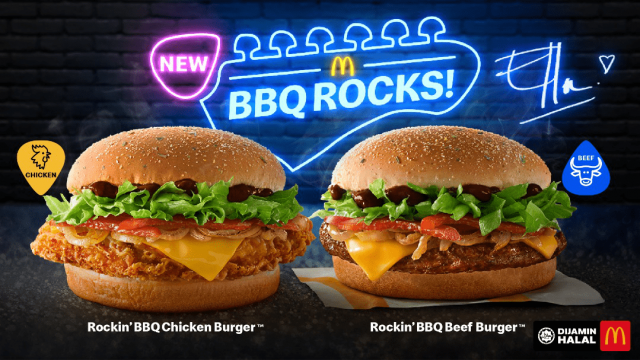 Barbeque lovers can look forward to juicy and smoky flavoured burgers, in both chicken and beef
Kuala Lumpur, 19 August 2021 – Good news for all the barbeque lovers out there! McDonald's Malaysia is firing up the grill and introducing the all-new Rockin' BBQ burgers! This mouth-watering burger will be available in not one or two but three choices – Rockin' BBQ, Double Rockin' BBQ and Triple Rockin' BBQ – in both chicken and beef.
With the Rockin' BBQ Burgers, customers can look forward to juicy patties that come packed with a sweet and smoky flavour. The patties are grilled to perfection before they are slathered with BBQ sauce, grilled onions, a layer of melted cheese, fresh red capsicum, and shredded lettuce, all between a toasted mixed herb and cornmeal bun.
"McDonald's Malaysia is always excited to delight and surprise customers with new explosive flavours, and we know our brand-new Rockin' BBQ Burgers will be a welcome addition to our wide range of menu offerings, especially for barbeque lovers," said Melati Abdul Hai, Vice President and Chief Marketing Officer, McDonald's Malaysia.
"Whether you are a fan of beef or chicken, we certainly hope customers will enjoy a rockin' good time with each bite of our Rockin' BBQ Burgers," added Melati.
To add more excitement to this campaign, McDonald's will be collaborating with Malaysia's Queen of Rock, Ella to sing the rockin' TV commercial jingle. Ella will also be making special appearance in Astro Gempak's 'Rock On' virtual concert on 28 August, and fans will have a chance to win an exclusive virtual lunch with Ella together with limited edition merchandise.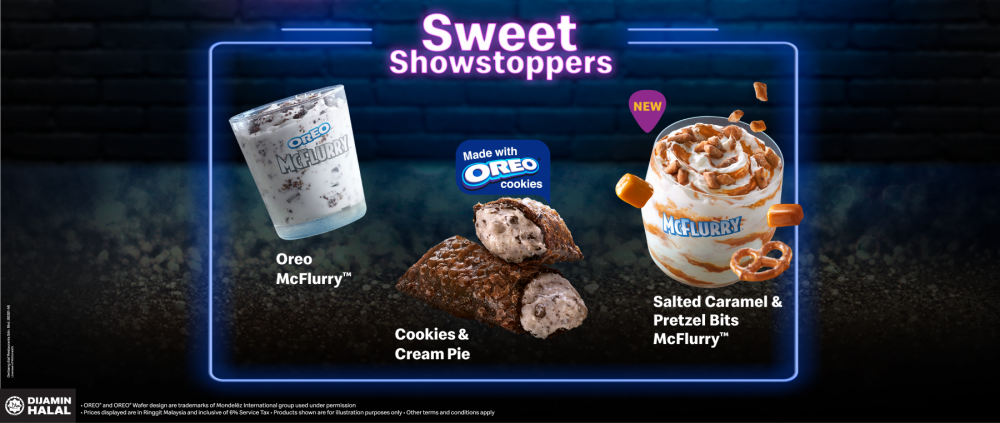 McDonald's is also known for its dessert, and this time around, customers can enjoy the Salted Caramel and Pretzel Bits McFlurry, packed with swirls of salted caramel goodness topped with praline pretzel bits.
The Rockin' BBQ Burger set meal is priced from RM15.99, served with French Fries and a medium-sized beverage. It will be available for a limited time only and while stocks last at all McDonald's restaurants nationwide.
During the promotional period, McDonald's app users can take part in the "The Rockin' Hunt" contest, where customers need to find hidden 'rock' signs in the McDonald's app and submit their responses The first 100 participants will be entitled to redeem a free upgrade to a Double Rockin BBQ Burger. To find out more, log on to the McDonald's app or download it from the Apple Store or Google Play.
McDonald's burgers are made with the best quality ingredients that include 100% halal, juicy meat patties, fluffy buns delivered directly from a halal-certified bakery and locally sourced fresh vegetables.
Stay #SafeWithMekdi by ordering via contactless McDelivery or a Drive-Thru near you. For more information on McDonald's Malaysia exciting menu offerings, visit www.mcdonalds.com.my.