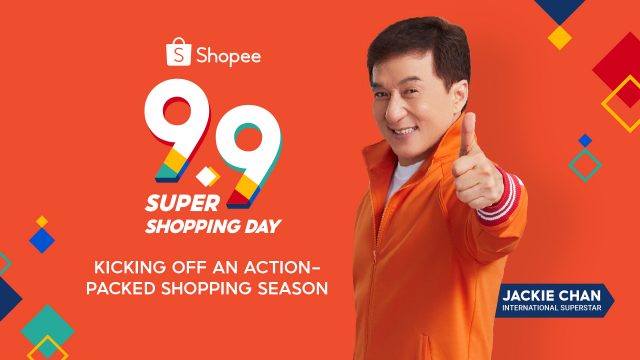 Shopee's flagship shopping festival brings exciting deals, entertainment and rewards
KUALA LUMPUR, 19 AUG – Shopee today welcomes international superstar Jackie Chan as part of its biggest and most action-packed shopping season, where he will be featured in a range of activities across all the e-commerce platform's signature end of year shopping festivals.
Jackie Chan, a household name, joins Shopee to kick off 9.9 Super Shopping Day in a kung fu-inspired commercial. Malaysians will also get to catch him in an exclusive interview to hear what he has to say about his first Shopee commercial on Shopee Live and TV3 during the Shopee TV Deals – 9.9 Super Shopping Day TV show on 9 September, 9PM. Throughout the TV show,  viewers get to enjoy RM9 branded deals, a chance to win gold bars and 9,999,999 Shopee Coins by playing Shopee Shake, and more.
During the shopping festival, the superstar will be featured across Shopee's popular in-app games including Shopee Shake, Shopee Prize, and the new Shopee Collectibles. With 39 million Shopee coins up for grabs, Malaysians can channel their inner movie star to earn rewards every day on Shopee. Additionally, fans of Jackie Chan stand to win limited-edition posters signed personally by Jackie Chan by participating in special contests and giveaways.
 Jackie Chan said: "I enjoy putting a smile on people's faces. It's exciting to partner with Shopee to celebrate the action-packed year-end festival and bring more joy to my fans and Shopee users. I had a lot of fun working with Shopee and I think people of all ages will enjoy the activities and content that we have prepared together. I hope everyone can join us to make the year-end shopping season a memorable one."
Terence Pang, Chief Operating Officer at Shopee said: "We are excited to welcome Jackie Chan to celebrate the year-end shopping season with us, and look forward to working with him to engage and delight shoppers of all ages. This is part of our goal to make the year-end more fun and enjoyable for everyone. Join us for the most action-packed shopping season, starting with 9.9 Super Shopping Day."
Shopee pioneered the first 9.9 Super Shopping Day in 2016, and each year, it marks the start of the year-end shopping season that is anticipated by shoppers across the region. A survey revealed that the mega shopping season tends to attract new online shoppers, with 43%[1] of shoppers making their first-ever online purchase during the year-end campaigns.
From now till 9 September, shoppers can find the biggest deals all in one place, satisfy all their shopping needs, and enjoy non-stop entertainment and exciting rewards. They can look forward to claiming Free Shipping and 99% Coins Cashback vouchers, both with no minimum spend.  Above all, they stand to win a brand new Mercedes-Benz by participating in the Play & Win Mercedes-Benz game by collecting golden tickets daily.
Shopee will also be holding its August 25 Payday Sale which will feature RM25 Knockout Deals where shoppers can get items such as a Samsung Galaxy A12, Estee Lauder Advanced Night Repair, Armaggeddon Shuttle II Premium PU Leather Ultimate Gaming Chair for RM25.
There will also be Daily 99 Sen Deals, whilst shoppers can receive rewards when using ShopeePay.  Shopee Supermarket (previously known as Shopee Mart) will be having its Shopee Supermarket Day every Sunday on 22 and 29 August, and 5 September, with discounts of up to 20% off, 6% coins cashback vouchers, and free shipping voucher with RM60 minimum spend.
Pang concluded by saying that the pandemic has affected both individuals and businesses. "As Malaysians continue to live, work, shop and play from home, we have stepped up our efforts to ensure users have access to their daily essentials through our shopping campaigns. We look forward to bringing some joy to our local communities during this year-end season."
Earlier this week, the e-commerce platform also announced its pledge to make online shopping safer and better with a company-wide vaccination programme which aimed to have its employees fully vaccinated from Covid-19 ahead of the shopping festival. Its frontliners from Shopee Express and warehouses were prioritised in the roll-out as they face the highest risk and have the most potential interaction with shoppers.
Find out more about 9.9 Super Shopping Day here.
[1] GlobalWebIndex Core. Apr 2021