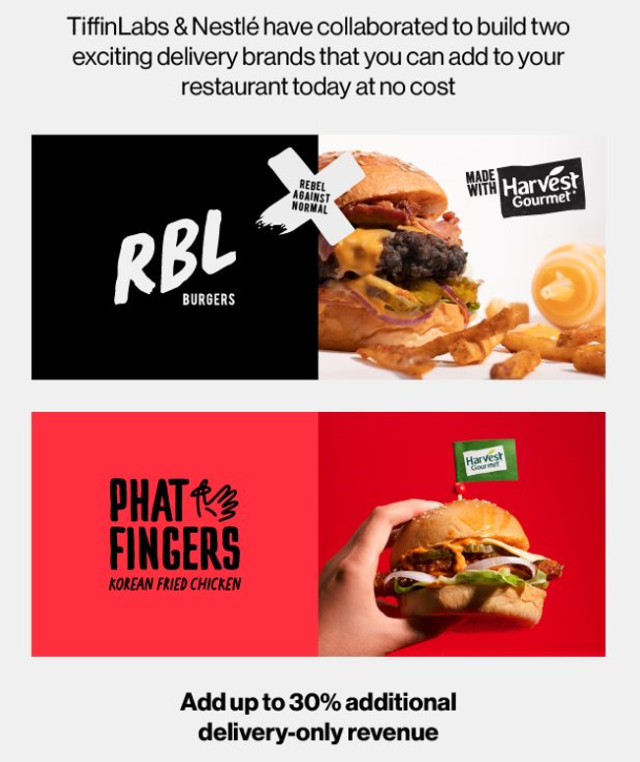 TiffinLabs, a Singapore food tech company and digital restaurant group, and Nestlé Professional Singapore have teamed up to co-create multiple plug and play digital restaurant brands featuring plant-based products and beverages from Nestlé Professional.
TiffinLabs currently has more than 45 Partner Kitchens in its portfolio as of June 2021. TiffinLabs is opening up the opportunities for restaurant owners to operate its delivery optimised F&B brands to capture the online food delivery demand. Restaurant owners can potentially enjoy up to 30% additional delivery-only revenue with no extra equipment, no extra rental and no extra staff costs.
The partnership between TiffinLabs and Nestlé Professional Singapore involves Phat Fingers Korean fried chicken and RBL Burgers that have incorporated Nestlé's Harvest Gourmet plant-based meat as the key ingredient.
TiffinLabs also operates La Takorea, a digital restaurant focused on Korean-Mexican food, featuring the use of TiNDLE, a plant-based chicken brand developed by Singapore's Next Gen Foods.