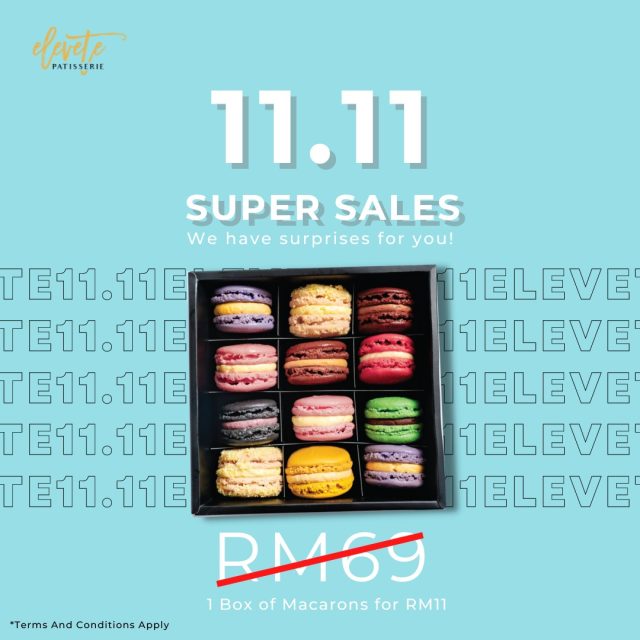 Kuala Lumpur, 9 November 2021 — Great news, dessert lovers! Elevete Patisserie, one of the top local dessert brands in Malaysia is jumping on the bandwagon to celebrate the 11.11 global online shopping sales by treating its customers to a special promotion exclusively on their website. This limited deal will be available from 11 November to 30 November 2021.
Elevete Patisserie has lined out their best promotions for the month of November. Get a Box of 12 Assorted Macarons for only RM11.00 on 11 November[1] (Usual price: RM69.00). In case you can't get enough of the sweet treats, you can get a chef recommendation box of 4 cake slices which includes the best-selling The Locale Cake (Pandan Gula Melaka), Popstar (Salted Caramel Chocolate), Lemon Poppyseed Cake and Tokeru Cheesecake at RM11.00 on 12 November[2] (Usual price: RM58.00+). The local patisserie will also offer 11% off for all desserts available on their website from 13 November until the end of the month.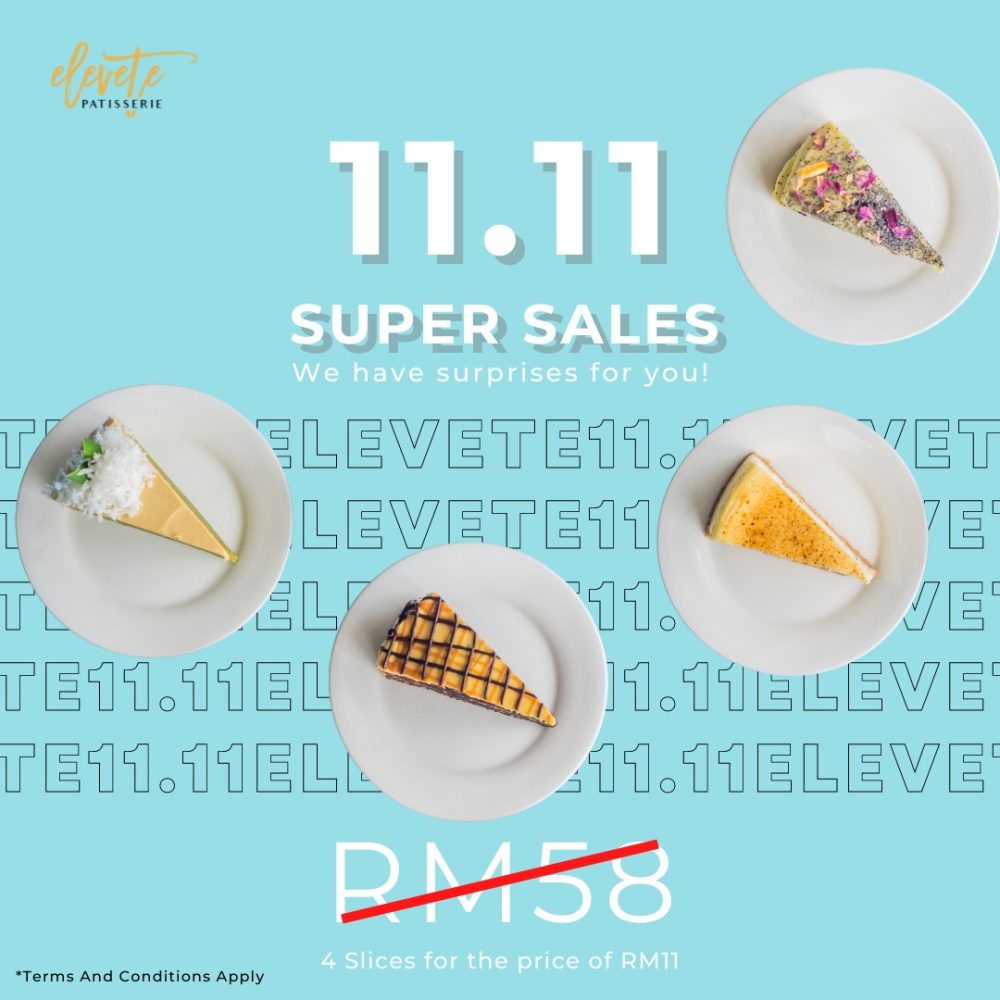 So what are you waiting for? Don't miss out on your favourite desserts from Elevete Patisserie this November by using the promo code "Elevete11.11" when you check out. Pamper yourself and your loved ones before this exclusive promotion ends! Visit Elevete Patisserie's official website at https://www.elevete.com.my/pages/11-11-sale to place your order now[3].
About Elevete Patisserie
Elevete Patisserie aims to deliver the most delectable desserts the culinary world has to offer, which is why we ensure that each and every order that leaves our kitchen, is guaranteed to both visually entice and excite any flavour palate.
The name, Elevete, was derived from the desire to take modern-day desserts and put them on a pedestal of their own, hence the non-stop pursuit for new methods and combinations of ingredients to create sweets that would catapult taste buds to new heights.
Website: https://www.elevete.com.my/
Elevete Patisserie is also available on Cakerush, Cake Together, Foodpanda, Beepit and Grab
[1] Promotion is limited to the first 30 sets offered on a first come first serve basis.
[2] Promotion is limited to the first 30 sets offered on a first come first serve basis.
[3] All promotional items are exclusive of delivery fees and within the Klang Valley only.