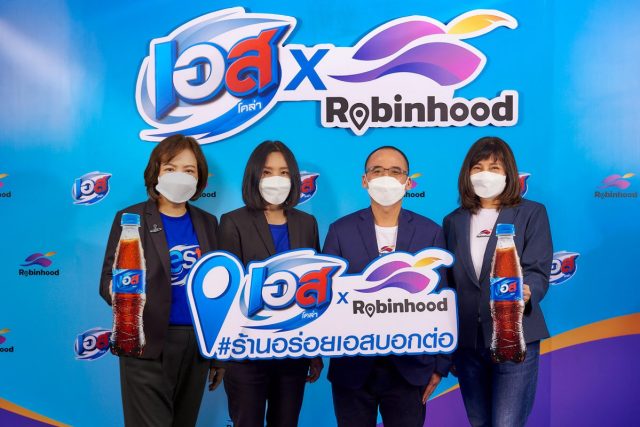 Tuesday 09 November 2021 – Get free est when ordering until the end of this year to mark the reopening of small restaurantsest, a Thai-produced brand of soft drink from Thai Drinks Co., Ltd., announced its first-ever principal partnership with a leading online food delivery platform to expand its business base by pairing est with delicious foods. Thai Drinks expects the partnership with Robinhood, a Thai-owned online food delivery provider, will ensure a welcome back as it serves a full range of deliciousness from thousands of restaurants.
The launch of the "est Cola, Koo See Jaan Zaap" campaign will support and promote Thai-run small restaurants that have long been important partners for est. During the campaign, the 5,000 participating restaurants will receive 360-ml bottles of est Cola to give away to customers who order using the Robinhood app. The restaurants will also have the right to promote themselves on the Robinhood app for free for one week. Customers will receive one free bottle of est with their order to pair with their food, with no minimum spending amount. Just download the Robinhood app to make a savory order and receive a free bottle of est from November 1 until December 31, 2021, or while stocks last.
Mrs. Jesdakorn Ghosh, Vice President – Marketing, Thai Drinks Co., Ltd., said, "The restaurant channel is one of est's strongest channels for sales. We have continually created a variety of campaigns to boost the opportunity to pair est with restaurants' delicious food offerings, as we see market opportunities in online food delivery services, which have soared in popularity during the lockdowns. As small restaurants have been greatly affected by this situation, we decided to team up with Robinhood, a rising Thai-owned online food delivery company that shares a common vision of helping small restaurant operators grow their businesses. This is why we launched the 'est Cola, Koo See Jaan Zaap' campaign to support 5,000 small restaurants by providing a refreshing and fizzy drink to pair with savory dishes for the 125,000 Robinhood app users."
"We appreciate Robinhood's shared vision and commitment to helping small restaurant operators to scale up their businesses by attracting more customers to ensure business stability. Meanwhile, est wants to help small restaurants increase sales and reassure customers that each dish they order is guaranteed delicious when it's paired with fizzy est, which offers a refreshing sensation on the palate. Every order at the 5,000 participating restaurants, with no minimum spending amount, will receive a free 360-ml bottle of est Cola between November 1 and December 31, 2021. In addition, all 5,000 participating restaurants get the right to promote their culinary business on the front page of the app for up to one week during the activity period," she added.
Mr. Srihanath Lamsam, Managing Director of Purple Ventures Co., Ltd., the developer and service provider for the Robinhood online food delivery platform, said, "We hope that partnering with est, a Thai carbonated soft drink brand by Thai Drinks Co., Ltd., will act as a bridge between the 5,000 restaurants participating in the 'est Cola, Koo See Jaan Zaap (A Savory Buddy)' campaign and customers as they experience pairing savory dishes with refreshing and fizzy est Cola, widening opportunities and growing sales channels for these restaurants. In addition, at the end of the day, we believe that every order will represent delivering a round of applause for the 'small people' including restaurants and delivery riders."
For more details about the est Cola, Koo See Jaan Zaap campaign, check out the Robinhood app. For more news and updates on activities, as well as special promotions for est drinks, visit est Cola's Facebook page at https://www.facebook.com/estcola and Robinhood's website at https://www.robinhood.in.th/merchant/estcola/