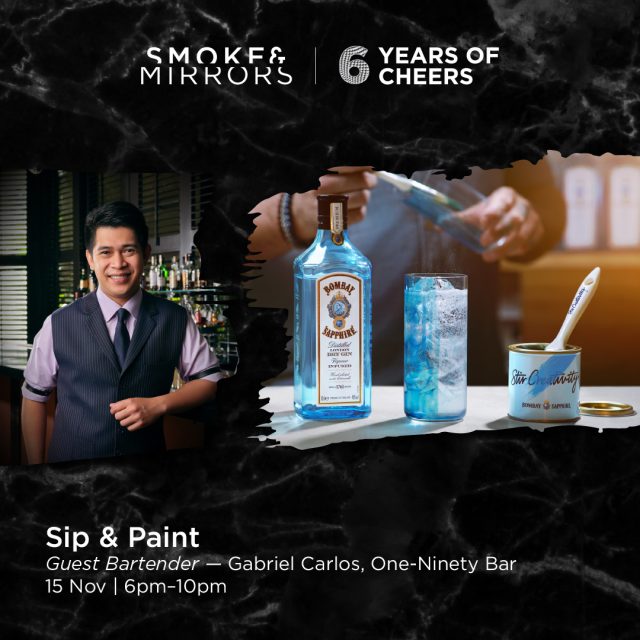 Singapore, 8 November 2021 – Smoke & Mirrors commemorates their 6th year of service with a month of celebrations including pop-ups, new menus and special guest shifts alongside the destination rooftop bar's signature cocktails from The Real Art of Drinking menu.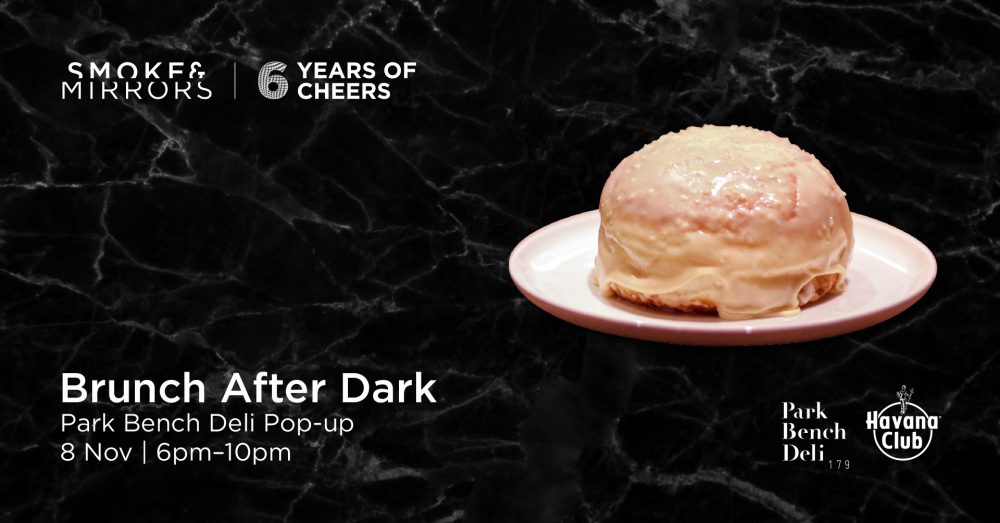 Week 1: Brunch After Dark with Park Bench Deli, in Partnership with Havana Club
Kick off the celebrations with the Brunch After Dark pop-up by Park Bench Deli, featuring a special never-before-seen menu – think glorious house-smoked pastrami and Havana rum-infused banana filled doughnuts! Taking place from 6 – 10 PM on Monday, 8 November, this one-night-only pop-up brings a custom menu of bites and drinks from the CBD sandwich destination to Smoke & Mirrors.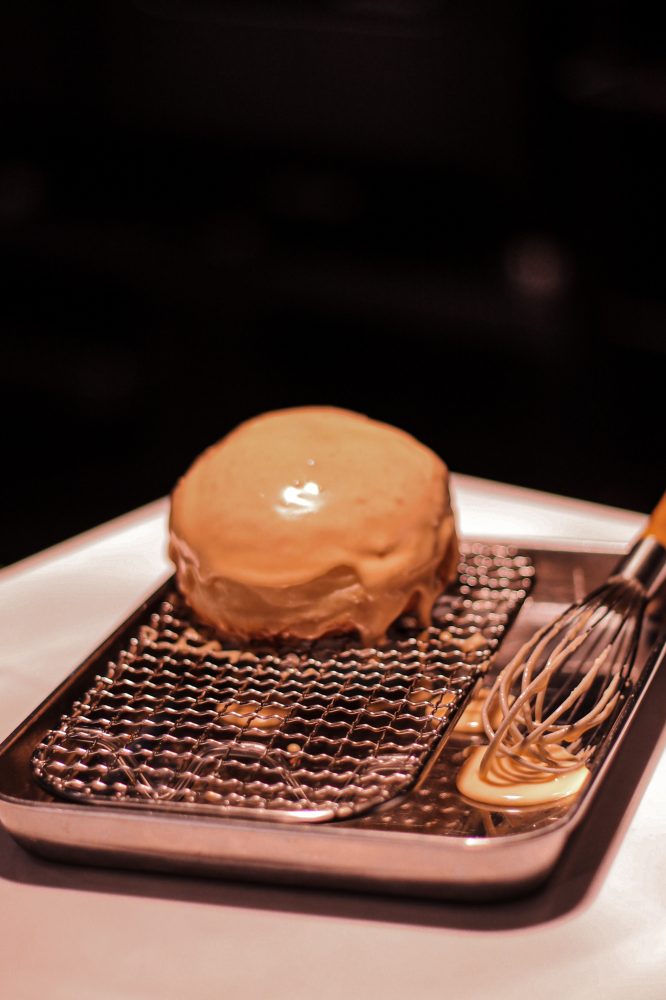 With small bites, larger dishes and a sweet dessert option, highlights from the food menu include the light and zesty Seabass Crudo with cured seabass, radish dressing and crispy seaweed (S$19), the indulgent Pastrami Reuben Crunch Wrap Supreme with house smoked pastrami, sauerkraut, Russian dressing, swiss cheese and pickles (S$24), and the Havana Banana Doughnut filled with Havana rum banana custard and topped with milk jam glaze and sea salt (S$8).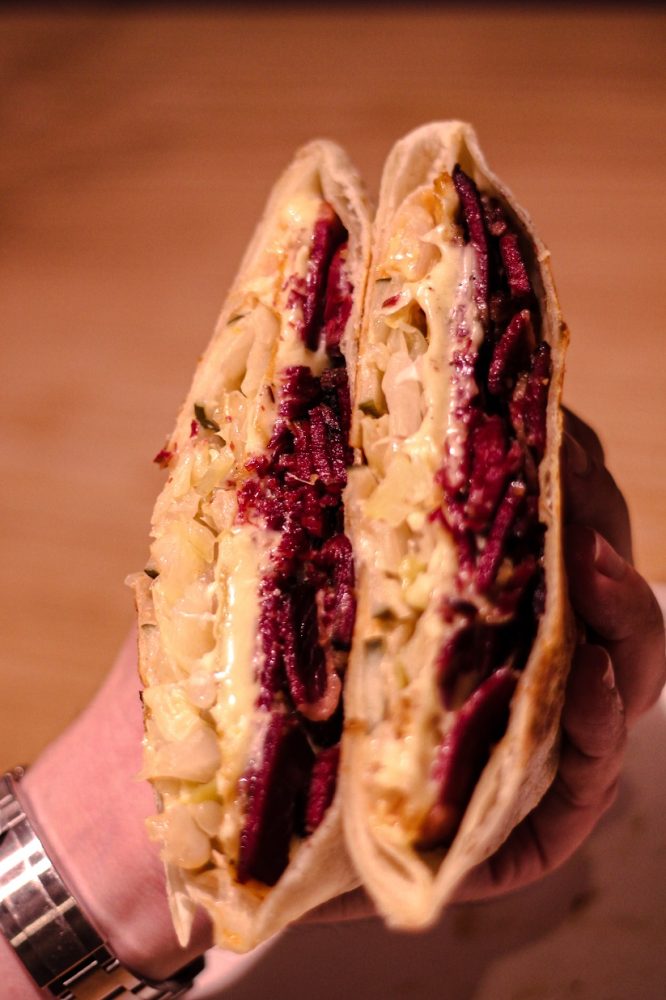 In collaboration with Havana Club, the accompanying cocktail menu features the Park Bench Sour (fresh, light, sour) with Havana Club 3 Years Rum, basil, sweet & sour and egg white (S$24++), the Mr Andrei Soen (complex, nutty, caramel), inspired by and named after Park Bench Deli's Head Chef with Havana Club 7 Years Rum, banana and Sherry bitters (S$25++) and the Not Your Ordinary Milkshake (sweet, rich, creamy) with Havana Club 3 Years Rum, cream, coffee and sugar (S$23++). Reservations are available at https://bit.ly/brunchafterdark.
Week 2: Sip & Paint with One-Ninety Bar, in Partnership with Bombay Sapphire
Next up in the celebratory series will be Sip & Paint with guest bartender Gabriel Carlos from One-Ninety Bar, Four Seasons Hotel. On Monday, 15 November from 6 – 10 PM, guests will be invited to bring out their inner Picasso and express their creativity through a community art piece. Participants will each add paint strokes on the same surface — with safe distancing measures in place — allowing the canvas to evolve throughout the night, with an intermingling of brushstrokes to create socially-engaged art.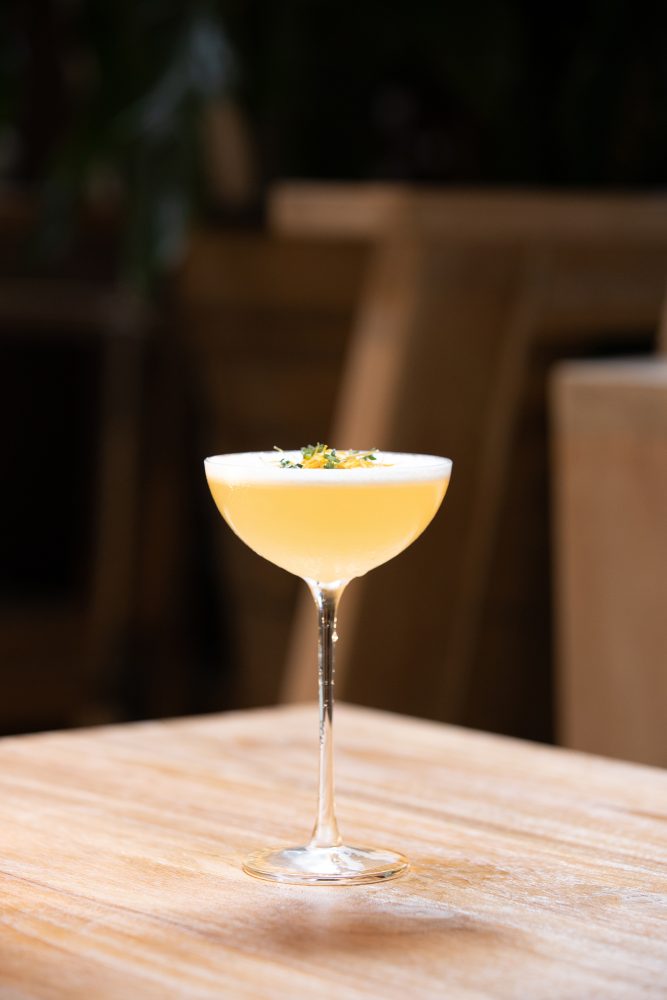 A nod to Smoke & Mirrors' The Real Art of Drinking menu, Gabriel has developed a menu of drinks inspired by some of his favourite paintings. Based on the renowned Renaissance painting by Sandro Botticelli, the Primavera (citrusy, fresh, herbal) mixes Bombay Sapphire Gin, bitter orange marmalade, grapefruit, lemon, herb syrup and egg white, evoking spring with every sip (S$23++). Paying homage to the surrealist René Magritte piece featuring a man in a bowler hat behind a floating apple, The Son of Man (fizzy, fresh, fruity) is comprised of Aberfeldy 12 Years Single Malt, pear liqueur, clarified apple & lemon juice, mint, lavender and soda (S$25++). With influence from "The Flower Carrier" by Mexican painter Diego Rivera, the Cargador de Flores (spirit-forward, floral) features Grey Goose Vodka, Martini Bianco, elderflower, bitters and purple cabbage to bring to life the enormous basket of flowers depicted in the piece (S$24++). Reservations are available at https://bit.ly/sm-paintandsip.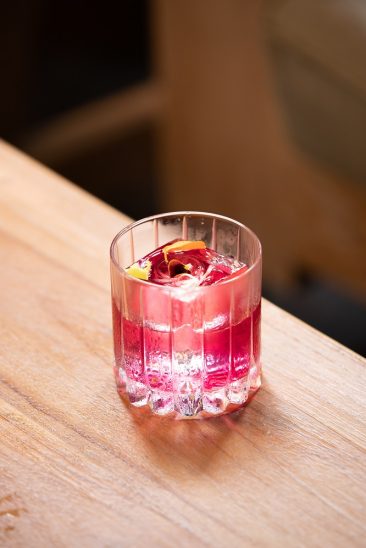 Week 3: Marvellous Marbling with Bannie Kang, in Partnership with Michter's American Whiskey
o wind down the celebrations, Marvellous Marbling is happening on Monday, 22 November from 6 – 10 PM with Asia's favourite bartender Bannie Kang, winner of the Mancino Bartender's Bartender Award from Asia's 50 Best, serving up limited-edition cocktails. Smoke & Mirrors is also giving its guests a hand at creating elegant marbling art on ceramic coasters with the purchase of any two cocktails, as a memento of their time at Smoke and Mirrors' 6th anniversary.  
Bannie will be bringing three anniversary exclusives to the table, each featuring a different spirit with a fruity and citrusy spin to it, featuring various tropical fruits. A gin-based concoction, the Blah x 3 combines the fruity Farmer's Gin with guava, plum bitters, sour and carbonate; this refreshing drink calls out to every summer-lover (S$25++). Taste the clear magic in 1st Avenue, which features Michter's Rye, Calvados, Campari, passion fruit, and cream (S$24++). The Tiger's Eye embodies layers and layers of new sensations as the Earl Grey, cassia seeds, winter melon, strawberries and lime, rise above the base spirit of Michter's American Whiskey (S$24++). Reservations are available at https://bit.ly/marvellousmarbling
Ongoing: Cocktails & Moonbathing with Hendrick's Lunar from November – January 
Keep the party going through November and beyond with a new moon and the landing of the delectably cosmic Hendrick's Lunar – a deeply floral and richly aromatic gin devised under a waxing crescent. Featuring three lunar-inspired drinks crafted by the Smoke & Mirrors team, this "once-in-a-blue-moon" Lunar Moonbathing experience will be available until the end of January 2022.  
A little bit of magic resides in the Lunar Pixie by Wee Siong, inspired by the Pixies of folklore. Filled with charm, this delightful cocktail features Hendrick's Lunar Gin, a homemade cordial of lychee-coconut and wolfberries with coconut bitters (S$27++). Let the Elixir of Legolas by Edu Zamora tingle your fingers, with a bold concoction of Hendrick's Lunar Gin, bergamot liqueur, cardamom cordial, and peach soda that is complex, sweet and zesty all at once (S$28++). Celebrate our connection to nature with the bubbly Harvest Moon by Mel Chavez. With a solid floral core and a touch of tart and deep, resolute bitterness, this celestial creation features Hendrick's Lunar Gin, Cynar, lime, grapefruit, egg white and Prosecco (S$26++).  
Look forward to receiving collectible oddities in a Moonbathing Kit such as moonbathing balm, moonbathing mats and moon goggles upon trying out all three cosmic creations.
Join Smoke & Mirrors for their Monday celebrations this November at the breezy, open-air rooftop bar for innovative cocktails and a stunning panoramic view of the Singapore skyline. All anniversary activities will be carried out in strict accordance safe management measures for COVID-19. Only fully vaccinated guests will be allowed to book tables of up to 2 persons. No intermingling is allowed, all tables will be kept 1 meter apart and high-touch services will be sanitised. 
Be sure to also check out Smoke & Mirrors' signature cocktail menu, The Real Art of Drinking, which features a series of art-and-space inspired libations. Blending the imagination of artists and our fore-founders into a collection of cocktails, the menu invites guests to explore a new way of "drinking in art" with a tangible experience. From local Singaporean artists to renowned international talents, each piece featured in the menu is also on exhibit within the National Gallery Singapore.
For enquiries, email [email protected] or call +65 9380 6313.