The destination rooftop bar has all your gifting needs and celebrations covered from Christmas to New Year's Eve
Singapore, 9 December 2021 – As the year draws to a close, Smoke & Mirrors is rolling out a series of festive offerings from cocktails for Christmas gifting and elevated home gatherings to special celebratory menus at the iconic destination for an unparalleled view of the city skyline. Raise a glass to the year's end with ongoing promotions throughout December including a free-flow cocktail New Year's Eve countdown. 
In collaboration with Monkey 47, the team behind Smoke & Mirrors has designed the Wunderbar Festive Cocktail Flight (S$68++) – a flight of four exclusive cocktails with Monkey 47 Schwarzwald Dry Gin – Mulled Wine, Holiday Negroni, Christmas Sling, and Pear Gimlet – that will make the Christmas bells ring. The flight will be available throughout the month starting from 12 December, inviting holiday revellers to enjoy these four exclusive cocktails atop the National Gallery Singapore to get into a festive mood. 
Enjoy a fabulously festive and tipsy weekend with Smoke & Mirrors' Tidings & Tipples Christmas Weekend menu. There are three sessions of free-flow drinks on Christmas weekend (24, 25 & 26 December 2021) to keep you in good spirits, starting at S$58++ per pax (full pricing below). A seafood platter of festive flavours will also be launched to complement the jolly drinking.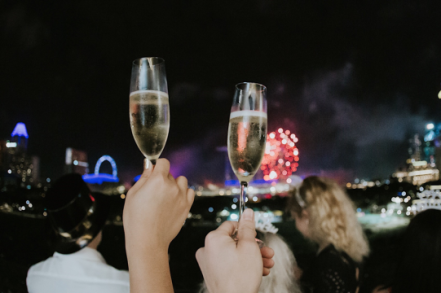 To usher in the new year, Smoke & Mirrors will be hosting its Pop, Fizz, Clink countdown from 3pm to 10pm. After 5pm, guests can delight in free-flow cocktails for two hours including highlights such as the Cranberry Negroni, Toasty Monkey Mulled Wine a Monkey 47 Gin & Tonic and more. With tickets starting from S$118++ per person (full pricing below), the selection also includes Prosecco for bubbly lovers, beer on tap, as well as selected red and white wine. For a little something special, indulge in the Perrier Jouët Brut Champagne (S$178 per bottle); your third bottle is on the house. While alcoholic drinks are required to be cleared by 10.30pm, guests are welcome to stay on for the signature mocktails and conversation.
Smoke & Mirrors will also be launching a Festive Platter (S$148++) that will be available for both Tidings & Tipples and Pop, Fizz, Clink. Featuring lobster, tiger prawns and Canadian Sunseeker Oysters, the Festive Platter is a great reward for making it through 2021. Pamper yourself with a cocktail and seafood pairing; you deserve it!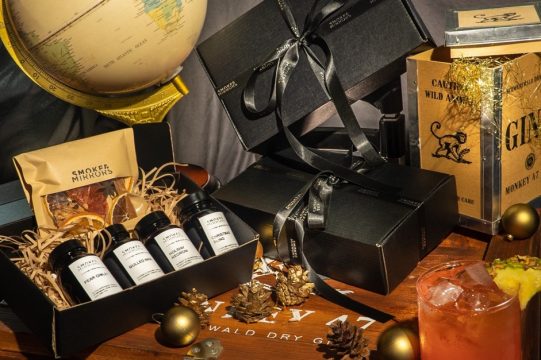 With the season of indulgence and gatherings with loved ones, guests can also opt to enjoy the exclusive festive cocktails at home and let Smoke & Mirrors' Wunderbar Festive Cocktail Gift Set (S$128+) set the standard for home entertainment and leave a longing impression on your guests. Turn on the jingles and have fun making your own fruit ornaments with organic craft materials to add spice & aromatics to the room. The set includes the four cocktails as well as one DIY Fruit Ornament Kit; it's also a perfect gift for your list of imbibers! 
For a more personalised gift, craft your heartfelt messages and get them printed on Smoke & Mirrors' variety of ready-to-drink bottled cocktails for your loved ones. Do note that this complimentary service requires a two-day lead time. 
Please find the details for the festive season events at Smoke & Mirrors below: 
Smoke & Mirrors – Tipsy Tipples Christmas Weekend Free-Flow
 

Day/date:

 

Friday, 24 December 2021

Saturday, 25 December 2021

Sunday, 26 December 2021

 

Time:

 

 

 

First Seating | 3:00 pm to 5:00 pm (Family Friendly) | SGD58++

Second Seating | 5:30 pm to 7:30 pm | SGD128++

Third Seating | 8:00 pm to 10:00 pm | SGD128++ 

 

Reservation details:

 

Email [email protected] or call +65 9380 6313

 

 

Inclusive of:

 

 

2 hours free-flow drinks: Campari Orange, Aperol Spritz, Beer on Tap, Soft Drinks & Juices (After 5pm includes: House Red & White Wine

Prosecco by the Glass)

 

Terms & Conditions:

 

 

 

 

 

 

 

 

 

Event Page

–     By reservations only.

–     Confirmation of booking is subject to a deposit booking

–     Free-flow beverage packages are optional.

–     A confirmation email will be sent upon successful payment

–     Minimum spend for outdoor seating applies: S$100++ per table (1 to 2 pax) and S$250++ per table (3 to 5 pax).

–     Outdoor seating is assigned on a first-come-first served basis.

–     Payment made are strictly non-refundable and non-transferable

–     Tickets are subjected to availability

 
Smoke & Mirrors – Pop, Fizz, Clink! NYE 2022
 

Day/date:

 

Friday, 31 December 2021

 

Time:

 

 

 

First Seating | 3:00 pm to 5:00 pm (Family Friendly) | SGD118++

Second Seating | 5:30 pm to 7:30 pm | SGD188++

Third Seating | 8:00 pm til late | SGD198++ 

 

Reservation details:

 

Email [email protected] or call +65 9380 6313

 

Inclusive of:

 

2 hours free-flow beverages:

Bubbly & More

Prosecco

Selected Sparkling/Still Wine

Beer on Tap
Soft drinks & juices 
Cocktail Selection (after 5pm)
Toasty Monkey Mulled Wine 

Pear Gimlet 

Cranberry Negroni
Monkey 47 Gin & Tonic
Lilllet Gin & Tonic

Terms & Conditions:

 

 

 

 

 

Event Page: 

–     By reservations only.

–     Confirmation of booking is subject to a deposit booking

–     All guests from the same table must take the free-flow package

–     Outdoor seating is assigned on a first-come-first served basis.

–     Payment made are strictly non-refundable and non-transferable