Grab Travel Pass provides Malaysians with additional convenience and savings when travelling with discounted flights, hotels, transport, attractions and online payments. 

Grab collaborates with travel partners, Malaysia Airlines, Firefly, Agoda and Klook in support of the nation's economic recovery. 
Petaling Jaya, 6 December 2021 – Grab Malaysia is introducing the Grab Travel Pass to provide Malaysians with greater convenience and savings on their travel essentials. This is part of Grab's continuous efforts to support the nation's economic recovery, especially as travel restrictions ease in the country and Malaysians begin to plan for their year end holidays.
The Malaysian tourism industry has been hit significantly due to the pandemic with a 71% decline in 2020. This has severely impacted the 3.5 million Malaysians employed in the tourism industry which also contributes to over 23% of the Malaysia's employment rate.
Commenting on the initiative by Grab, Minister Dato' Sri Hajah Nancy Shukri, from the Ministry of Tourism, Arts and Culture (MOTAC) shared that the effort is in line with the Ministry's target to reinvigorate the nation's economy through the tourism sector.
"We are encouraged by the initiative from Grab which supports our Tourism Recovery Plan, aimed at revitalising the domestic tourism industry. With the wide range of deals from Grab, we hope Malaysians will be attracted to explore other parts of the country and help to revive domestic travels. This will help those who depend on  Malaysia's tourism industry for a living  to get back on their feet. It is through initiatives and collaborations such as this that bring us closer to ensuring Malaysia recovers from the difficulties we have faced," shared Dato' Sri Hajah Nancy Shukri, Minister of Tourism, Arts And Culture (MOTAC).
"At Grab, our core vision is to come up with new ways to serve the ever-evolving needs of Malaysians. We are excited to work with like-minded partners to enhance the way Malaysians go about planning their travels – giving them a single source to conveniently gain access to deals on a variety of travel essentials. With the support of the Ministry of Tourism, Arts And Culture (MOTAC), we hope this will contribute to the revitalisation of the local tourism industry. We look forward to more collaborations that enhance the convenience available to Malaysians," said Rashid Shukor, Director, Country Operations, Grab Malaysia
The only holiday pass you need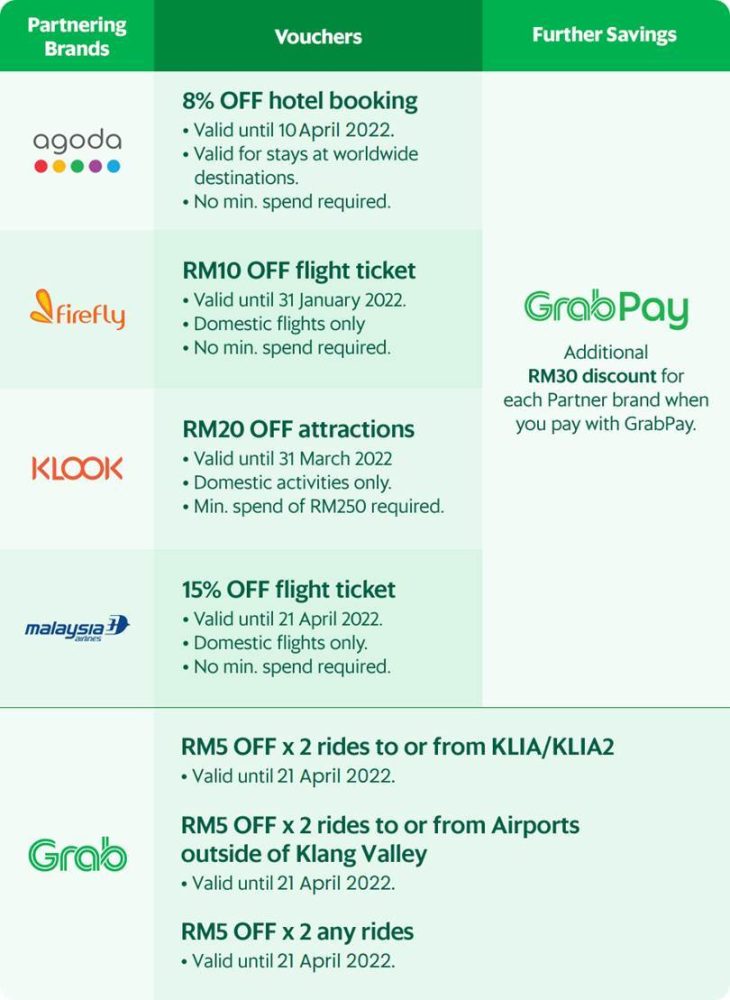 Available on the Grab app, the Grab Travel Pass provides more than RM250 in savings at an introductory price of RM4.90 (Normal Price: RM9.90). Users will be able to conveniently access discounted travel services, from deals on flights, hotel accommodations, rides and travel experiences through Grab's valued travel partners:
In addition, users will also now be able to earn GrabRewards when they book accommodations on Agoda through the 'Hotels' tile on the Grab app, adding additional value to every booking.
How to buy a Travel Pass
The Grab Travel Pass will be available to purchase from 10 Nov 2021 to 31 January 2022. Grab users can purchase their travel passes on the Grab app and the vouchers will be redeemable under 'My Rewards'.
For more information on Grab's new Travel Pass and the discounts included, please click HERE.