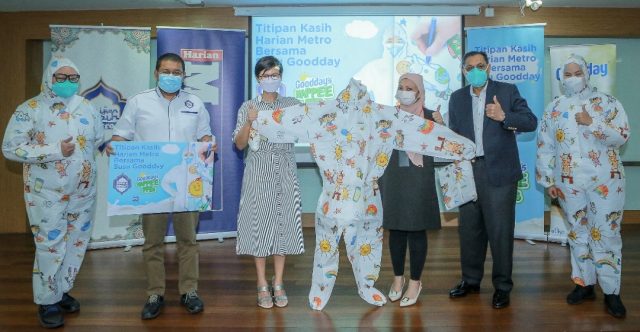 Goodday Milk to brighten mundane PPEs with winning designs and provide winners of Goodday's Happee PPEs contest with education funds worth RM10,000 each
Kuala Lumpur, 23 December 2021 – Bringing smiles to Malaysian children, the country saw many young artists come together for Goodday's Happee PPEs campaign to spread joy and cheer to their hospitalised peers during this challenging time. Goodday Milk, one of Malaysia's favourite milk brands since 1968, launched the campaign in conjunction with World Children's Day to allow children to give personal protective equipment (PPE) a joyful new look. Spreading goodness through both their nourishing beverages and people around them, the brand showcased the winning designs on customised PPEs, which were handed over to Puan Ariesza Noor, Chief Corporate Officer, KPJ Healthcare Berhad here at KPJ Damansara Hospital on the 17th of December.
Proving their artistic skills were like no other, Auni Maisarah Binti Mustaffa (11 years old), Choong Xin Yu (6 years old) and Chua Ee Xin (5 years old), were selected as the top 3 Grand Prize winners and were given the opportunity to pursue their dreams in the future, through an education fund worth RM10,000, each. Extending positivity and happiness to those their age, their attractive designs will be printed on 10,000 units of PPEs, used by healthcare professionals treating hospitalised COVID-19 patients in hospitals across Malaysia.
These winning designs not only demonstrated the talent the younger generation has but also highlighted the desires these children have for those hospitalised – to remain positive during these unpleasant times because greater days are in store. The bright colours used in these masterpieces also highlighted how Goodday Milk lets the goodness flow through these happy winning designs and to not be afraid when being treated by healthcare professionals dressed from head-to-toe in PPEs. Instead, these hospitalised children will be empowered to face difficulties and challenges with resilience.
"There is no doubt that children tend to get scared and have increased levels of anxiety when seeing healthcare professionals dressed in their PPEs, bringing about negative connotations. We launched Goodday's Happee PPEs contest to allow children to spread positivity to their hospitalised peers in children wards and remove the fears, surrounding PPEs. We are so grateful for all the participants who showed their excitement through this meaningful campaign and on behalf of Goodday Milk, congratulations to the three Grand Prize winners as well as the additional 10 consolation winners. We hope Malaysians of all ages will continue to stand united as we go through this time together. We aim to bring goodness to Malaysians in the time to come through exciting campaigns and innovative products and we hope everyone will continue to support this too," said Yee Pek Kuan, Vice President of Marketing at Etika Sdn Bhd.
The for kids, by kids contest which ran from 25 October until 14 November 2021, saw the enthusiasm of children aged 5 and 12 years come together towards this cause. The contest received an overwhelming response from participants resulting in Goodday Milk further spreading glee by awarding an additional 10 young artists with RM500 each. This Goodday's Happee PPEs contest also went to show how unity lies deep within the core of Malaysians of all ages.
For more information on Goodday Milk's initiatives and future activities, stay tuned to Goodday Milk Malaysia Facebook page www.facebook.com/gooddaymilkmalaysia.